Family time is so important over the holidays, and crafting together is a great way to enjoy them. Here are 10 fun Christmas crafts that families can enjoy doing together!

These adorable pinecone topiaries are inspired by Pottery Barn. What a fun thing to create with the kids! You'll find instructions at Tater Tots & Jello.
Here's a beautiful holiday centerpiece that the kids could even put together for you while you prep food for your Christmas dinner. All you need is Epsom salt, cranberries and evergreen twigs. They smell absolutely amazing!
This vintage-inspired wreath is mostly made from tinsel. A foam wreath, silver tinsel garland, and plastic candle holder form the body of the wreath. Would you believe that the vintage look is applied with glossy wood tone paint? Amazing!
What could be better than decorating the Christmas tree with these family picture ornaments you made with your family? They are easy to do and the sentimental value can't be understated.
Got a family full of budding artists? Foster the creativity with these amazing painted drop cloth pillows. They're uniquely you.
These Epsom salts luminaries will wow both the kids and your holiday guests. They're unique, beautiful, and the perfect craft for a snowy day.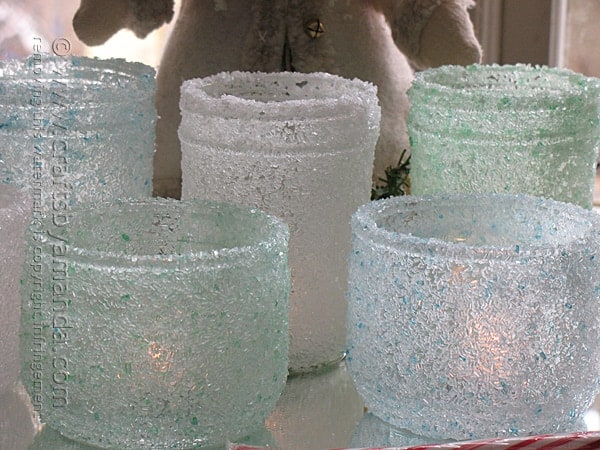 Spend some fun family time turning last year's Christmas cards into this year's gift tags. Fun and easy!
Turn a plain dollar store garland into a beautiful, festive garland with this tutorial from Condo Blues.
The whole family could enjoy an evening putting together these glittery ornaments for the Christmas tree.
Make this adorably sparkly Epsom salt snowman! The best part is, he won't melt on you!