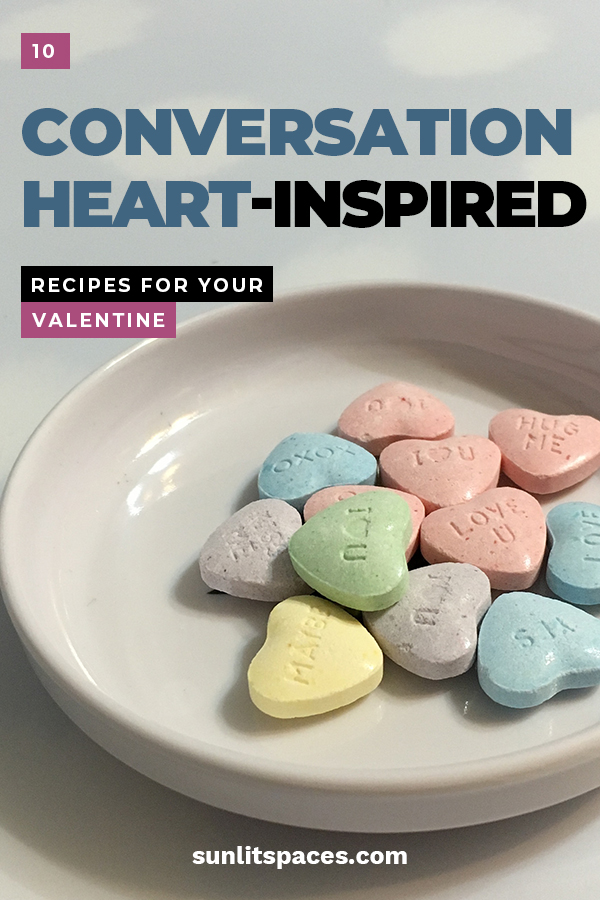 I don't know about you, but those little conversation hearts may be cute to look at, but I would definitely rather not eat them. Today's post features recipes that are inspired by the cuteness of conversation hearts. Any one of them is perfect for your Valentine. Take a look!
1.This cake is styled to look like a giant conversation heart, and filled with a surprise. I think you could make it even better by filling it with Valentine M&Ms candies. If you want to fill it with conversation hearts candies, find some here! 
2. Personally, I would leave out the conversation hearts, but these heart-shaped cereal treats would still be cute with pastel sprinkles inside. You can find sprinkles and heart-shaped cookie cutters at Michaels.
3. Brownies are one of my favorite treats. Amp them up for Valentines Day by cutting them in heart shapes and adding powder sugar conversations to the tops.
4. Sugar cookies are the perfect medium to make some conversation hearts that really taste great!
5. Love the idea of a cupcake with a surprise inside. Fill 'em with conversation hearts, M&Ms, or your favorite little treat.
6. Let your Valentine know exactly how you feel–just spell it out on a cute little cake.
7. Everyone seems to love Nutella these days. Fill some little heart pies with Nutella and add a cute saying on the outside. They're sure to be a hit with your Valentine!
8. Cheesecake is definitely the way to the heart of my Valentine. Here's the perfect way to exploit that–conversation heart cheesecakes!
9. Make your own homemade conversation hearts. They are similar to making homemade marshmallows. Yum!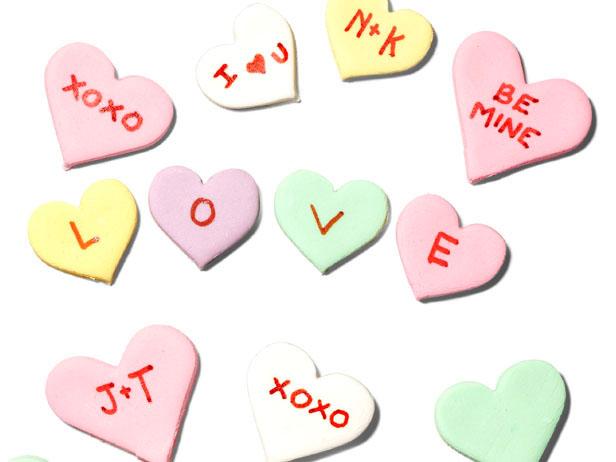 10. These cookies are glazed, allowed to set overnight, and then stamped with your chosen messages for a professional look.
For the recipes featured in this post, click the following links:
Hungry Happenings conversation heart surprise cake
She Knows heart-shaped cereal treats
Mac Suzie conversation heart brownies
Everyday Annie conversation heart sugar cookies
She Knows conversation heart cupcakes
Brit + Co cake with a personal message
A Million Moments Nutella-filled hearts
Hungry Happenings conversation heart cheesecakes
Food Network homemade conversation hearts