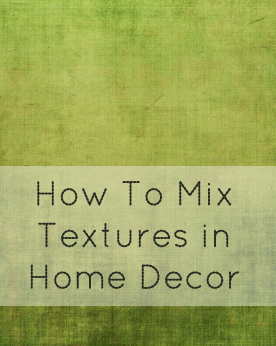 It is all about texture in home decor right now and it is a lot of fun. Everything goes.  Mixing hard and soft textures is adding interest and style to even the simplest thing, like a kitchen counter!  Here is how it works. 🙂
Now, I am not an expert.  Sometimes I need things spelled out for me.  I don't come up with this stuff, I just see it and do it.  Mixing elegant with rustic is somewhat a foreign idea to me, but I am getting used to it and I really love the look.  I am not exactly a pioneer of style.  I am still trying to adjust to wearing black and brown together!  Here are some great tips for decorating with texture:
Layering (everything!)- bedspreads and blankets, pillows, paint, wall hangings, etc.
Crystal chandeliers with pallet wood- rustic elegance
Glass with burlap
Pillows made of canvas
Pillows with ruffles (mixed with canvas!)
Exposed beams
Industrial steel with rustic barnwood and glass
Metal or steel with fabric
Rugs with texture (great in every room)
Patterns -add and collect different, but complimentary patterns
Flooring, rugs, concrete, wood, etc!
Ruffles- ruffle drapes, throws, shirts, you name it.  Ruffles are in, my friend.
And last but not least, wallpaper.  Textured wallpaper.  Yes, you heard me.
Enjoy!  The freedom is ours to do what we like.  So put the patterns and pallets and glass jars and ruffles together to make a great space to call your own.