Buying gifts for all your friends, family, and loved ones on their birthdays, anniversaries, holidays, etc. can get pretty expensive. Instead of breaking the bank all throughout the year, try some of these great homemade gifts that are classy but still manageable price wise!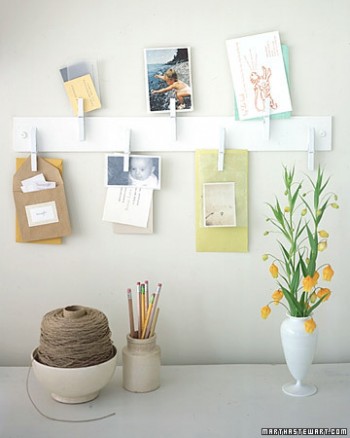 Clothespin Rack
This thing is so cute! Your friend could put it up in the kitchen, entryway, or anywhere, really! It doesn't require many materials and you could probably make it in an afternoon.
Decorated Notebooks
You could actually make any kind of decorated notebook, binder, or journal for your friend or loved one. It doesn't have to be limited to just a notebook for school or work. Choose a fabric they would love and go for it!
Button Bookmark
These bookmarks can be used for practical purposes or you could make some that look good as decorations. I seem to always be losing my bookmarks, so I know I'd appreciate a bookmark that sticks around!
Mason Jar Cozies
If you know someone who has lots of mason jars or something similar that they use, you can make them these adorable cozies! Try a bunch of different styles and patterns—just have fun!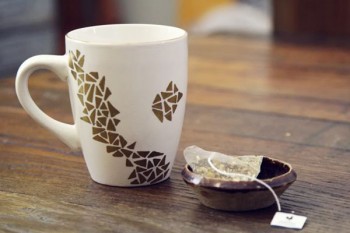 Sharpie Art Items
Really anything you make with sharpie art will look great. You could do cups, mugs, plates, silverware, or something completely different! Just choose something your friend needs and make it look great!
Painted Strap
This could be for a purse, camera, or anything else. Buy a plain strap and then paint it to be fun, bright, and unique. Just like the friend you'll be giving it to!
Coasters
It seems like you can't ever have enough coasters around your house. Whether they're for the table or coffee table, coasters always come in handy when you have friends over. So, make some cute ones that your friend or loved one will appreciate.
Bookends
You can make bookends out of anything really! If they're too light, then just glue the object onto a heavy block and then paint the whole piece all together. You could make the bookends out of toys, jars, etc.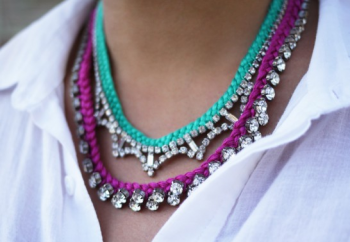 Jewelry
Homemade jewelry, when done right, looks great! Plus, your friend will know that it's one of a kind, so they won't have to worry about ever matching on accident. Just make sure you use good materials so the jewelry doesn't look like it was homemade.
Fabric Key Fob
For your friend who is constantly losing their keys, here's a great present. It's both practical and pretty! You can make numerous key fobs, too, so you can give them to lots of your friends.
Litter Bag
If you know your friend always has a messy car, then a litter bag is just what they need! This homemade bag can fit in any car and allows your friend to put their garbage all in one spot so it doesn't spread through the whole car.
Recipe Book
You can fill the recipe book with your own recipes (if your friend or loved one really loves your meals), or you can leave it empty for them to fill themselves. Do whatever you think your friend would like most; just make sure the book looks great!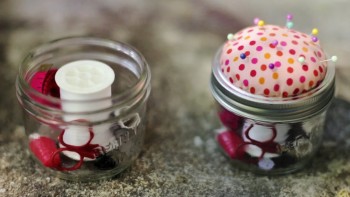 Mason Jar Pin Cushion
For those friends who love to sew, this is a great present! Plus, they can customize it and use it whenever they want. The top of the lid has a pin cushion attached and then you can fill the inside will all sorts of sewing material.
Hot Pad
If you choose to make this gift, make sure that it is sufficiently protective. You don't want your friend to use the hot pad and burn their hand through the cloth. However, if you follow the instructions, that shouldn't be a problem.
Body Scrub
Find a scent your friend likes and try to turn it into a body scrub for them! You can make lemon salt scrubs, brown sugar scrubs, or even a lavender one. There are tons of options, so make it for your friend (and maybe have a bit left over for yourself as well).
Soap
You could also make some soap for your friend or loved one. It could be hand soap or body soap, whatever you think they want. You could also do a foam, cream, or bar soap, too. There are so many options!
Lotion
If neither of those sound like good ideas, then try making some lotion. The best thing about this is that you can combine lots of different things together to get a unique scent your friend loves and that will help their skin look great!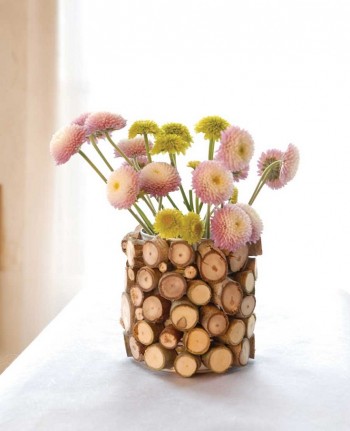 Vases
Now, you probably can't make the vase by yourself (unless you're a professional glass blower) but you could definitely decorate the vase to make it look so much better! Use glitter, paint, sharpie, or anything else you think would make your friend love it.
Lanterns
If it's summer time and you know your friend is looking for some great outdoor lighting, then try making some homemade lanterns for them. Depending on the type of lantern you make, they could put it on a table, hang them up, or something else.
Tote Bag
These tote bags are actually pretty easy to make, plus they're great for things like running to the store or going to the beach. If you know your friend struggles with finding good, quality bags, then come to their rescue!
Candle
Yes, you can, indeed, make a homemade candle. You get to choose the scent, color, and quantity, too, which makes it so much more meaningful and important! It takes about 24 hours to complete this project usually, so make sure you give yourself sufficient time.
Nail Polish
Nail polish is also another item you could make from home for your friend. You can add glitter to it, too, if you want, but that's not necessary.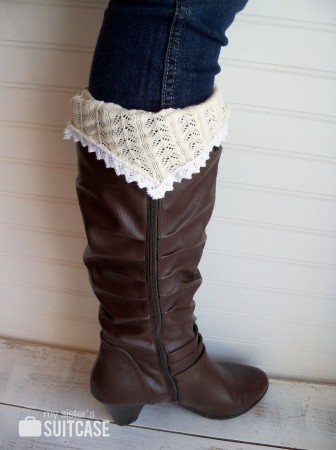 Boot Socks
Who doesn't love a cute pair of boot socks? And the best part is, since you know your friend so well, you know exactly what they'll want!
Luggage Tags
Have a friend that travels a lot? Give them the gift of luggage tags so they never lose their luggage again! They'll definitely be able to find their luggage so much easier when they have your unique and fun luggage tag tied to it.
Jewelry Dish
Jewelry dishes are actually pretty easy to make, and everyone needs them. Plus, you can customize each dish for all your friends, so this is a gift you could give to all of them without feeling cheap or like a bad friend!
Heat Packs
For those friends who spend time outdoors or on the mountain, then this may be the perfect gift! It's a handmade heat pack that last long, keeps the heat in, and will make your friend remember you every time they feel its warmth.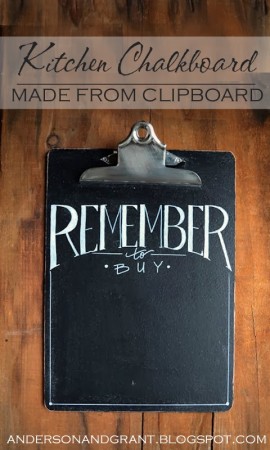 Chalkboard
You could make a chalk clipboard or some other type of chalkboard for your friend to use. This are especially useful in the kitchen or entryway so the house can stay neat and organized.
Air Freshener
Giving the gift of a great smelling house is always appreciated! Combine some flavors that your friend loves, find a good mixture for them, and watch their face light up and their house smell great.
Food
If you're not the crafty type, that's no problem. Give the gift of food! Everyone appreciates a warm cookie or fresh batch of brownies!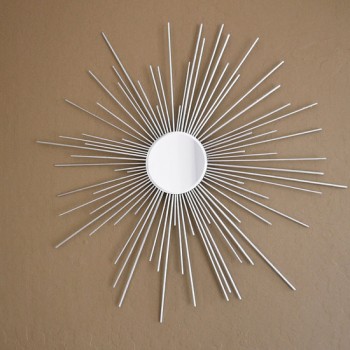 Starburst Mirror
This thing is so great looking! It looks like it could be right out of a home décor catalogue! And the best part is that you can make this starburst mirror with materials from the dollar store!
Pillow Covers
If you like sewing or similar projects, then here's a great idea! Make a pillow cover or two for your friend. You can decorate it however you want, just make sure your friend has a pillow it would fit on.
Blanket
Another similar project is a blanket! There are tons of types of blankets you could make: denim, knitted, fleece, etc. Find a material your friend will like and then surprise them with their very own blanket!
Terrarium
This is a great decoration for any house or apartment! And you can make it in any size, shape, or style. Just get as few or as many materials as you want and then make the terrarium!
Votive
To go along with the homemade candle you're giving your friend, you could also make them a votive! The two always go together really well. Plus, you could make a great holder for it for your friend to enjoy.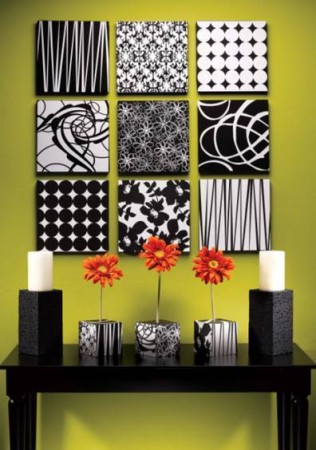 Décor
Anytime of décor for your friend's home will be appreciated. You can make pillows, blankets, mirrors, art, etc. If you have a nice artistic touch, considering painting or sculpting something for your friend to keep.
Chalk
If you're giving a gift to a child or artistic person, you could consider making some DIY sidewalk chalk. It's easy to make and is sure to be appreciated by the receiver!
Phone Case
Phone cases are something that people seem to be changing out all the time. So give your friend more options by making their very own phone case! It's a unique item that they know no one else will have.
Tie
Find some fabric your friend likes and make them a great looking tie! Find a tutorial online that matches the kind of tie style you think your loved one likes and then go for it!