That crazy time otherwise known as "back to school" will soon be upon us! Have you already planned out those necessary First Day of School photos? Are you concerned about keeping them from becoming the same, boring pictures you take every year? Luckily, I've rounded up some cute ideas to help you take amazing back to school photos. Take a look!
The first idea is really quite simple. All you need is a black helium-filled balloon, a silver Sharpie, and ribbon bows to coordinate with your child's First Day of School outfit. Use the Sharpie to write whatever information you want to share on the balloon. Tie the bows onto the balloon string, and have your child hold it while you snap a few pics. So easy!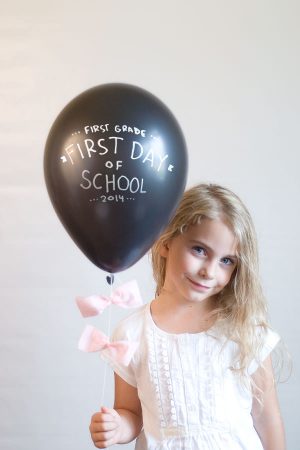 Shawni at 71 Toes is known for her photography skills and love of picture taking. Here she shot photos of her daughter holding a couple of her books and a classic bright red apple for the teacher on her head. Her daughter just strikes a natural pose that's relaxed and fun. Really creative, but also simple enough for anyone to do it!  
What's more classically back to school than a chalkboard? Similar to the black balloon idea, you just get a chalkboard of your choice, and write on it whatever you feel like saying. The best part is, it can be used differently for each child, and then reused from year to year.