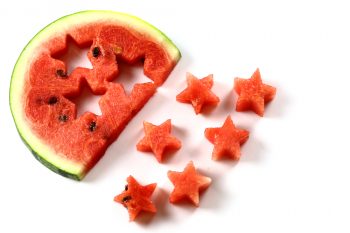 Food
Dip Oreo cookies into melted white chocolate and cover with patriotic sprinkles. Kids especially love these!
Spend just a little bit of extra time and get big impact by cutting your watermelon with a star-shaped cookie cutter.
Patriotic deviled eggs are also a party hit. Peel and halve your hard cooked eggs, then remove the yolks. Place some of the egg white halves into red and/or blue colored water for just a couple of minutes to dye them. Remove and arrange on a plate. Pipe in your favorite egg white, mayo & mustard mix.