Are you ready for some burlap sack home decor ideas? If you don't have some burlap sacks lying around, you're going to want to get your hands on some! Burlap is a great textile to use in home decor. Burlap sacks provide an inexpensive way to get it. Get a four pack of large 23×40 burlap potato sacks at Amazon for under $13! Now let's show you just some of the ways you can put those burlap sacks to use!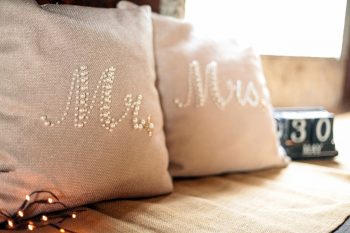 Any post on burlap sack home decor ideas should probably start with one of the easiest DIY projects you can do–throw pillows! I love the idea of making pillow covers for my existing throw pillows out of burlap sacks. It's easy to embroider them with whatever you want. Check out this post on DIY no-sew pillows!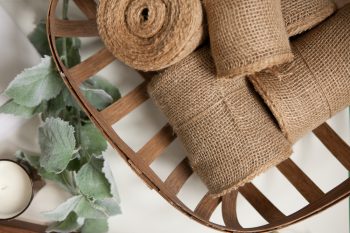 This is probably one of the simplest burlap sack home decor ideas I've ever seen. Roll 3-4″ wide burlap strips tightly, secure them with a long thread of burlap, and pile them in a rustic basket to display. If you've worked with burlap before, then you know how easy it is to pull out a thread and use it to tie around the rolls. You could literally have this home decor idea done in minutes!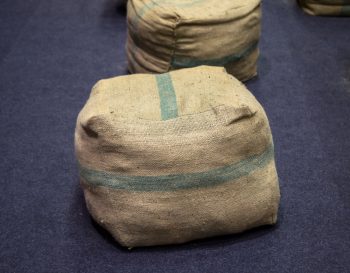 Those large potato-sack sized burlap bags make the perfect bean bag poufs. Sew the burlap sacks into a cube shape and fill with bean bag filler. You'll find it at Amazon!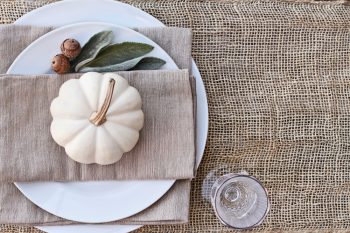 There's no end to the burlap sack home decor ideas you can find for dressing up your dining table, especially during the fall. Thanksgiving is prime time to sew a table runner and some napkins out of burlap sacks. This is an easy project anyone can do.
For much more on burlap sack home decor ideas and projects for your next rainy Saturday, see our post with 10 Burlap Projects that You Haven't Already Seen.