Do you have a bunch of old garden pallets sitting around and are just thinking about throwing them away? Well, don't! There are a TON of projects you can do around your house and around the yard with pallets. Try some of these great ways to recycle your old pallets.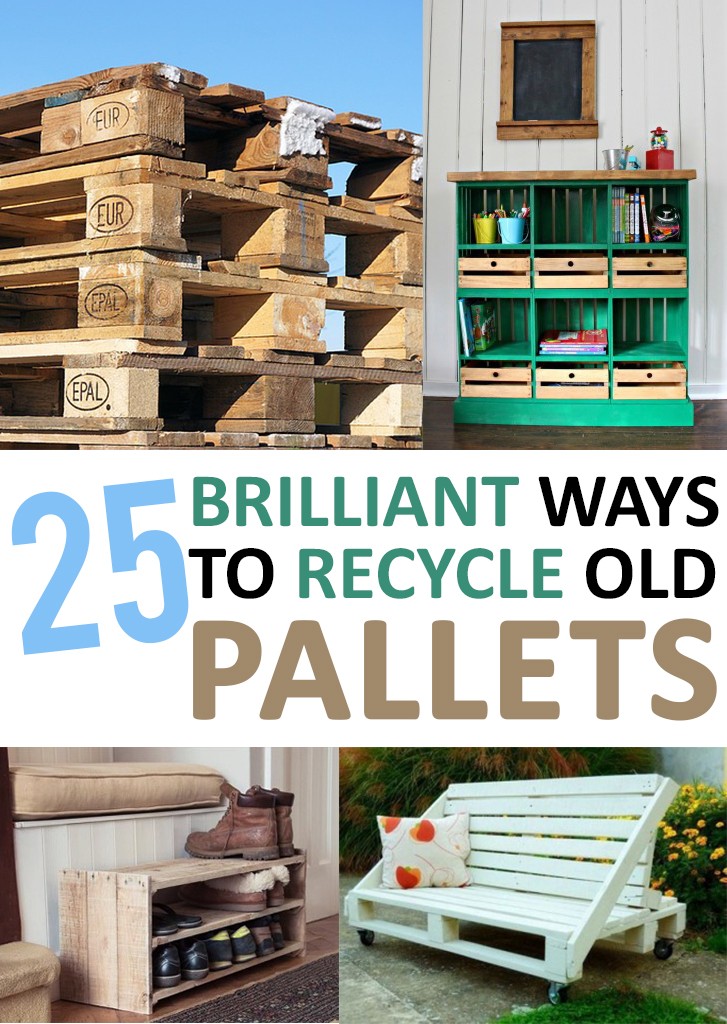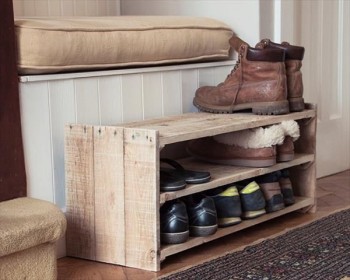 If you're sick of tripping over everybody's shoes when you come home, then here's a solution. Turn the pallet into a shoe holder! You don't even have to dismantle the pallet if you don't want to. Simply paint it a fun color you like and start using it!
Make a great-looking path or walkway in your backyard with the pieces from your pallets. Just detach them, stick them in the ground, and you're good. You can paint/decorate them if you want, but it's not necessary.
Yes, you can actually make furniture from your pallets! It may sound impossible, but it's not! You'll probably want some pillows and cushions, though, since the wood probably isn't very comfortable to sit on for a long time. But it's still a great project!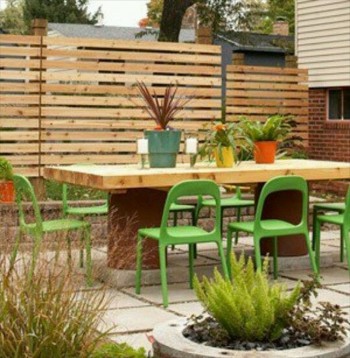 Add a little more privacy to your yard with a privacy fence! You don't have to dismantle the pallets to make this, but I suggest you do so it looks a little nicer. Again, painting and touching up the pallets really helps this project look great.
With a few pieces of the pallet, you can make yourself a fancy little wine rack. It's nothing special, but it works to hold your wine and look good doing it!
Put your carpentry skills to the test and make a fantastic swinging bench! You can put it in your front porch or somewhere in the backyard. There are also quite a few design ideas, so find one you like and go for it!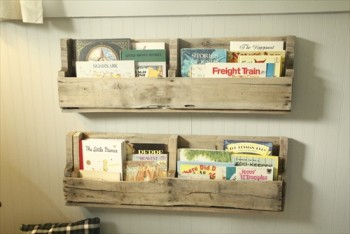 Add a bit more shelving to your home by making them out of pallets! You can just do flat shelves or combine numerous pieces of the pallet together to get a great looking shelf.
Do you want to be able to use your dinnerware and also display it? Build yourself a great open dish storage space then! It's super easy to do and keeps your plates and dishes visible when you aren't using them.
Add a touch of rustic beauty to your entryway by making a coat rack out of pallet boards! Have fun designing and painting the coat rack—just make it look great!
Don't just throw your bike on the ground when you're done with it. Instead, build a super easy bike rack that holds your bike upright no matter what! It doesn't take much time and can really save your bike from damages.
If you really want a fun project, then make a bedframe out of pallet boards! You'll have to make sure the frame can hold the weight of the mattress and the person or people who sleep on the bed, but hey, that's part of the fun!
There are tons of seasonal decoration ideas that you can make with pallet boards. You can make fun pumpkins for fall or creative Christmas trees for the winter. There's really no limit to the decoration ideas as long as you have your imagination!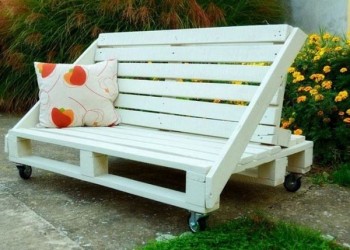 Make a fun and cute garden bench that you can stick in your backyard. It doesn't require many supplies beyond your pallets, just a bit of sandpaper and paint to make it look and feel great.
You could try to make some stools and chairs from your old pallets as well. This look great both inside and outside, so wherever you're lacking furniture, go for it! Add cushions and color as desired.
For a nice place to put your drinks or rest your feet, make a cozy little coffee table! The great thing about this project is that you can make the coffee table any size or shape you want since it's all customized by you!
Give your pet a nice place to rest by making them a pet bed from pallet wood! You'd obviously put blankets or cushions in it (unless your pet likes the hard ground), but it's a fun little way to make something just for your pet to enjoy.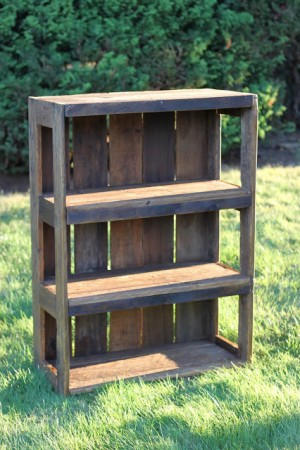 For those of you with construction skills, try making a bookshelf! It's actually pretty straightforward once you get the hang of it, but it can seem like a daunting task at first. Make it whatever height you need—the project is yours!
If you have a lot of extra pallets sitting around, then you could make a playhouse! Yeah, I know it sounds crazy, but it's totally doable! Of course, you'll want to make sure it's safe and sound before you let your kids go in and play in it, but follow instructions online and you should be fine.
Depending on the size and quality of the pallets you have, you could possibly make some coasters. This isn't possible with all types of pallets, but if you think it's manageable with the ones you have, then go for it!
Give your tools and equipment a place to stay by making your very own workbench. What better way to put your tools to use then building something to put them on! I'd say that's pretty handy, if you ask me.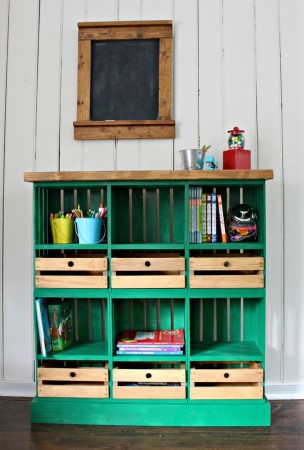 There are tons of storage ideas you can make when it comes to recycling pallets. One of those ideas is a storage locker that you can use inside or outside.
Make a fun and unique headboard for your bedroom out of pallet boards! You can cut and shave them to get the shape you want, and then just paint them to have it match the rest of your room!
Another great pallet project is making a potting bench! It's a place for you to work on all your plants and herbs without having to be bent over in the garden to do it! You could make the whole bench or just do a fold-out version to save space and time!
With a bit of careful planning, you could even make a lantern out of pallet boards! You just need to build a spot inside for the candle to go and then you have a great lantern to light up your backyard for any get togethers.