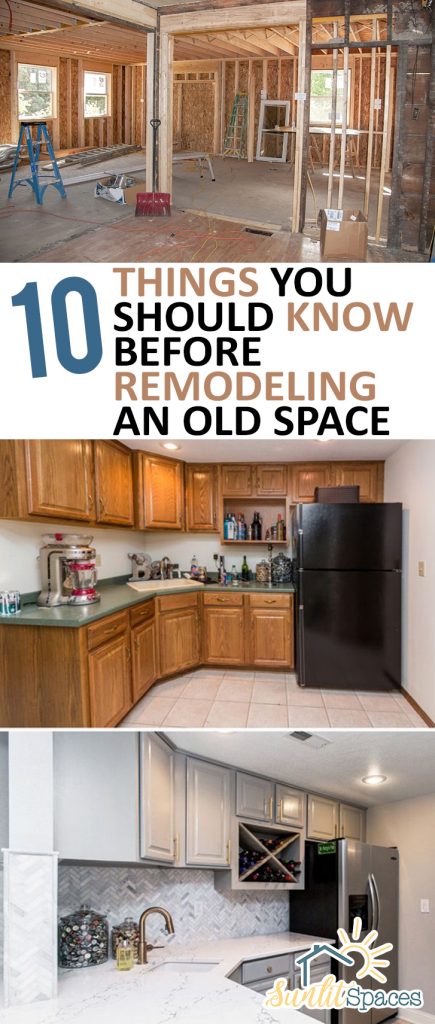 The idea of taking an old home or an old space and remodeling it to make it your own is appealing to many, especially after Chip and Joanna Gaines make it look so easy! But there are some things you should know first. Today's post will show you 10 things you should know before remodeling an old space.
Before buying and remodeling an old home, be educated on the possible hidden costs. You might get a great purchase price and save money doing it yourself, but be prepared with extra budget money if unseen problems surface during the renovation.
You'll need to be patient. A remodeling project, especially an entire home, can take anywhere from a month to a year or more to complete. It depends on who does the work, what's involved, and what problems you run into.
Chip Gaines says it best, and he's right–look for the worst home in the best possible neighborhood. In other words, location is as important as the realtors say!
If you're looking for a fixer upper, look for a home with good bones. A solid foundation, a good roof, and a livable floor plan will minimize your costs.
While you're considering the renovations you want to do, a contractor can help you with an estimate so you have a good idea of what to expect on costs.
It's smart to know beforehand how your planned renovations may impact your home's resale value. So if you plan to sell your home in the next few years, you may not want to splurge on high-end finishes and appliances.
Minor renovations include things such as patching and painting walls, refinishing hardwood floors, laying tile or installing new carpet.
Major renovations are things such as new roofing, replacing the HVAC, new plumbing, and kitchen and bath remodels.
The FHA offers home buyers a 203k loan, which allows you to buy a home and finance the cost of the remodel at the same time.
Most importantly, don't overdo the remodel! Check into how comparable homes in the neighborhood are finished. A good rule of thumb is for your remodel to be in line with or just slightly better than other homes in the neighborhood.
Don't miss these other remodeling tips and projects:
How to Update Your Garage Door With a Coat of Stain