If the stack of sample paint colors on your table is overwhelming, consider pewter for a refined look. Color is vital to the tone and message of any space, and pewter is a sought-after paint choice that works with various surroundings.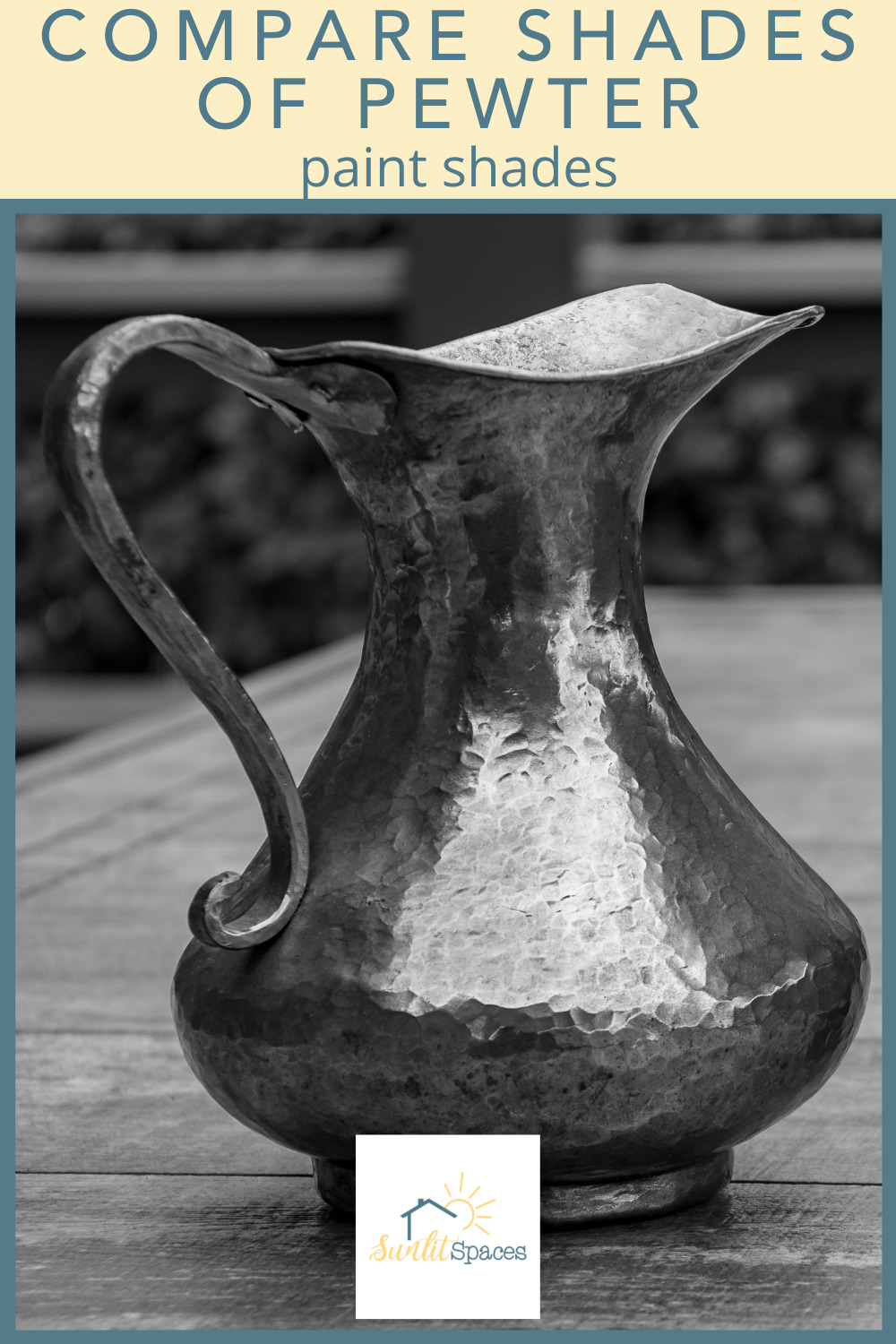 Pewter is not just a single color, but rather refers to a range of hues across gray, beige, and blue colorways. For example, pewter gray (or pewter grey for our British readers), Sherwin Williams Pewter Green, Light Pewter Benjamin Moore, and others all fall within the definition of pewter color.
What Color is Pewter, Anyway?
The term pewter evokes opulent gray with blue undertones. It also references colors in the beige and brown families. Still, other pewter colors exist in warmer tones.
Pewter's variety of tones allows it to work as an accent color, as a cool backdrop, or as the primary wall color for an interior paint color scheme.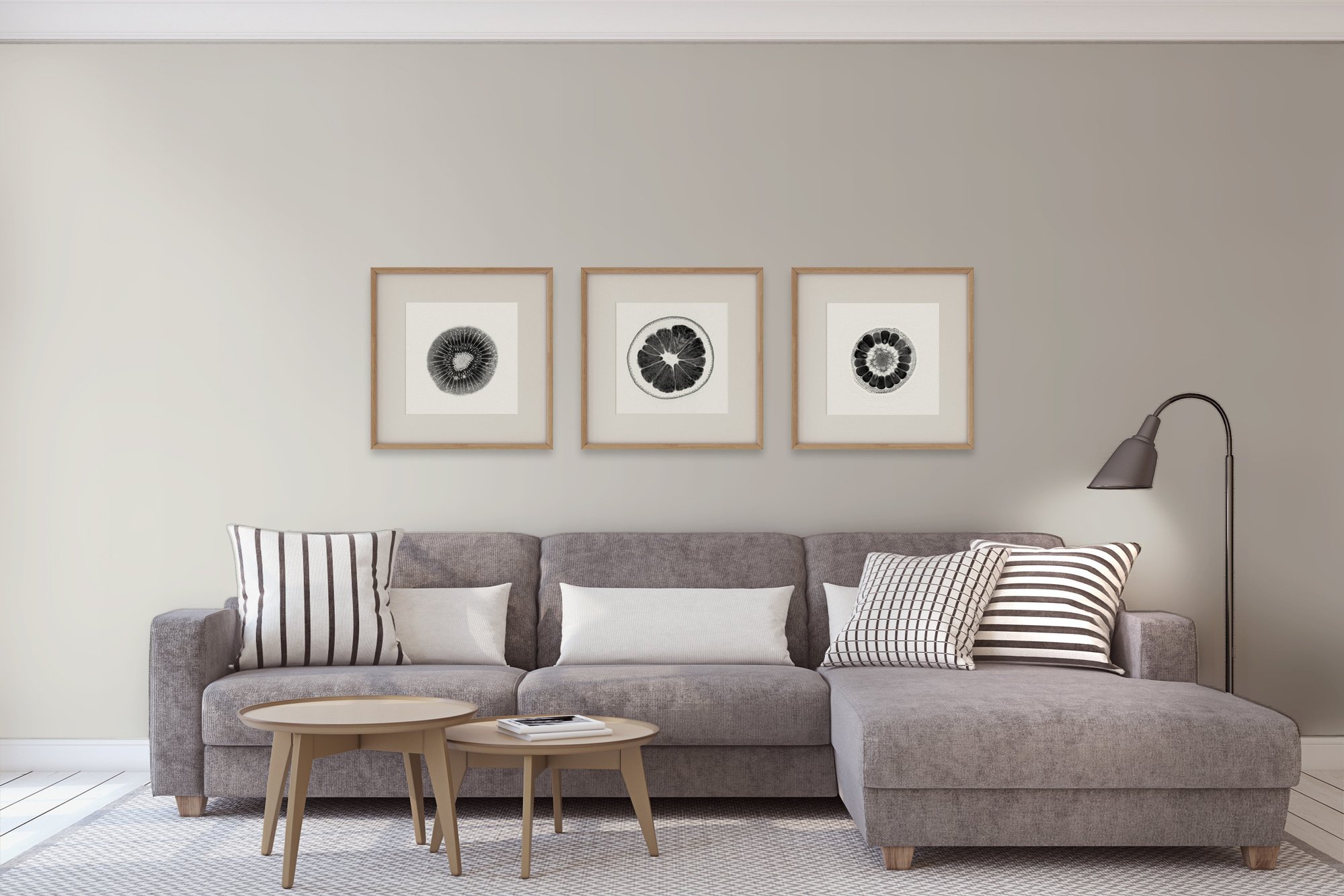 Understanding the History of Pewter Metal
The color pewter originally derived from a metal of the same name, which was a combination of lead, tin alloy, antimony, and copper.
Pewter—the metal—usually had a charcoal-silver appearance with an iridescent sparkle.
These days, with the metal out of favor, the term "pewter" has become associated with color rather than substance. Many colors fall within the pewter family, whether or not they have metallic or iridescent components.
Our Favorite Pewter Colors
Each of the following pewter colors make a terrific paint choice for your home's interior—or for a piece of furniture!
1. Revere Pewter by Benjamin Moore

Revere Pewter combines gray and beige to produce a light "greige" with warm undertones. Revere Pewter is popular as a paint color for home sellers who choose its understated elegance as a neutral color that (hopefully) appeals to any buyer.
The best colors to pair with Revere Pewter as an accent include the following from Benjamin Moore's selection:
Wrought Iron
Hale Navy
Chelsea Gray
Green Grove
2. Light Pewter by Benjamin Moore
What makes this stand out from other Benjamin Moore pewters? Light Pewter has more gray and less beige than Revere Pewter, making it a good choice for those seeking a pewter color more solidly in the gray family.
Light Pewter is an agreeable neutral that complements colors of different décor elements. Most artwork looks striking against a Light Pewter background.
The shade can accentuate vibrancy or seamlessly blend with a neutral design. 
Light Pewter has no green, blue, or purple undertones. This light to neutral gray is suitable for walls and just right for making your cupboard or cabinets pop.
Edgecomb Gray by Benjamin Moore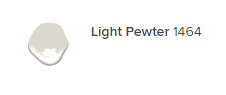 Wondering what color is pewter when you see a really soft hue? Light Pewter is one of the most popular pewter paint colors from Benjamin Moore's classic range. It is less greige than Revere Pewter, and more towards the gray side.
Light Pewter is an agreeable neutral. It provides a perfect backdrop for you to be able to experiment with different colors with other décor elements.
For instance, several different types of artwork would look striking against a Light Pewter background.
This paint is a light to neutral gray with no green, blue, or purple undertones. Not only is the color suitable for walls, but is also just right for making your cupboards or cabinets pop.
3. Edgecomb Gray by Benjamin Moore

This pewter paint color is soft and neutral. Edgecomb Gray can look grayer in natural sunlight and lean more towards beige in artificial lighting. It is one of the few greige paint colors without purple or green undertones.
Edgecomb Gray's earthy tonality has a luminance of 63%, making it a superb pick for illuminating dark interiors with few light sources. Studios and basement spaces with this pewter color feel brighter and more open.
4. Pewter Tankard by Sherwin-Williams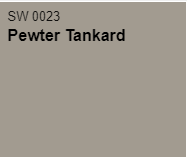 With a warm gray hue, Pewter Tankard avoids an excessively cool tone. With its versatility in use, this pewter color falls solidly within the greige category.
It's a favored neutral paint color that fits both interior and exterior color scheme needs. 
Pewter Tankard has an approximate luminance of 64% and a hue value of 35°. An interesting fact about this paint color is it's prominent usage in the 2012 HGTV Dream Home in Park City, Utah.
5. Burnished Pewter by BEHR
Burnished Pewter, a warm gray pewter color, is another terrific pewter option. This is a chalk paint, which can be used on metal, cast stone, concrete, and wooden furniture.
The two-step application process leaves a matte finish that works well regardless of project aesthetic. Burnished Pewter turns old furniture to mature antique and modern to vintage modern.
On walls, the matte finish absorbs light instead of reflecting it, giving Burnished Pewter a higher level of elegance and making people look twice…and three times.
6. Repose Gray by Sherwin-Williams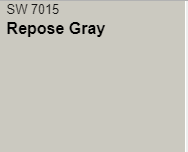 This natural hue with warm undertones is striking when used to paint exteriors. Repose Gray is a pewter color that appears to shift hues depending on the setting. Sometimes it can appear neutral, while other times purple or green undertones can be seen.
As an exterior paint color, Repose Gray's perceived color depends on the season and geography. For instance, if you live in an area with warm summers, the sunlight will highlight the warm tinge of Repose Gray.
On the other hand, the rainy season can make the color appear almost off-white.
Glidden's Pewter Grey is a close pewter color to Repose Gray. Pewter Grey makes a great resistant pewter option that is ideal for interior paint projects.
7. Pewter Green by Sherwin-Williams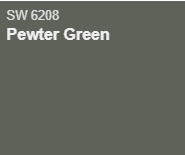 Pewter Green, as the name suggests, has a distinctive green tone to it. The color conjures balance, growth, and stability. This pewter color also contains hints of blue and gray.
Pewter Green gives off festive and wintry vibes. This pewter color is great for painting the headwall in your bedroom or for adding character to your kitchen cabinets. Pewter Green pairs well with natural wood décor for a warm and cozy feel.
8. Agreeable Gray by Sherwin-Williams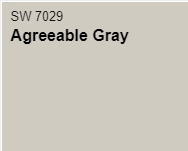 This is a soft gray pewter paint color. It is thought to be Sherwin Williams' top-selling paint color. Agreeable Gray is a warm light gray which borders on greige. The best part about Agreeable Gray is that it is neither too brown nor too gray.
In cooler lighting, one can see blue, green, or violet undertones. On the other hand, in warmer lighting, Agreeable Gray can take on a yellowish tinge.
The fact that this versatile pewter color matches well with both warm and cool color schemes. 
9. Accessible Beige by Sherwin-Williams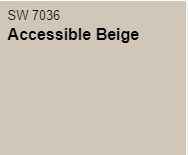 Accessible Beige is a primarily beige hue with gray undertones. While much more beige than other pewter colors in this article, we still consider it pewter…just barely. It's a terrific neutral color, regardless.
Accessible Beige has a light shade with yellow tones. 
Accessible Beige takes on different subtle hues based on lighting. It fits both modern and traditional interiors. This pewter color really pops when used with white trim or natural wood.
Pewter for All Aesthetics
Pewter is an elegant, shimmery family of colors that suit any décor.
The pewter color family's popularity is on the rise. Folks like these colors for their adaptability, and because they complement any style of home.
Next time you find yourself wondering what color matches mauve or what paint color goes well with copper, consider a pewter paint color. Have you used pewter colors in your home? Let us know in the comments.
Other articles you may enjoy
This article was originally published on 8/5/21 but has been updated.