Get your kids excited about Halloween and away from the TV with these fun crafts! Everyone's sure to have a blast creating these spooky decorations!

Jack o' Lantern in a Jar
Cut pieces of masking tape into jack o' lantern face shapes and arrange them on the outside of a clean jar. Paint over the entire jar with orange paint. Let dry, carefully remove the tape, and light with battery-operated tea lights.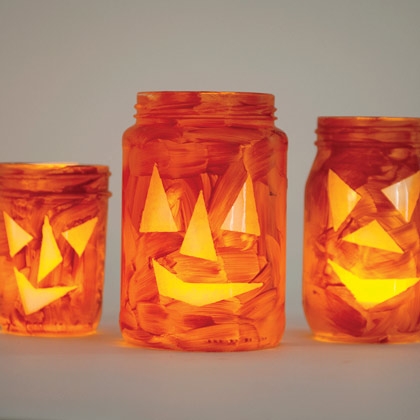 PVC Pipe Skeleton
Build a scary skeleton to adorn your entryway using PVC pipe, some milk jugs, and a few other supplies. Details at spoonful.com.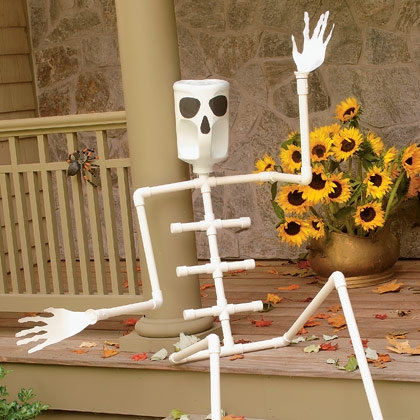 Jack o' Lantern Window
Help your child create a jack o' lantern face in their bedroom with some corrugated cardboard and orange tissue paper. Super adorable! Full instructions on spoonful.com.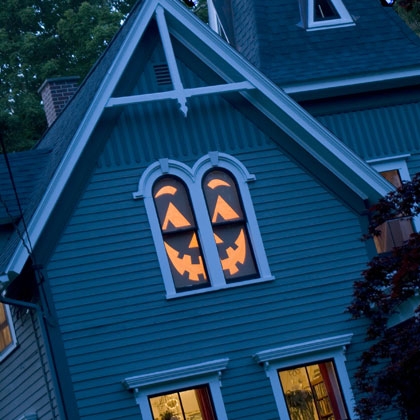 Spooky Door
Turn your front door into a monster's face using masking tape (mouth and eyebrows), paper plates (whites of eyes) , black construction paper (pupils), and crepe paper (hair).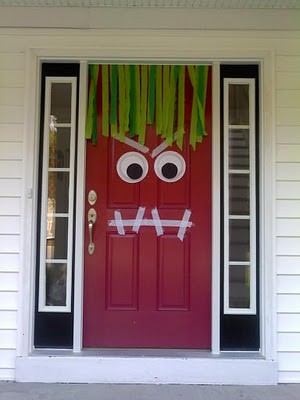 Rock Monsters
Find an assortment of smooth rocks and paint with colorful acrylic paints. Draw on details using Sharpie marker and glue on googly eyes. Too cute!
Tissue Monster Treat Box
Enlarge the hole of an empty tissue box and turn in on its side. Cut two jagged pieces of white paper and glue to the top and bottom of the hole for monster teeth. Cut sections out of an egg carton to be used as eyes, draw on pupils, and glue to the top. Paint the box in a fun and colorful way and fill with goodies!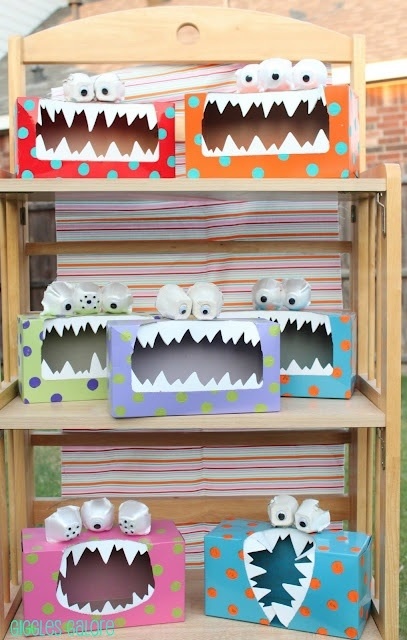 Footprint Ghosts
I found this fun idea from Crafty Morning. Your kids will love this craft and it makes a good remembrance for later to see how they've grown. You can make a new set each year and let them see how much bigger their foot is from last year!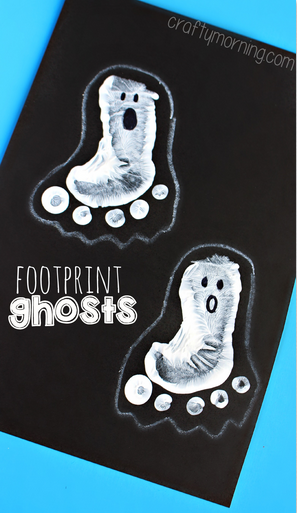 Spider Necklace
You can create this scary accessory in like than 15 minutes! You and your kids will love to wear in throughout the month! Find the simple directions on Sowdering About.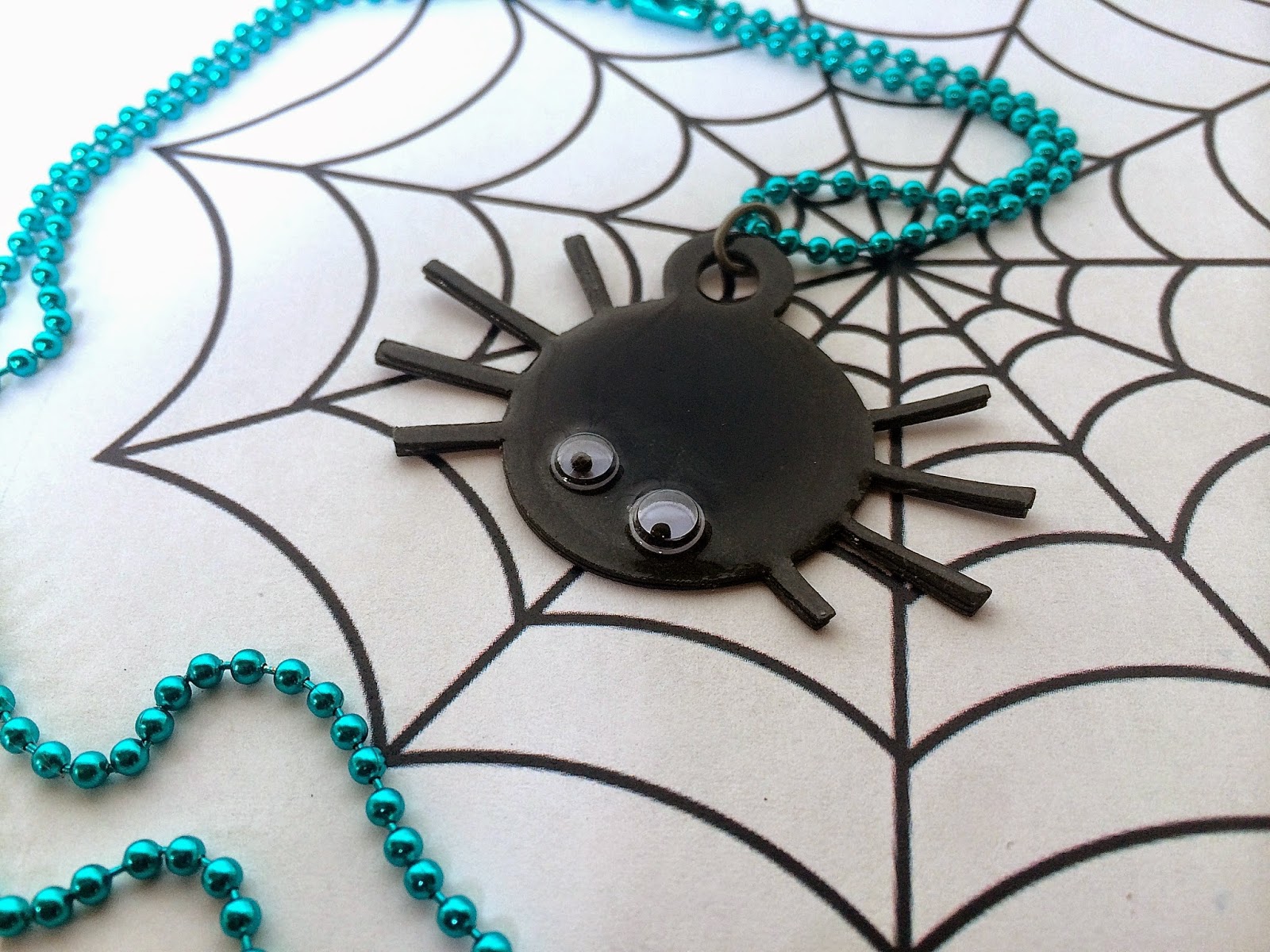 Pumpkin Pumpkin Popsicle Stick Magnet
Cute and fun magnet that you can use to hang up there Halloween art work they bring home from school! To get to how-to visit This Girl's Life.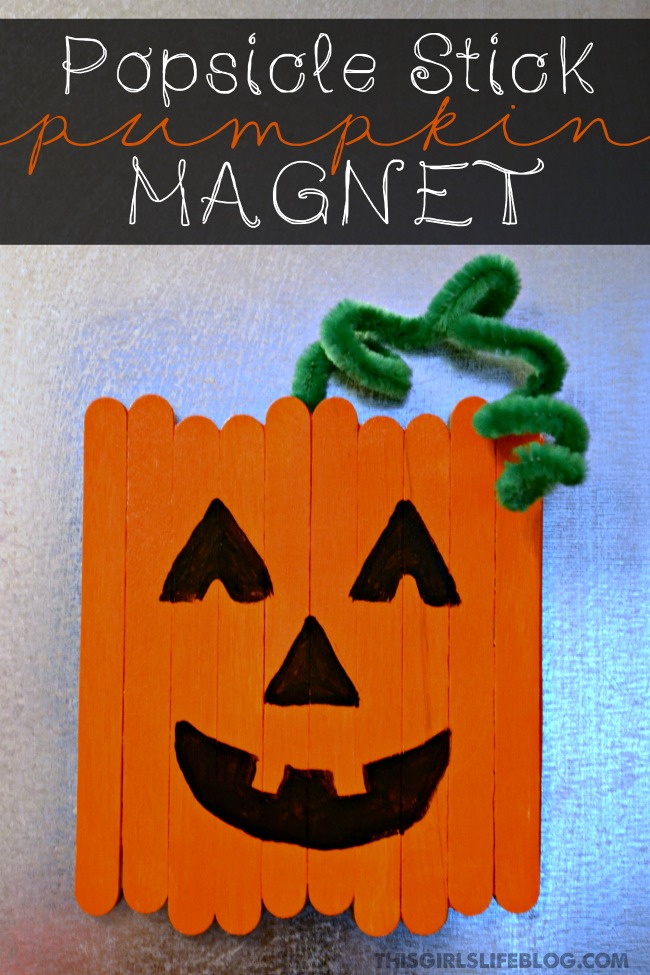 "Boo"Nana Pops
This is a fun and simple Halloween crafts that you can share with friends and neighbors! And the best part….you get to eat it when you're done! Find the recipe on Listotic.

Hope you're ready to get creative with your kids this Halloween season!