As long as my husband and I have been married, we have never had a headboard or a matching bedroom set.  This is crazy, I know.  For some reason, our bedroom is the last room in the house to get any attention.  So this winter, while we have no outdoor projects going on, we are working on our bedroom.  Of course the bedroom of my dreams would be complete with a sitting room and a fireplace and a massive walk-in closet and extra laundry room, but right now, all I want is a headboard:)
I have been researching different headboards so I can decide what I want.  I really battle my tastes and style sometimes, because I love so much of everything!  That's why I am so glad "eclectic" is in, and nothing really has to match.  We really never look for things to buy, we usually look for things to make.  Here are some pretty amazing headboards I found, and now all I have to do is decide which style to go with.  We are going with grey sheets, and that is as far as I have gotten yet.  I haven't picked out a duvet cover or a bedspread yet, so we really can go a lot of different directions.
Eclectic
Because of my style conflict, I thought it was funny when I ran across this headboard. It is made of corrugated tin cut into an elegant and stylish shape.  The wall behind it is a rustic wood paneling- perfect!  My husband would NEVER go for it. Ever.  But isn't it creative?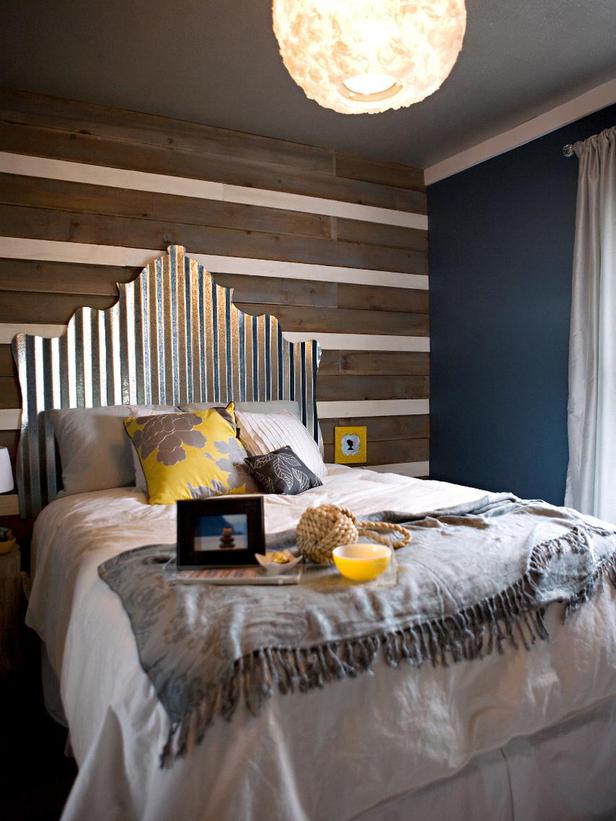 Rustic
A nice rustic touch to your headboard is a great way to go. Paint it a fun and unique color to really make the headboard stand out. If needed, distress the material to give it a nice, old-timey feel.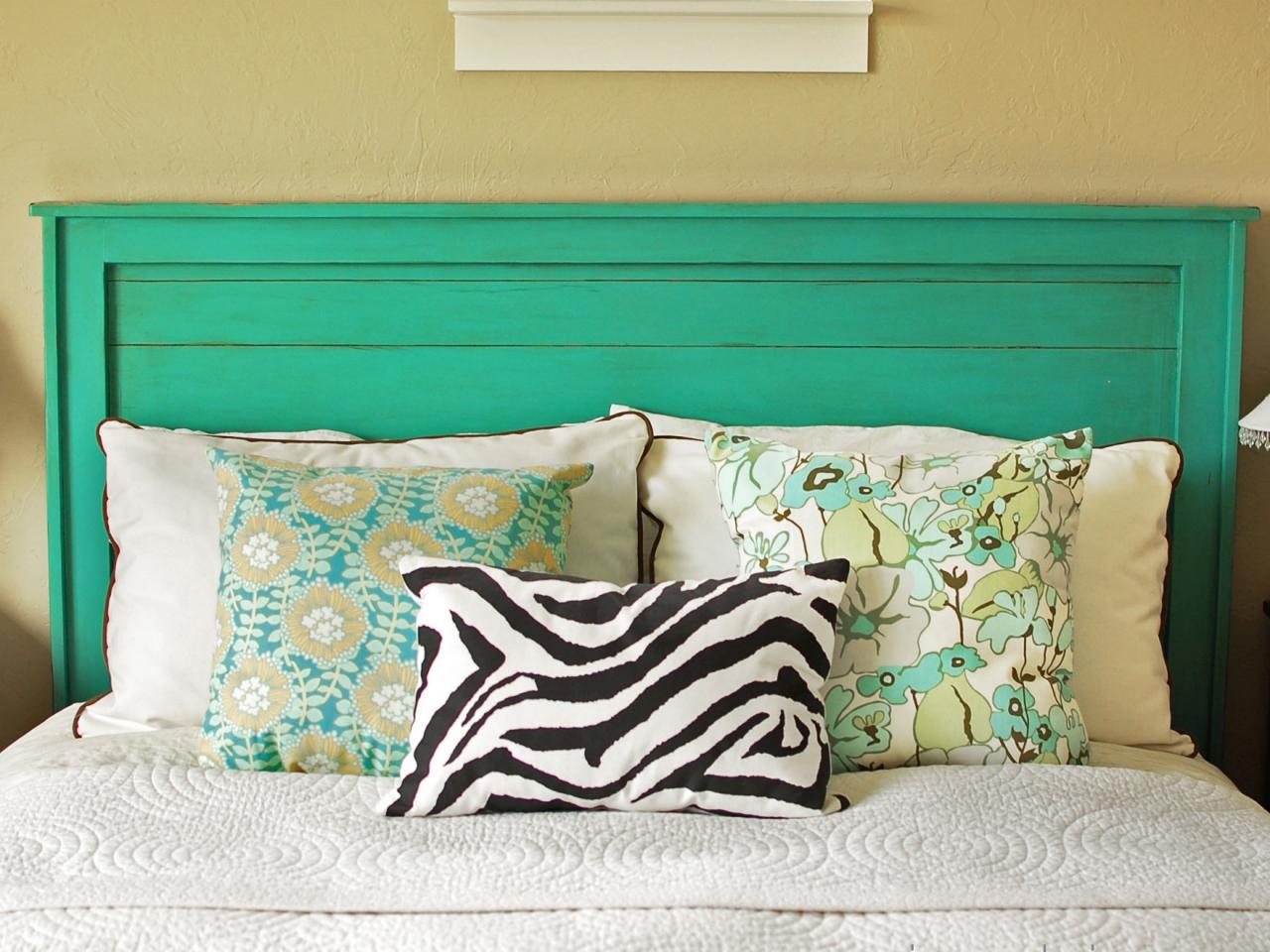 Decals
This is such a clever idea! Instead of building and constructing a headboard, just use a simple decal! It looks just as good as a normal headboard and is a different and cool way of getting the look that you want!
Tall
Most headboards only extend a few inches above the bed. Go outside the box and build your headboard tall! You can even extend it all the way up to the ceiling if you want! Try a few styles and designs before building the whole thing, though, so you know for sure that you like it!
Kids' Headboard
Isn't this cute for a kids room?  I think with modification, it could work for mine too. It is a collage of frames and canvases and positive quotes.  I think it is adorable for a little girls room, but I like the adapted version that is in my head of frames, maybe fabric framed and a picture or 2 (black and white?) of my husband and I. I think I might go this route.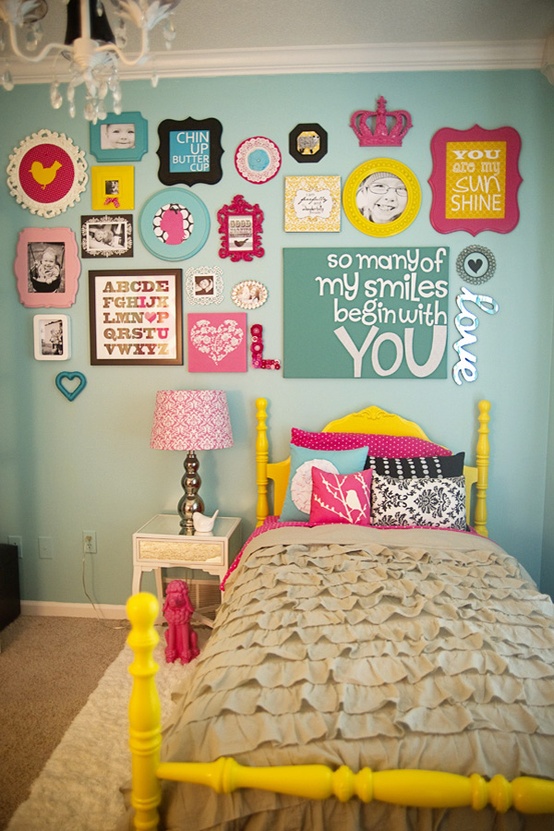 Folding Closet
If you have an old, broken folding closet, don't just throw it away—repurpose it! Repaint it if needed (a fun, bright color is always good) and then put the closet behind the head of the bed. Voila, you've got a great looking headboard at almost no price!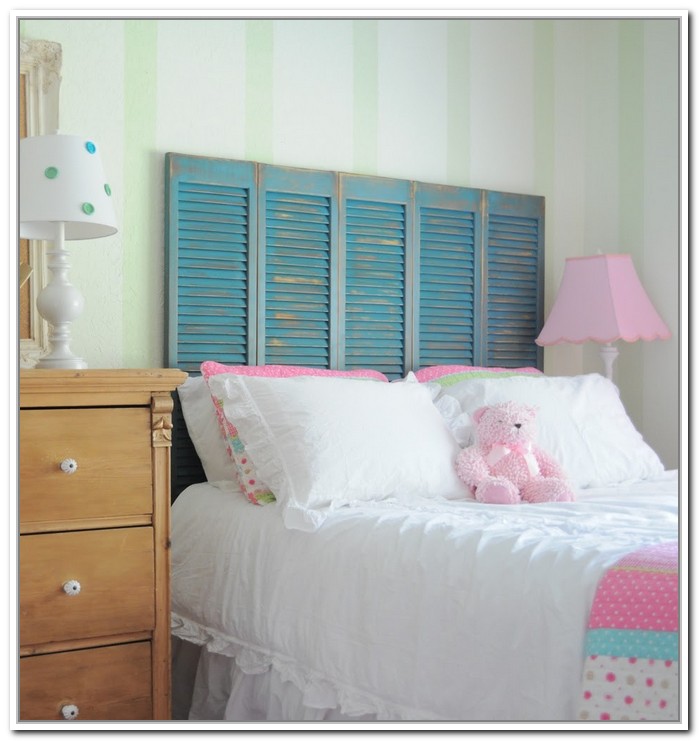 Doors
Reclaimed wood doors are so fun to upcycle and repurpose.  I have seen them as backdrops in houses, decorations, shelves, tables and now headboards.  I love this.  It is perfect for a shabby chic look and adds a very fun element to a whimsical room.  Weathered doors are so useful.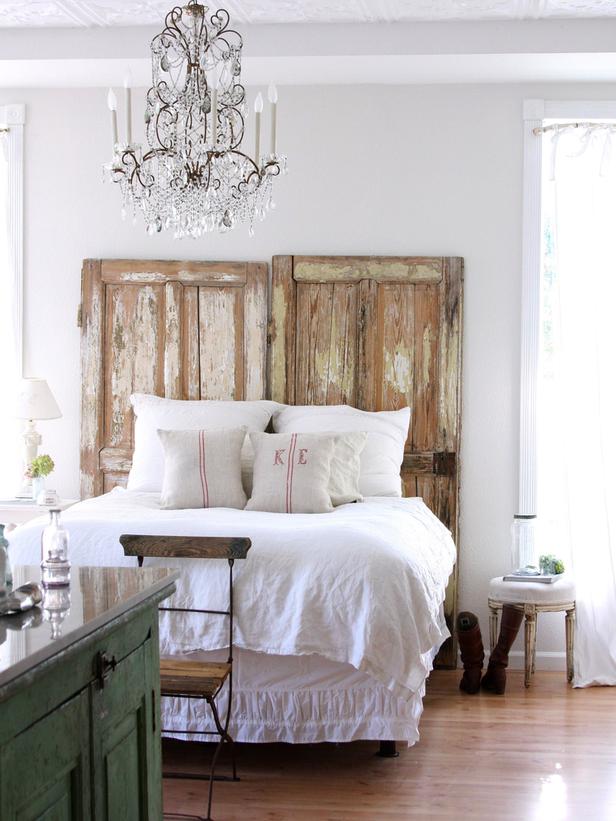 Picture
You may enjoy a classy looking picture as a headboard, and there are a few great ideas of pictures that work wonderfully! Choose a professional one that you really like or, if you're feeling daring, take your own picture and use that!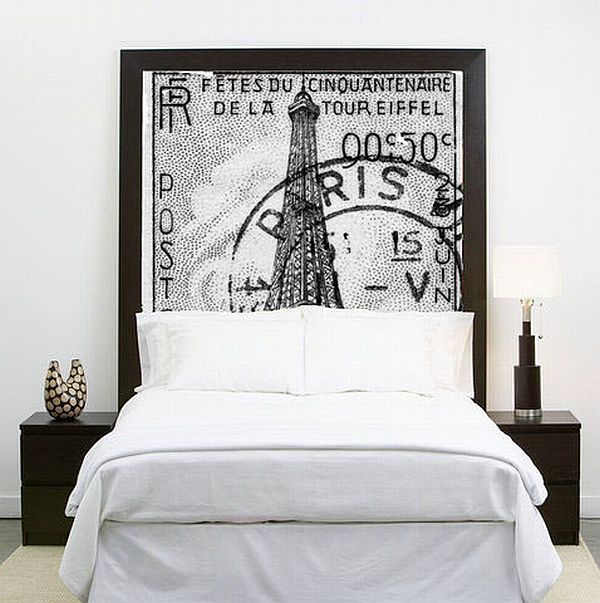 Shutters!
I have seen weathered shutter headboards a few places and I love them.  Sometimes it is hard to find shutters that are already done the way you like them.  You can actually get new shutters and just paint them and weather them yourself by sanding and distressing them.  There are a lot of painting techniques that you could use to accomplish this look.  I think these are great for a cottage, but they don't really go with the theme of my house. I love them for someone else though!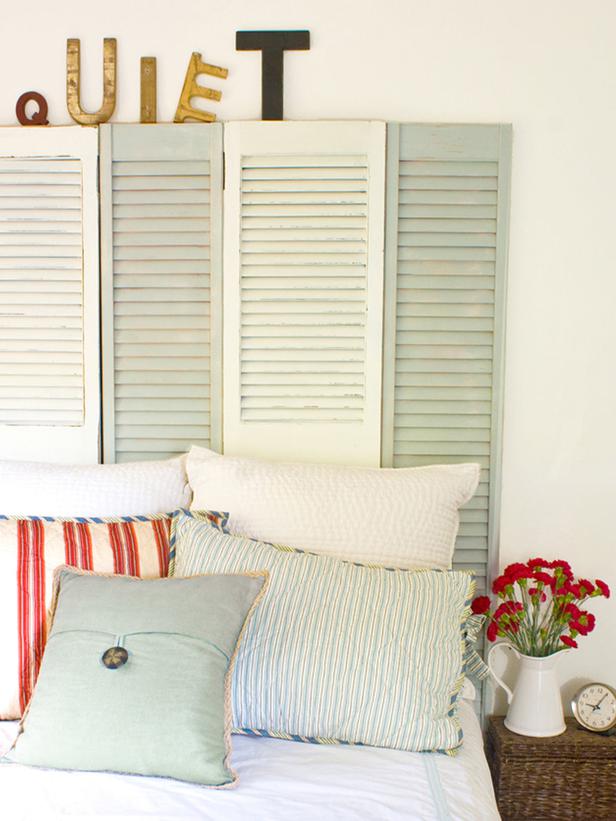 Pallet Wood
Lovin' the pallet wood headboard. Love the rustic element and it is cozy and warm. I am not one for vinyl letters or monograms all over the place (like them, I just don't decorate with them much) but the word on this head board really softens up the wood and gives a romantic and peaceful feel.  I think this is my favorite.  This would actually work with my envisioned color palette.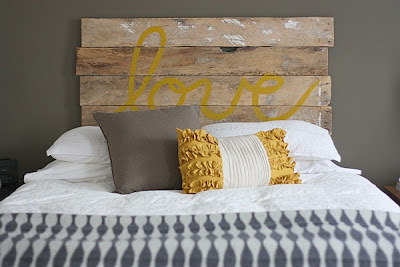 Picket Fence
This is a cute idea! It probably looks best in a children's bedroom, but you could make it work for your bedroom as well! Build a headboard (and even accompanying wall decorations if you want) that looks like a cute picket fence!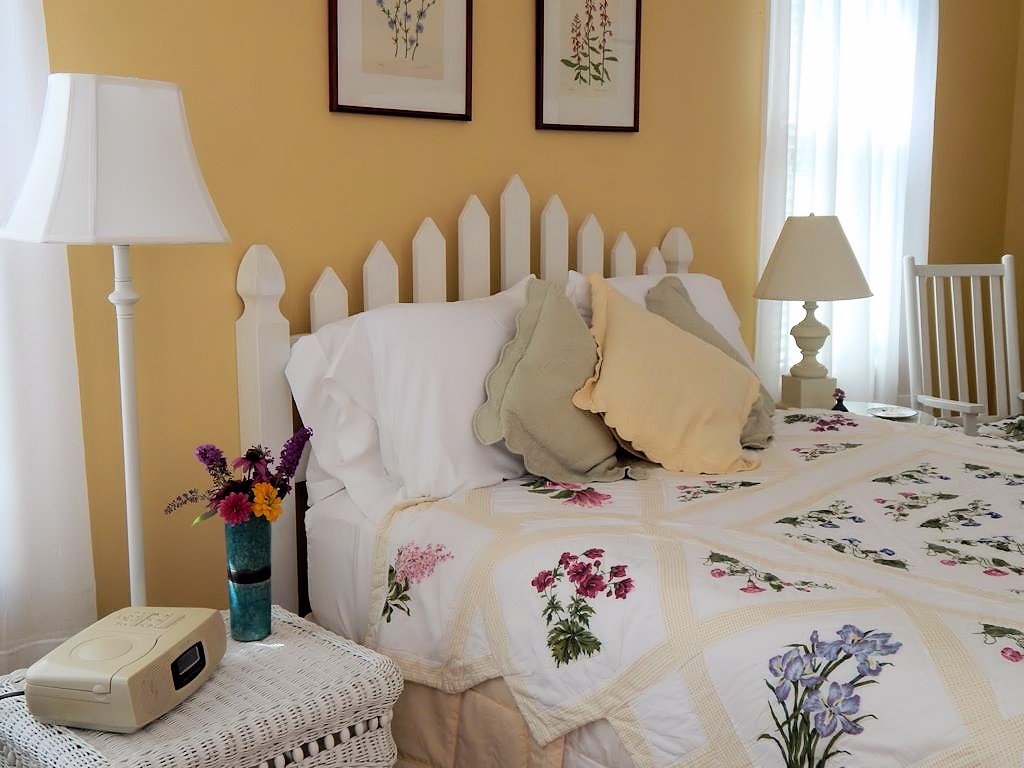 Tufted Headboard
I have seen some that I really like, and some that I don't.  I think the tufted headboard adds a softness to the room and is definitely a beautiful look.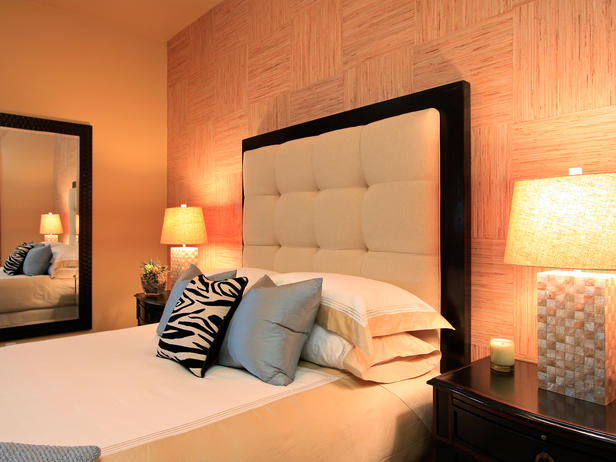 Plates
This is a different but unique idea that can be really fun and decorative. Find some plates and dishes that come in fun shapes and colors and hang them above your bed to act as a headboard. Branch out from the center to make a nice and symmetrical look.