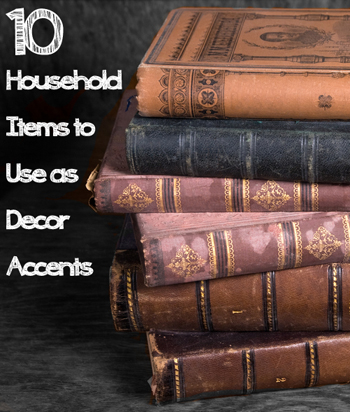 I have a good friend who is really good at using everyday household "nothing" pieces and making them terrific.  Here are 10 things that you can use to dress up your decor:
1. Glass Vases or Vessels- great for a mantle, centerpiece, etc.  You can spray paint old wine glasses or beer bottles for a really great look.
2. Books- on a nightstand, on a shelf, under a lamp, so much you can do!
3. Mason Jar- the all-so-versatile mason jar.  How we love thee.  You name it, it's been done to a mason jar.
4. Wrapping Paper- you can wrap box lids with wrapping paper and use as wall hangings, you can recover boxes with it, or Modge Podge it to plastic storage containers, to fancy them up!
5. Twigs or sticks- love twigs in vases or jars- can be used as table decor, table runner, etc.
6. Frames- you can use old frames you have or buy some at a thrift store, spray paint them and hang them on a wall (seen above.)  They look terrific without anything in them.  I LOVE this one!
7. Cakestands- can be used by kitchen sink with soap, or in a cluster of colored cake stands on a countertop
8. Cupcake papers- I have seen colorful or festive cupcake papers in cylinders or jars to spice up a space, and it looks really great!  Wish I could find the picture.  I should've pinned it, huh?
9. Fabric- You can frame fabric, or create custom "canvases" to hang on the walls.
10. Candlesticks- Candlesticks look really great in a grouping or as a centerpiece.  You can also make oversize candlesticks and have on the floor by a fireplace or entry way.