Got some old tires in your yard or garage? Did you know that old tires actually cost money to dispose of? Well, turns out there's a better way to get rid of those piles of old tires. You can reuse them in a myriad of interesting ways! Here are 10 new ways to reuse old tires. Check it out, because you just might find something you need around your house!
1.One way to reuse those old tires is to put them to work in the garden. Lemon, Bean and Things painted several old tires in bright, fun colors and stacked them in a pyramid. Add some soil and they make the perfect planters.
DIY Show Off also used a tire as a planter, but this one is painted and hung on a wall outdoors. Cascading plants look amazing hanging over the tire's edge.
3. An old tire also makes the perfect little sandbox for a toddler. Isn't it cute?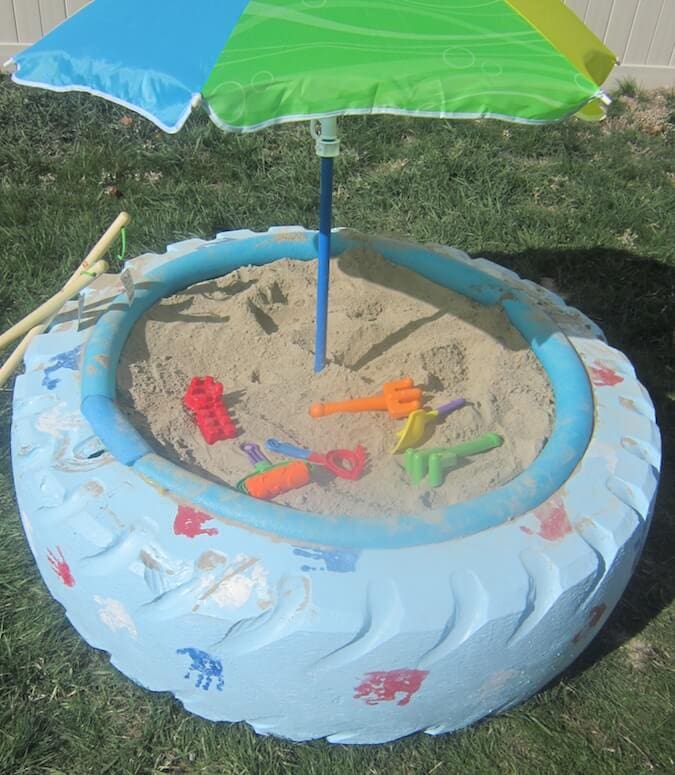 4. Make a tire totter with an old tire, a length of lumber, and playground handles from your local home improvement store. Don't forget to paint it a fun color!
5. If you reuse an old tire to make your own tetherball stand for the kids, you'll provide them with hours of fun at a price you'll like.
6. A DIY dog bed that is sturdy and will stand up to Fido's chewing? Yes, please! Get the how-to from Practically Functional.
7. An old tire is the best toy car shelf ever!
8. I think these kid chairs made from old tires are adorable. They are actually IKEA-inspired and double as storage containers! See Grillo Designs for more.
9. Who would guess that this rope ottoman started out as a tire? This Old House shows you how to make your own.
10. You can't go wrong with the fun of a good old-fashioned tire swing!