1. At some point, nearly everyone has old dining room chairs to get rid of, but hold on a second! You can turn those old chairs into a cute French-style bench like this one, and it's not hard to do. There's a tutorial here.
2. Over at Refresh Restyle, she shows you how insanely simple it is to makeover a whole set of dining room chairs. These chairs go from "blah" to "Wow!" with paint and a wax finish.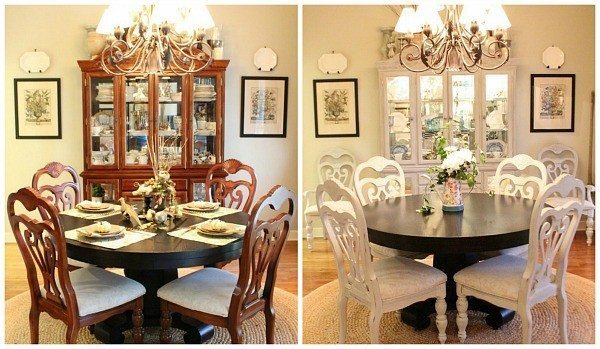 3. With this simple furniture hack, an old unused dresser becomes a fantastic bench. You can see how to make this project happen over at Create Inspire.
4. Save a bunch of money and makeover an old cooler into this rustic beauty. Coolers like this cost over $100, but with some elbow grease and ingenuity, you can make your own for about a third of the price. It's a great addition to your backyard retreat!
5. Handimania shows you how easy it is to convert an old dresser into a beautiful TV stand for your family room. No one will ever guess you made it from an old dresser!
6. This DIY furniture hack is one the kids or grandkids will thank you for. Turn an old console-style end table into an awesome Lego table! The fringe benefit is that all those little Legos will be much more easily contained with a fun place like this to store them.
7. Perhaps my personal favorite of this list: an old cabinet becomes a beautiful little buffet for the dining room. You wouldn't even guess it's the same piece. Gorgeous!
8. Here's a clever little hack for an old drawer. Turn it into a storage ottoman. It's totally customizable in terms of fabric choice, paint selection and leg height. It could even be put on wheels instead of legs.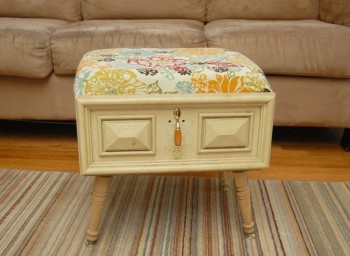 9. An old wooden end table too large for a nightstand becomes two matching nightstands for a little girl's bedroom in this DIY hack from The Chronicle Herald.
10. Take an old dresser and some wooden spice racks to this cute and functional piece for your child's bedroom. See the insanely easy tutorial here.
11. If you've ever thought about turning a dresser into an awesome vanity with a great vintage look, look no further than this tutorial from An Oregon Cottage.
12. Love this: an old dresser hutch becomes a cute sofa table and/or bookshelf with definite appeal. Pretty sure I need this hack in my life!
13. This hack is quite simply, adorable. You wouldn't guess that this kid's play kitchen used to be an old oak entertainment center.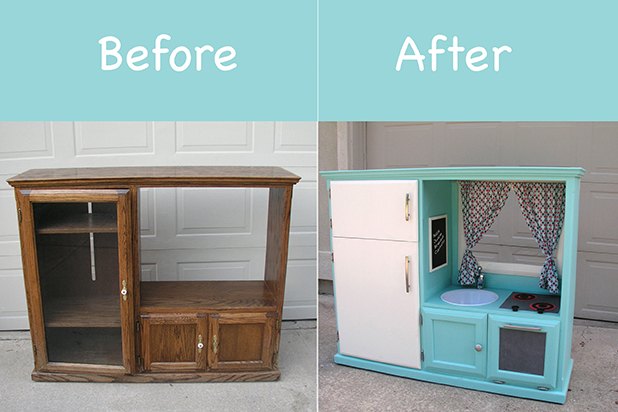 14. This old coffee table is much better as a bench. Shabby in Suburbia shows you how insanely simple it is to make your own.
15. Finally, a fabulous table makeover you can do with some subway tile. An old wood coffee table finds new life as a patio table