Winter is quickly approaching, and you don't want to be caught without knowing these winter hacks!
15 Winter Hacks Everyone NEEDS To Know
1. If you live in a wintry and cold area, this may seem counterintuitive, but be sure to open your blinds on sunny mornings. Though the sunlight is not as warm in winter as it is the rest of the year, it will help warm your home and the sunlight will help you feel warmer and happier!
2. If you've been baking, utilize that leftover heat from the oven by leaving it open while it cools down. This isn't a good way to heat your home, but if you've been using the oven anyway, that electricity you're paying for might as well help make the kitchen a little warmer for you.
3. Make a pebble tray for wet shoes and boots. It's easy to do and it'll help save your floors from the wetness that collects as your shoes and boots dry.
4. Use bubble wrap to insulate your windows. All you need to do is cut the bubble wrap to fit, moisten the window with a spray bottle of water, then press the wrap onto the window, bubble side to the glass. To remove, just peel back starting from one corner. It really does save you money on heating costs!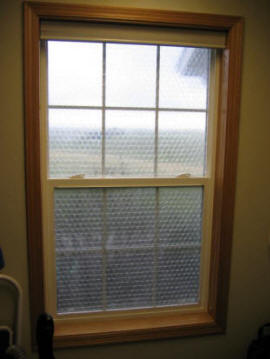 5. Make a quick and easy winter emergency kit to keep in your car. Hopefully you will never need to use it, but if you run into an emergency situation, it's there. This is one of the smartest winter hacks for you to do.
6. Did you know that kitty litter is a good thing to keep in your trunk during the winter? It'll provide extra weight for your car in winter driving conditions, and should you need extra traction for yourself or your tires, just sprinkle some on the ground to help you get out of a slippery situation.
7. This winter hack could be a surprising one, but it works. Make a solution of 1/3 part vinegar to 2/3 part water and spray it on your frosty windshield to quickly melt the ice and make scraping much easier!
8. A frozen car door lock can benefit from a little hand sanitizer, believe it or not. The alcohol in the sanitizer helps melt the ice. All you need to do is apply some hand sanitizer to the key, and use the key to get as much into the lock as you can. Press your thumb over the lock to help provide a little extra heat and soon you should be able to open your car.
9. Warm your footsies by making your own wool inserts for your shoes. Use treated wool, and cut it to fit inside any of your shoes that need some extra warmth.
10. Winter is also cold and flu season, and these DIY vapor rub disks will help you feel better when you're sick. They're easy to make and use–just throw one in the bottom of your shower and then let the warm vapors help clear your stuffy sinuses.
11. If your winter boots are warm but don't do much to keep your feet dry, that's a problem. Solve it by putting your feet in Ziploc bags before you put on your boots. That way, even if your boots get wet, your feet won't.
12. If you must be on a bike when the snow hits, give those tires extra traction with some dollar store zip ties. Just fasten them at intervals all around each tire and voila!
13. If you're out driving in the snow and get stuck, grab a couple of your floor mats for a quick traction aid. Just slide one under each back tire.
14. Use some pipe insulation to block cold air under drafty doors. Just open up the piece of insulation and wrap it around the bottom of the door. You could also try slicing down the length of a pool noodle to do the same thing.
15. Make shoveling easier with this shovel hack. Use a silicone lubricant spray to spray your shovel before you start your next shoveling job. It helps keep snow from sticking so you can get the job done faster.
I hope these winter hacks help you out this year! Let me know which one is your favorite!