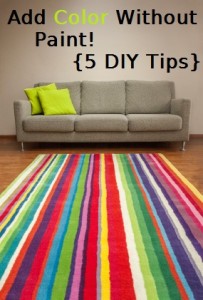 We have lived in our new house for about 8 months, and for some reason my husband is really digging his heels in with the painting of any walls.  It is pretty uncharacteristic of him.  We are both pretty impulsive, and not really afraid of change or trying new things.  Because he resists so few things, I am going with it (for now.)  But I love color and I need more color in my home!  Usually, I accomplish this with paint, but now I have to think outside of that box.
Here are a few things I found around the web of ways I can add color to my rooms, without painting. Some of these are such great ideas!  Thank you to BHG.com for so many amazing ideas.
1. Window treatments- I know this, and I really think window treatments warm up a space.  It is a great opportunity to choose a bold color and get panels, or make something.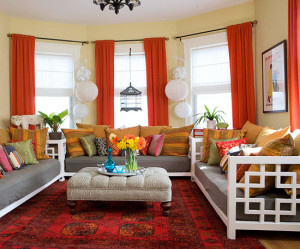 2. Lamp- I love colored lamps and I think they are the perfect accent piece.  Usually, I go with painted walls, a different accent color.  But I may need to infuse more of my dominant color in textiles, rugs, lamps, and only accent a little bit with a pillow or something, since I have to add so much color to make up for our light walls.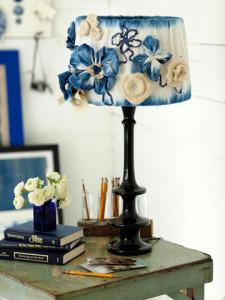 3. Pillows- I am in love with pillows, and I use them excessively in my decor.  I just think they are so fun, and even when I think I have enough, I buy or make more.  They are relatively inexpensive to add a color pallate, or accent a room.  Right now, so many different patterns or colors are in, so it makes it more fun to pick pillows out.  Really, anything goes!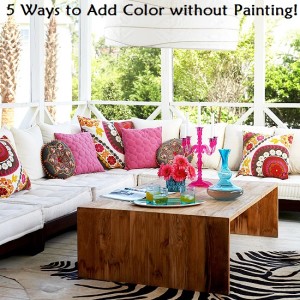 4. Upholstery- This is easy, because you can paint upholstery!  So, take the boring chairs you have, and paint them red, or orange, or something really great and bold, and let the walls be the neutral in your room.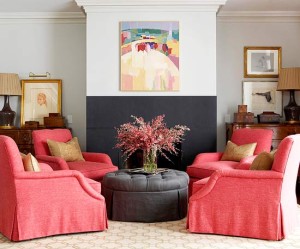 5. Rugs- This is a great way to infuse color into a room.  Interior designers will tell you that every room needs a rug.  It brings it together, warms it up and finishes it off.
Paint really is a great way to infuse paint into a room, but it is not the only way.  Other ways require more imagination but after seeing some of these spaces, I am excited to try new things, besides paint for a while!
Next on my list this week- panels and rugs.  I am going to try my hand at painting a rug.  Wish me luck!