If you're like me, then you probably see all these great sewing projects online but never do any of them because, well, sewing is hard!
While some projects can be pretty intense and take a high level of skill, that's not the case for all of them! So, if you want to try some great sewing projects for the home that will make your house look great, here they are!
Sewing Projects For The Home: Decor
Placemats
Having customized and homemade placemats on the dinner table just brings a sense of accomplishment every time you use them, am I right? The best part about these is that you can make them reversible so that you can have twice as many placemat designs!
This is a project that may be a bit bigger than the rest, but it's still possible! So if you want a fun and creative shower curtain, then try this idea. You can do any design, color, or style you want, so have fun and make it look great.
Easy Sewing Projects For The Home
Can't find a floor mat that matches the rest of your home? No worries! Just sew your own. Choose fabrics that you love and that match your home and then make this great sewing project!
The best thing about this kind of apron is that you can make it unisex and also adjustable (so that everyone in your home can use it). You could even turn it into a family project so everyone loves it when you're finished.
Whether you're making them for school, work, or just recreation, grab bags are a great and easy project to work on. They give you  a place to store your things when you're in a hurry and need to get on the run.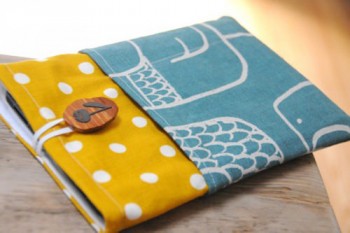 DIY
Tablet holder
Don't let your tablet or other electronics get grimy and dirty. Instead, sew yourself a tablet holder and cover that will keep your tablet protected while also adding a pop of color!
You don't need to go spend a small fortune on that throw blanket that you just fell in love with at the store. Instead, practice your patience and sewing skills and make your own! It takes more time than skill, so most people can do this project.
Scarf curtains
If you have a lot of old scarves but don't wear them, then repurpose them! You can make a beautiful curtain out of your old scarves that both brings back memories and makes your home pop with color and style!
When I was a kid, I loved a certain pillowcase that we had at home. Give your kids that same gift by sewing them unique pillowcases just for them! Who knows, maybe this will make them excited to go to sleep!
This project both looks good and serves a great purpose—to block out any light so you can sleep longer, watch a movie, or whatever else you need them for! Choose a color you love and go for it.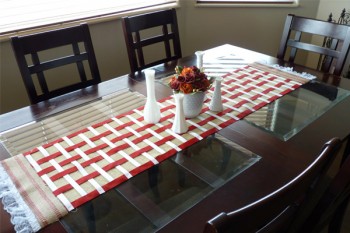 Table runner
Table runners are a simple yet effective way to add color, style, and texture to your kitchen or dining room without much work. The best part about this project is that it's so easy that you can make multiple of them without much effort at all.
Add some comfort and style to your living room with a great-looking floor pouf. These are great for sitting on or just resting your feet. Either way, they're a great addition to your home.
Make your dining experience even fancier with some homemade cloth napkins! The best part is that they're a fraction of the price you would pay at the store; plus you can make them any color or design to go with the rest of your home!
Pillow
I LOVE this idea! You can make an incredibly comfortable pillow bed for inside or outside the home. Everyone is sure to love it, so you may have to make two or three. J
I hate when my neck gets sore when I'm traveling, but I always forget to buy a travel pillow or I'm just too cheap. If you're the same way, then make your own travel pillow. It will look good and be comfortable for the next time you travel.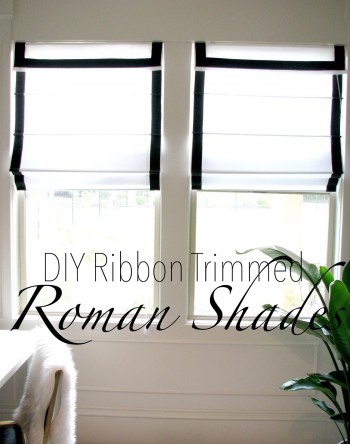 Trimmed Roman shades
Add a pop of color and style to your roman shades by sewing on some great trim around the edges. It doesn't take much work at all and can really improve any room of the house.
Make some simple yet elegant dishtowels for the next sewing project that you take on. It doesn't require many supplies and you can finish quite a few in no time.
Try your hand at making your very own tablecloth. This is one of the best sewing projects for the home  because you can make a tablecloth for each season and holiday.
You can choose any pattern or design you want, since it's your project! Choose a style from one you like and then go for it!
Make some great storage bins out of fabric with this fantastic sewing project. You can use the bins to store office supplies, food, or even more sewing projects! It never ends!
To add a little personality to a room, sew a creative and unique door curtain. It can be made out of any material and be any design; just make sure it looks good and that everyone likes it!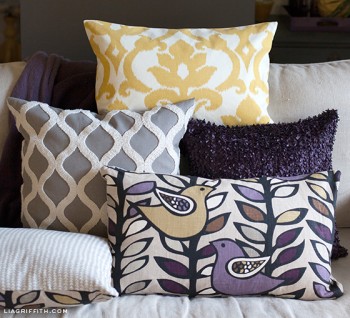 Pillows
Did you know you can actually sew your own pillow!  Well, the cover at least. I know it sounds like a lot of work, but it's definitely worth it! You can make one to sleep on, or just a throw pillow for your couches or bed.
No need to lug the laundry in a stiff and heavy hamper. Instead, sew a laundry bag for you to use. You could also make one for each member of the family so they're each in charge of their own clothes. This is one of my favorite sewing projects for the home.
If you're looking for a nice place to relax, then consider making this project. It may be a little tricky to get a hang of at first (no pun intended!), but it's definitely worth it. You can hang it up inside or outside, wherever you want.
This is such a cute sewing project! Take a plain and boring ottoman you have and spruce it up with an adorable tuft design on the top of it! You can choose from any color or fabric style you want.
Make cute and effective coasters that you and your guests can use so your tables don't get those obnoxious water stains on them. There are tons of designs to choose from, so find one that you love.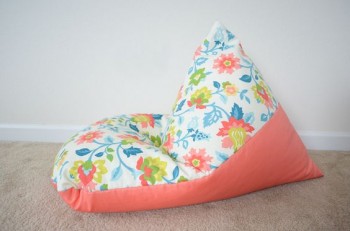 Beanbag chair for kids
You could probably make a beanbag for adults as well, it would just require a lot more material than a kid's bean bag chair. But either way, everyone is sure to love this and think this is one of the most useful sewing projects for the home.
If you have guests over often but not enough seating, then this is a great project for you. Floor cushions make sitting on the ground a little more comfortable, giving you that much more space to have friends over.
Make your flowerpots a cute little cozy you can slip on over them. Make it fun, silly, or elegant, whatever you want.
Make these reusable snack bags to pack lunches with and you'll find yourself saving the planet and saving your wallet! Plus, you can make them out of fun designs so your kids are excited to eat their veggies!
If you want to make your ironing board look better and be more effective, then sew an ironing board cover. You could even make multiple of them so that you can switch them out when you feel like it.
There you have it, easy sewing projects for the home. Feel free to post pics of your projects.