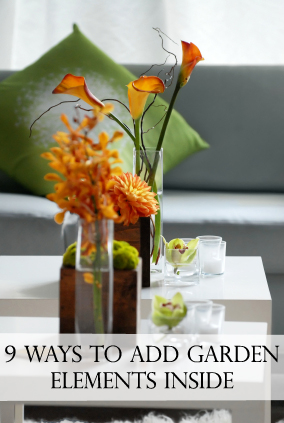 I have some floral pillows in my living room (that I love, by the way) and I usually put them away for the winter.  My husband can't understand it, bless his heart.  He thinks it is the goofiest thing ever that I can't have my floral pillows (or my yellow ones) out when we have 4 feet of snow outside. BUT. My tulips are in full bloom and it makes me very happy!  I put away the gray pillows this week and added my pillow garden back to my couches. Yay!
I found a fun article in BHG about blooming rooms, and I could totally relate.  Here are some great ways to infuse your garden or greenhouse right in your own living room.
–          Decorate your fireplace with potted plants
–          Line mantel with foliage, greens or clipped flowers from your garden
–          Faux wood (or real) add a rustic/garden feel with wood picture frames, mirror, vase, plant pot
–          Garden imagery or paintings
–          Garden/floral pillows
–          Textured planters or burlap elements for an earthy feel
–          Succulents
–          Centerpieces with wispy flowers or greens
–          Decorate with twigs or dogwood
One of my favorite earthy/garden arrangements is a short square shaped vase with flowers (Gerber daisies?) lining the outside and long twigs of African Dogwood shooting up in the center.  It would look superb on a coffee table or end table. Or at my wedding 8 years ago- and it did  look superb 🙂
Join me, while I infuse my whole house with summer, won't you!?