I can't wait to finish our basement because I am so excited to have a dedicated craft room.  I am finding that I do WAY fewer projects than I normally would because getting ALL the stuff out and setting up, and then taking it all down when I am done for the day sounds like more work than it is worth.  I saw some REALLY cute craft room ideas that I want to use.  Check these out!

I love the yellow chairs and all the white.  SO cute.  The clipboards are perfect for hanging kids artwork/report cards, etc.  I love an alternative to hanging things on the fridge.  I actually have some in my playroom that I use:)  Cute idea to cover them in paper!  Also- that canvas in the middle looks terrific.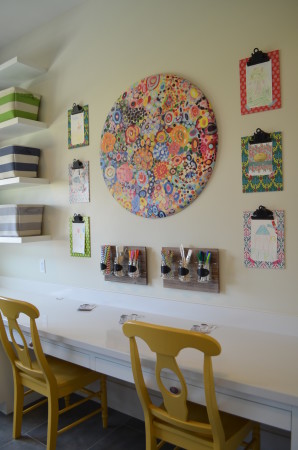 Another great craft room!  Loving the pop of color again.  And the wallpaper!  I think a craft room is the perfect place to experiment with fun colors and do something unique.  The baby blue floating shelves and watering can are my favorite!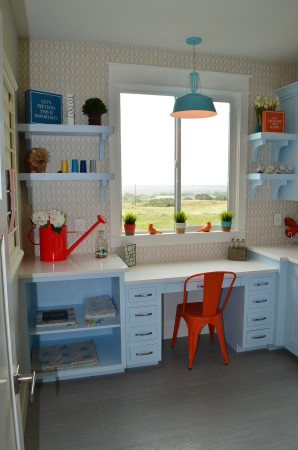 Honestly, this craft room amazes me.  Who. ON EARTH. thinks of doing vertical stripes with different color/themed wallpaper?  Not this girl.  But I wish I had.  I am IN LOVE with this room.  The accent dresser is the best. What a perfect thing to have for storage.  And it's adorable.  The only thing, is that it is really busy.  Do you think you could get tired of it quickly?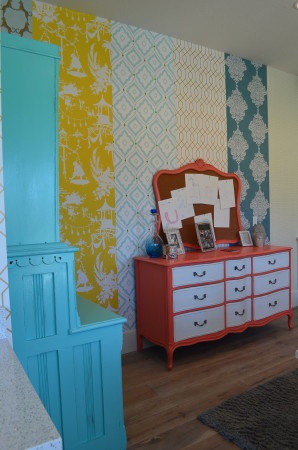 Same room different angle. The kid's coloring station is the best.  What mom gets cranking in the craft room without at least one (or a few!) kids following?  Not I.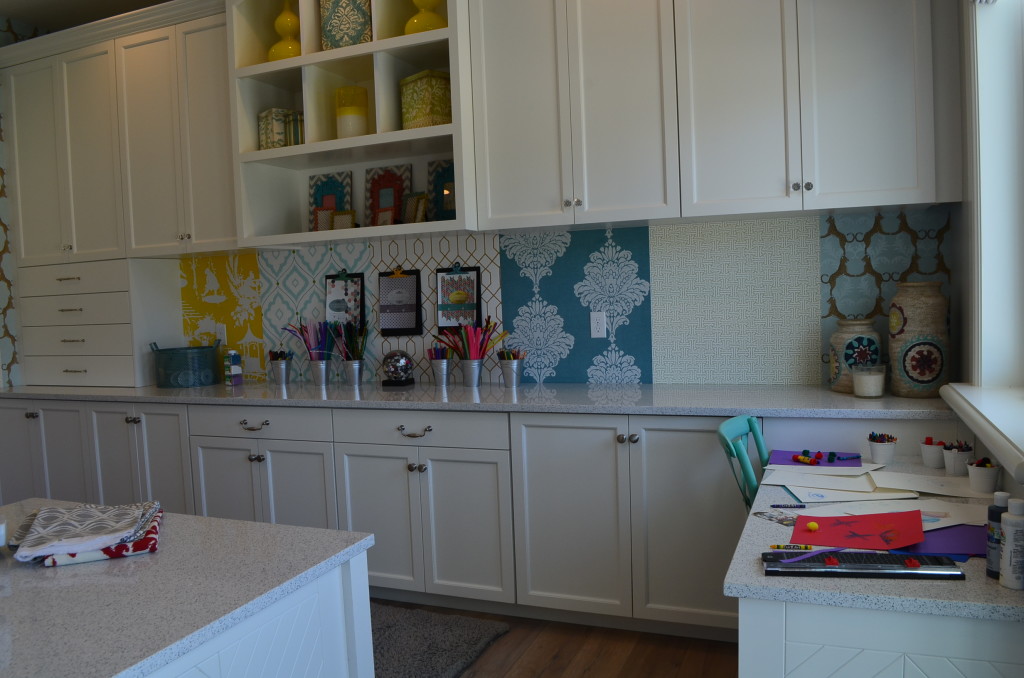 Eek.  I don't know why, but I am obsessed with wrapping stations and ribbon organizers.  Mint green walls and these cabinets.  Yes, please!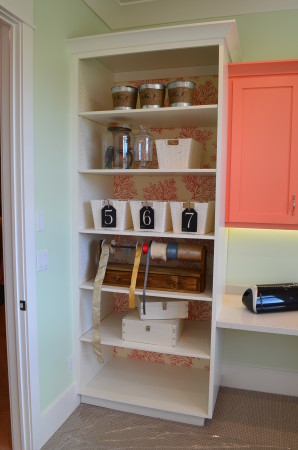 This is just a part of a craft room, but how genius to organize your ribbon drawers by colors. Idea from HGTV.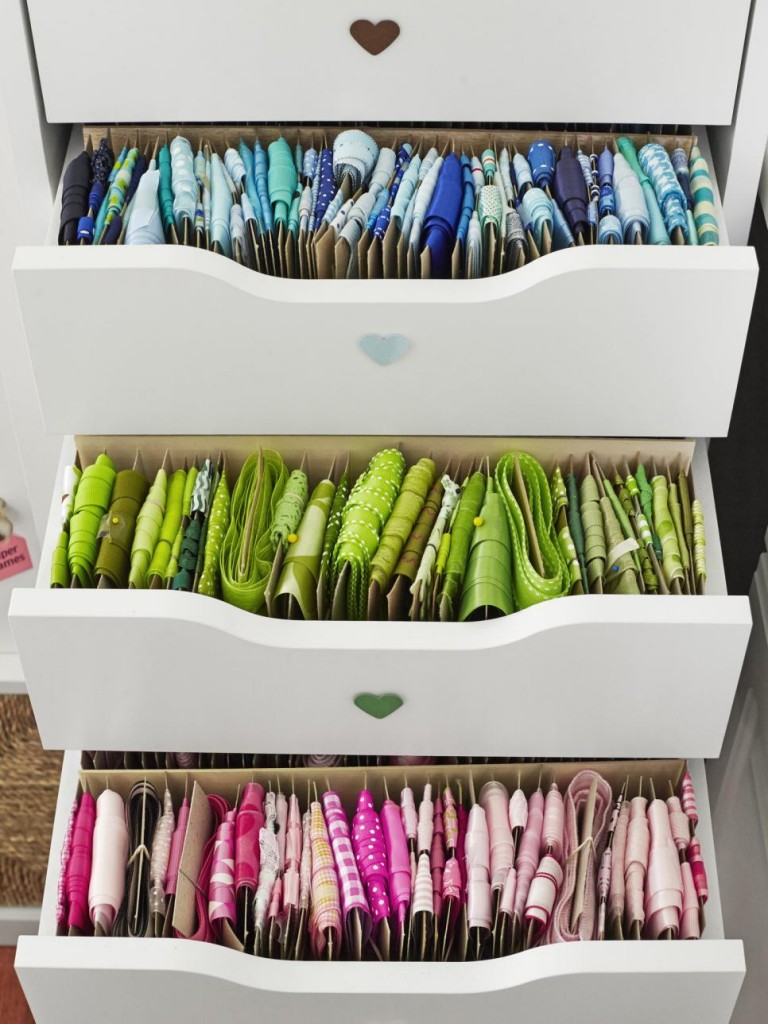 Loom at the storage and organization in this craft room! Whatever your crafting skills may be make sure your craft room is well organized…it will make your life so much easier and make you actually WANT to go in there! Idea from Interiors Explorer.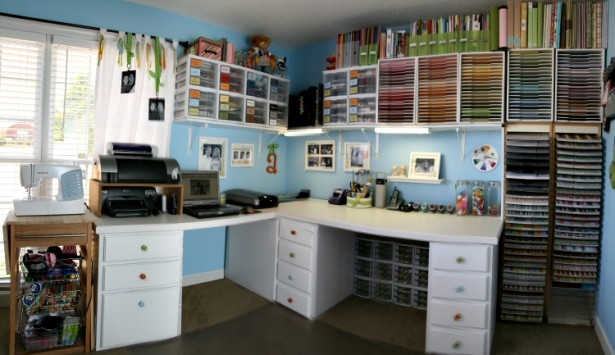 Talk about some counter space! Also I love the big windows that add so much natural light. Idea from Home DIT.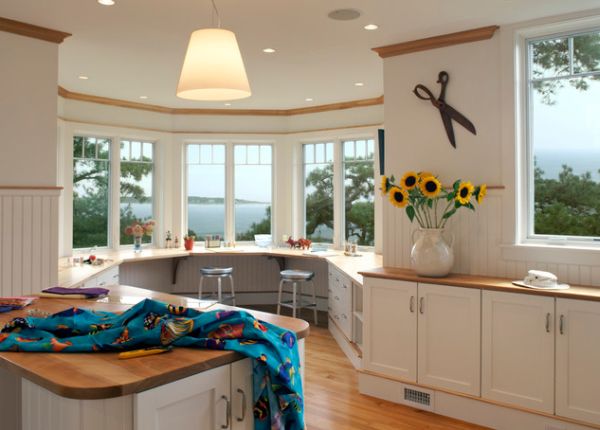 Are you loving these craft room ideas, but just don't have an extra room? Here is the perfect idea for you! Just make a crafting closet! Idea from DIY Show Off.