Chances are if you've been on Pinterest, or anywhere on the internet, you've seen some version of modern farmhouse design. It is a craze that seemingly everyone wants in on. How about you? Are you feeling the modern farmhouse frenzy? If you are, keep reading for more modern farmhouse inspiration. If you aren't, keep reading and that might change!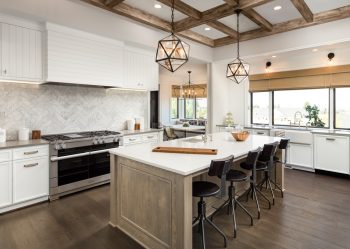 When you think of modern farmhouse design, you might automatically think kitchens. And that's all well and good. Modern farmhouse kitchens offer a lot to be desired! Things like farmhouse sinks, rustic hardwood floors, industrial bar stools and lighting fixtures have a ton of charm. Besides those elements, a kitchen is a great place to implement the classic contrast of modern farmhouse black and white. For a good look at modern farmhouse kitchen inspiration, check out 16 Fabulous Modern Farmhouse Kitchen Styles you're sure to love.
Living rooms are another fabulous canvas for modern farmhouse design. It blends itself well to the warm rustic touches of wood ceiling beams and hardwood floors, as well as the distinct look of black window trim and shiplap walls. Can you think of a more cozy and inviting way to dress a living room than in modern farmhouse? If you still need convincing, feel free to look at these 10 Modern Farmhouse Style Living Rooms for inspiration.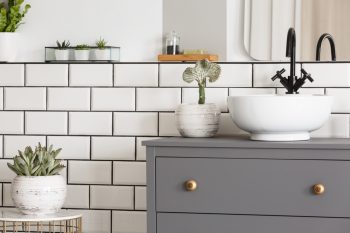 Comfortable and charming is a good way to describe a modern farmhouse bathroom. Indeed, if you want to create a sanctuary where you can retreat for a relaxing bath at the end of each day, there's nowhere better. You don't even have to start from scratch. Take 12 Modern Farmhouse Bathroom Decorating Ideas, do what you can with what you've got, and makeover your existing bathroom with modern farmhouse touches.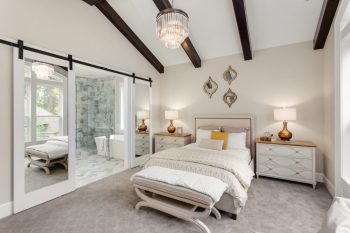 A modern farmhouse bedroom continues the feel of a retreat, and this one succeeds with classic farmhouse touches such as the wood beams and sliding barn doors with heavy black hardware. The rest of the room is neutral in color, which is another thing that modern farmhouse style does best. If you didn't know, Scandinavian style marries perfectly with modern farmhouse. Check out these amazing Modern Scandinavian Farmhouse Style Bedrooms. Beautiful!
After checking out all that amazing inspiration, tell me, are you feeling the modern farmhouse frenzy? I am!