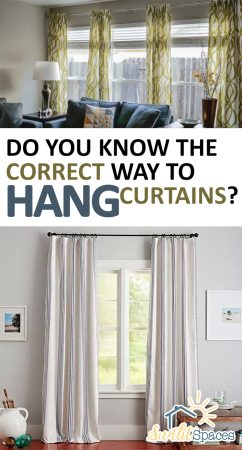 Curtains play an important role in a room. They can minimize or maximize the light, dress up a window, and add an important element of style. That's why it's important to know the correct way to hang curtains. Here are some fantastic guidelines to help you get the most from your curtains!
Generally, floor-length curtains have the best look. Curtains that are too short look unfinished, or as though you might be waiting for a flood to come along. So don't go too short! Measure and hang your panels so that they will just touch the floor. If you like, they can drape the floor lightly and pool by up to three inches.
How wide should your curtains be? Basically, you need plan for enough fabric so that the curtains will still look full when they're closed. Measure the width of the window and plan for your curtains to be 2.5 times as wide as the window. If you're hanging a curtain inside the window frame, as shown here, you can use a panel that is just 1.5 times as wide as the space.
When it comes to mounting the curtain rod to the wall, the basic rule of thumb is to hang the brackets above and to the outside of the window frame. Hanging the curtains above the window frame maximizes the feel of the height of the room. It also gives the illusion of a taller window.
Mounting the rod and brackets wider than the window frame gives the illusion of a wider window. In small spaces, this helps to give the illusion of more space. Generally, aim for your curtains to extend anywhere from 8-12″ beyond the window, or 4-6″ on either side. A template made from cardboard is a great way to ensure that your rod and brackets are hung uniformly throughout a room.