Today at Sunlit Spaces, let's talk about home decor ideas for the living room. More specifically, what trends are big right now, and how can you incorporate them into your own space? Our main goal is to help you have a living room you can really live in (and love!). Here we go!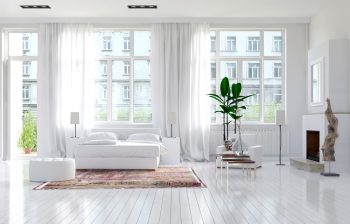 This is an example of a light and airy living room that takes advantage of the abundant natural light available to the space. The curtains provide a modicum of privacy when needed, but allow for maximum light to flow through even when closed. A monochromatic color scheme of white encourages the light and airy feel. A soft gray would accomplish the same thing if you aren't into white on white decor.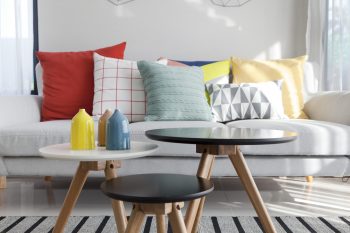 Home decor ideas can be colorful without feeling unsophisticated or cluttered. Here is a living room space that is relaxed, sophisticated, and colorful. The walls and main furniture choices are neutral, which allows for some fun with the accent pieces such as pillows and décor items. It all works together to provide a space that feels super inviting! Having a neutral base also allows you to easily switch out your accent pieces whenever you'd like to!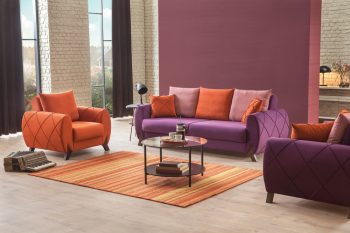 A modern living room with bold color choices suits a bold personality. What I love about this space is the lack of fear in decorating choices. It's evident in the choice of contrasting jewel tones used for the walls and furniture. A bold room like this may not be for everyone, but it shows how much fun you can have if it is for you! Make sure to pick bright jewel tones that complement each other if you are going to go in this direction.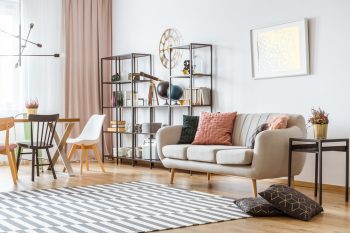 Believe it or not, pink is actually really on trend in living room home decor right now, so I couldn't leave it out. This living room example shows how to utilize pink in a completely relaxed way. The pinks used throughout this space are all muted. This muted shade of blush pink lends an air of quiet calm to the whole room. I think it's my favorite of this list!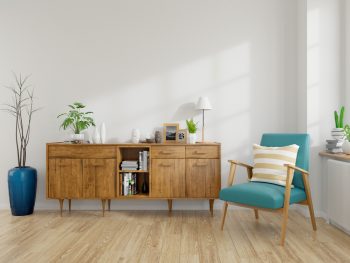 Mid-century modern home décor is also on-trend. To see our recent post in which we show you why we're mad about mid-century modern décor, click here.
Whatever your style, don't be afraid to really live in your living room with the home décor ideas that speak to you.