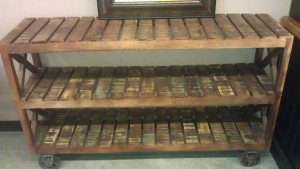 Pallet wood is super cheap and is the hottest thing in home decor right now.  It is super versatile and there are a gazillion things you can do with it.  I have seen headboards, wall hangings, crates, coat racks, etc all made out of this cheap stuff.
The thing about buffet tables or sideboards is that you can use them in a lot of different places in your house.  They have a small footprint, so you can fit them behind couches, in dining rooms, entry ways, etc.  My entry way is in need of some TLC and this is just the table!  My husband is an amazing crafter of wood (he would KILL me if he knew I called him a "crafter.")  Anyway, he has all the tools and know-how to put this table together for me.
Pallet wood is found almost everywhere.  I was actually in the local classifieds "free" section the other day, and saw free pallets that you just needed to pick up.  You can get them for free or for next to nothing at warehouses, classifieds, gardens or nurseries.  I also found someone on that same section offering to come "recycle" your old barn or shed, in exchange for the wood.  Pretty creative, and I bet it is totally worth the work in lumber.
My favorite part of this table is that it is on casters, which can be found at Amazon or Home Depot.  I found a lot, and some are colored.  If you can't find the right size, in the stainless color, you can always spray paint it with stainless steel spray paint to achieve the same look.  Doesn't it add such a fun design element? I love it!  I am loving the industrial/rustic hybrid style right now, and just a little bit of metal on a wooden table is the perfect amount to add interest, but still keep the design warm.
The finish here is what makes this table amazing- This can be accomplished by painting your pallet wood (rough cut wood) before  sanding it smooth.  This will leave the paint in the cracks, and the paint will be uneven and will be sanded all the way through in some areas.