Time for spring home decor ideas! When the warm weather and spring flowers make their annual appearance outside, it's a great time to freshen up inside the house as well. There's no better way to do that than by bringing in some fresh color to brighten everything. I have fresh inspiration for your spring home decor coming right up!
Spring Home Decor Ideas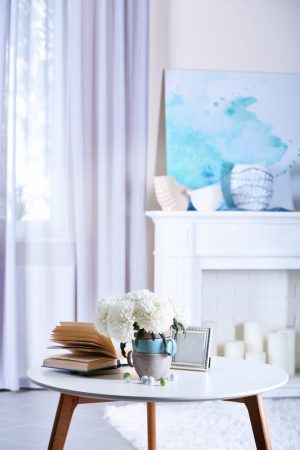 There's nothing like the bright, fresh colors of spring. You know what they are: the blue in the sky, the yellow of the daffodils, the pink and purple of the hyacinths. The fabrics are light and soft. In contrast, the colors of winter are dark, with heavy fabrics and cushy throws. So store away anything you enjoyed over the winter, and instead bring out the pastels, the lighter and softer fabrics, and of course the spring flowers! Take the logs out of the fireplace and replace them with white pillar candles in varying heights.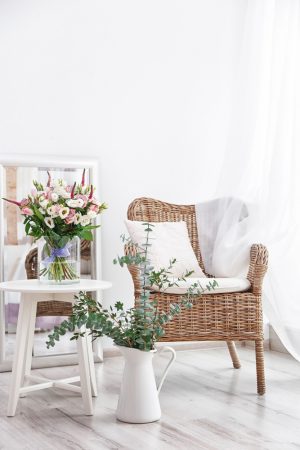 Spring home decor really demands lots of light greenery and pretty pastels. What better way to bring that into your home than with stems and bouquets of flowers? You can never have too many flowers in your spring home decor, so it's good that there are a lot to choose from! It's also the perfect time to force indoor bulbs of daffodils, tulips, and hyacinths. For more spring floral inspiration, see our post featuring 22 stunning spring floral arrangements!
Another fabulous color for spring home decor is purple. And with the many hues of purple that range from light to dark, you can highlight them all. One of my favorite spring flowers is purple lilacs. If you're lucky enough to have lilac bushes in your yard, it's so easy to cut bunches of them to bring indoors. The scent alone brightens up any home decor!
Spring is also a great time to paint a room. Do you have one that needs freshening? Try a lighter color than what was there before to really brighten the space. While you're at it, change out the throw pillows and lampshades to fresh spring colors. You're going to love the effect!