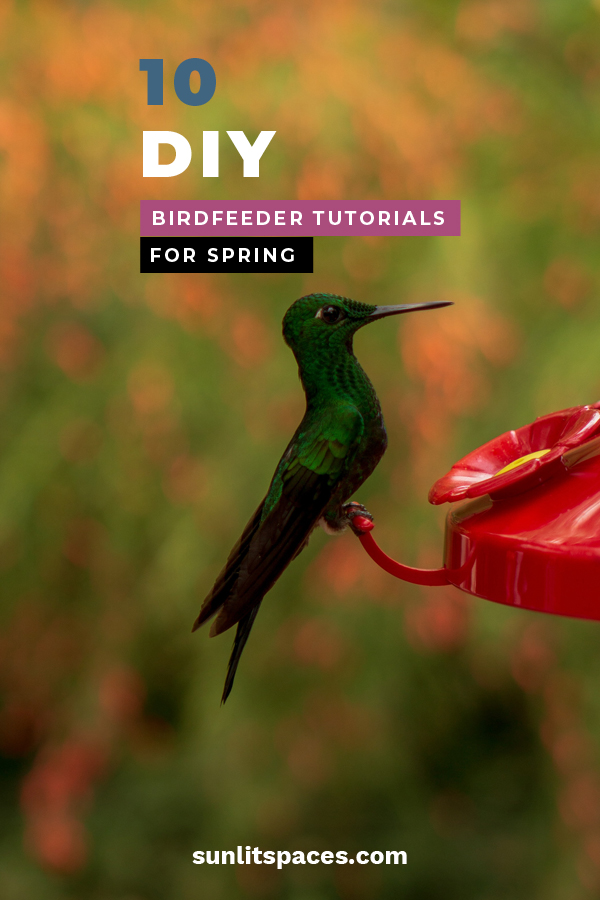 When Spring comes back, so do the birds. If you love birdwatching as much as my family does, be prepared for them with one or more of these 10 DIY birdfeeders. To access the tutorials, just click the corresponding link at the end of the post. And for a supply of birdseed, visit Amazon. Happy bird feeding!
1.I can't even tell you how much I love this simple DIY birdfeeder. It's easy, it's colorful, and the birds seem to love it.
2. Convert a glass candy jar and a cylinder vase from Dollar Tree into this unique birdfeeder that's perfect for Spring.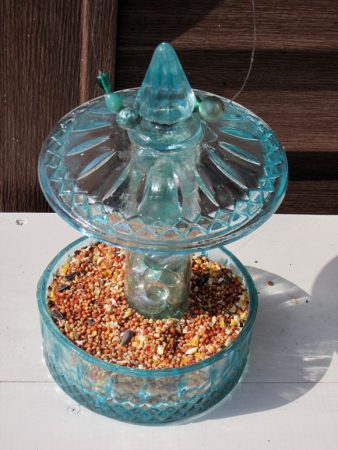 3. DIY birdfeeders don't get much easier than this one. Just a soda bottle and a couple of wooden spoons are about all you need to put it together.
4. Every time I see this, I love it even more. Just a different take on using plates, bowls or teacups for the base of your birdfeeder.
5. Now here's an intriguing option: a DIY birdfeeder that mounts to a window so you can get a close up view of the birds you're feeding. Amazing!
6. Recycle a few #10 cans by converting them into fabulous birdfeeders. These are painted perfectly Spring-y!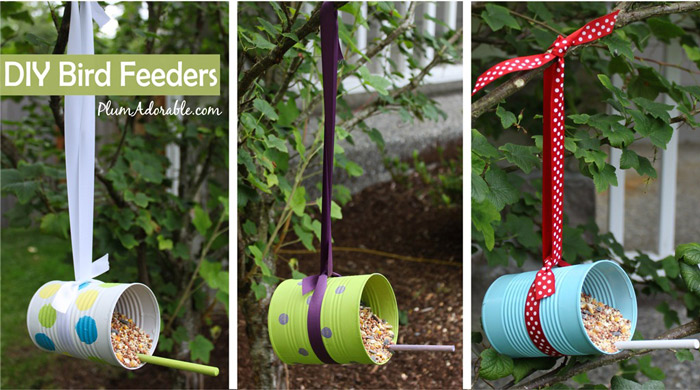 7. This birdfeeder is easy to make from scrap lumber. Stain it, paint it, or leave it to weather in the elements. It's totally up to you!
8. This feeder might be my personal favorite. Heavy copper wire is wrapped decoratively around a mason jar to hang the feeder from a tree branch.
9. Even an empty wine bottle can be recycled into a colorful birdfeeder.
10. Attract Orioles with a citrus feeder like this one. It's easy and costs less than $5 to make!
Click on the links below to find the tutorials for the birdfeeders featured in this post!
Erins Creative Energy bowl & plate birdfeeder
Second Chance to Dream candy jar birdfeeder
Here Comes the Sun soda bottle birdfeeder
Mommy Moment how to make a teacup birdfeeder
Ana White window-mounted feeder {free plans!}
Plum Adorable #10 can
Birds and Blooms scrap lumber bird feeder tutorial
The Garden-Roof Coop copper wire feeder
The Garden-Roof Coop recycled wine bottle
A Cowboy's Wife $5 Oriole feeder