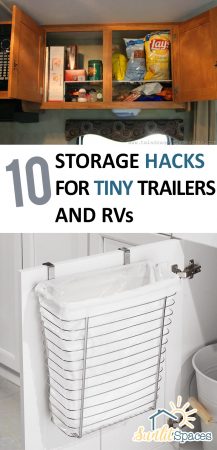 If you enjoy camping as much as I do, this post is for you! Taking any kind of extended vacation in a trailer or RV is a trick, because storage options can be quite limited. Today's post is round up of 10 storage hacks to help you get the most out of your tiny trailer or RV.
Bathroom storage space in a trailer or RV is pretty much non-existent. Solve that problem by hanging your toiletries from the shower rod. An inexpensive option can be found at Amazon.
Make some handy toothbrush holders from PVC pipe, and then leave your designated camping toothbrushes in them all season long. You'll never forget your toothbrush again!
With this small over-the-door wastebasket, you can hide and corral trash in your RV without any trouble. You can also use it to stow things like plastic wrap, foil or baggies. Purchase one at Amazon.
We all know that a nightstand in an RV is a rarity. This handy mattress caddy will solve that problem for you.
Use hanging organizers in those tiny bedroom closets RVs are famous for, and you'll easily maximize the space more than you thought possible.
Wire shelving attached to the backs of your trailer's cabinets provides a lot of extra space to stow any number of necessities.
Wire shelf organizers provide extra space for foodstuffs. Find all sorts of wire shelves and baskets at Dollar Tree!
Ideas and Inspiration found at:
Crafting in the Rain  DIY toothbrush holder
Twin Dragonfly Designs travel trailer organization