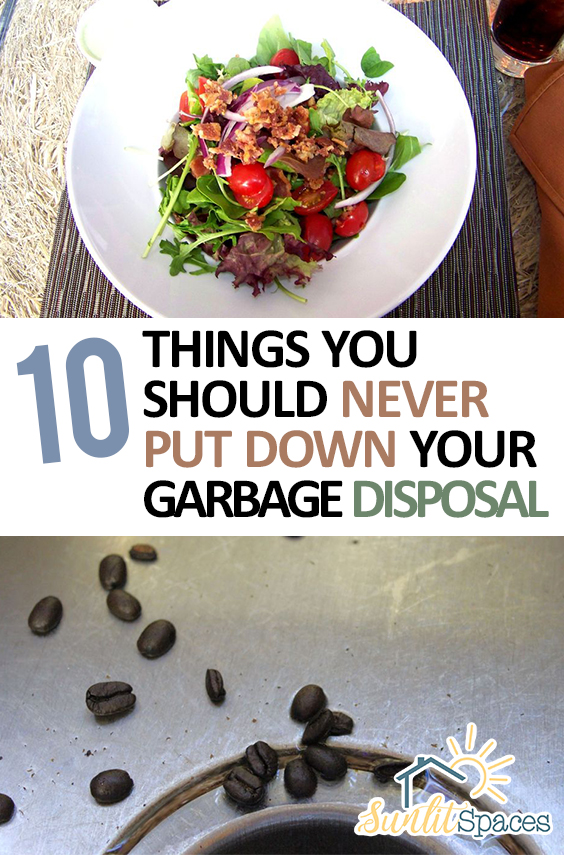 Sometimes we think our garbage disposals can take whatever we throw at them (or down them) , but unfortunately that isn't true. Your garbage disposal has its limits. To keep it working its best, there are 10 things you should never put down your garbage disposal.
1. A lot of vegetables are good for you, but not necessarily good for your garbage disposal. Fibrous vegetables such as celery, chard, asparagus, artichokes and lettuce should never go down the disposal.
2. Don't ever throw corn husks down the disposal. They are stringy and can wrap around your disposal's blades and bind them up.
3. Even if you run the disposal while pouring warm cooking oil into it, it's still a no-no! The oil can harden in your pipes and you'll be calling a plumber to clear it out.
4. Your garbage disposal wasn't meant to chop up pits, seeds, or a bunch of potato skins. You can put potato skins in the disposal, but only a few at a time. Otherwise, the starches in them can gum up the system.
5. Coffee grounds and beans can make your disposal smell better, but they aren't good for the trap. They can really clog it up good!
6. Seafood shells are another no-no for your garbage disposal. They are usually too thick for the blades to chop up and can do serious damage.
7. Even cooked pasta can keep expanding once you put it down the disposal, and that means a potential clog. So don't do it!
8. Bread doughs, especially those with a high percentage of gluten, can clog up your disposal and your pipes. Don't put it down the disposal unless you dissolve it in hot water first.
9. Marshmallows get eaten in my house, but if you have any you aren't going to use, just throw them in the trash. They'll clog up the garbage disposal.
10. Bones are never good for the disposal. They can break the blades and wreak havoc on the system. Better to toss them in the trash.