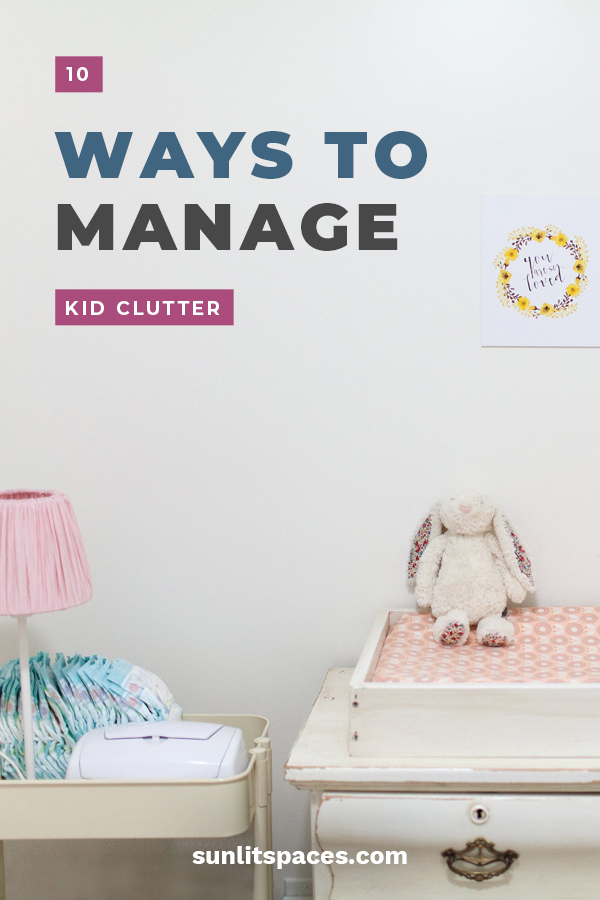 Once you have kids, you learn that they magically seem to attract more stuff than anyone else! It's important to manage all that kid clutter before it takes over your home. Fortunately, there are some great DIY ways to manage kid clutter that are both clever and easy. Don't leave before you check out these kid clutter organization solutions!
1. Start controlling kid clutter when you plan the baby's nursery. Pegboard is an amazing solution for controlling the innumerable diapers, booties, and tiny little accessories. Once you paint it to match the nursery decor, you'll be surprised at how great it looks!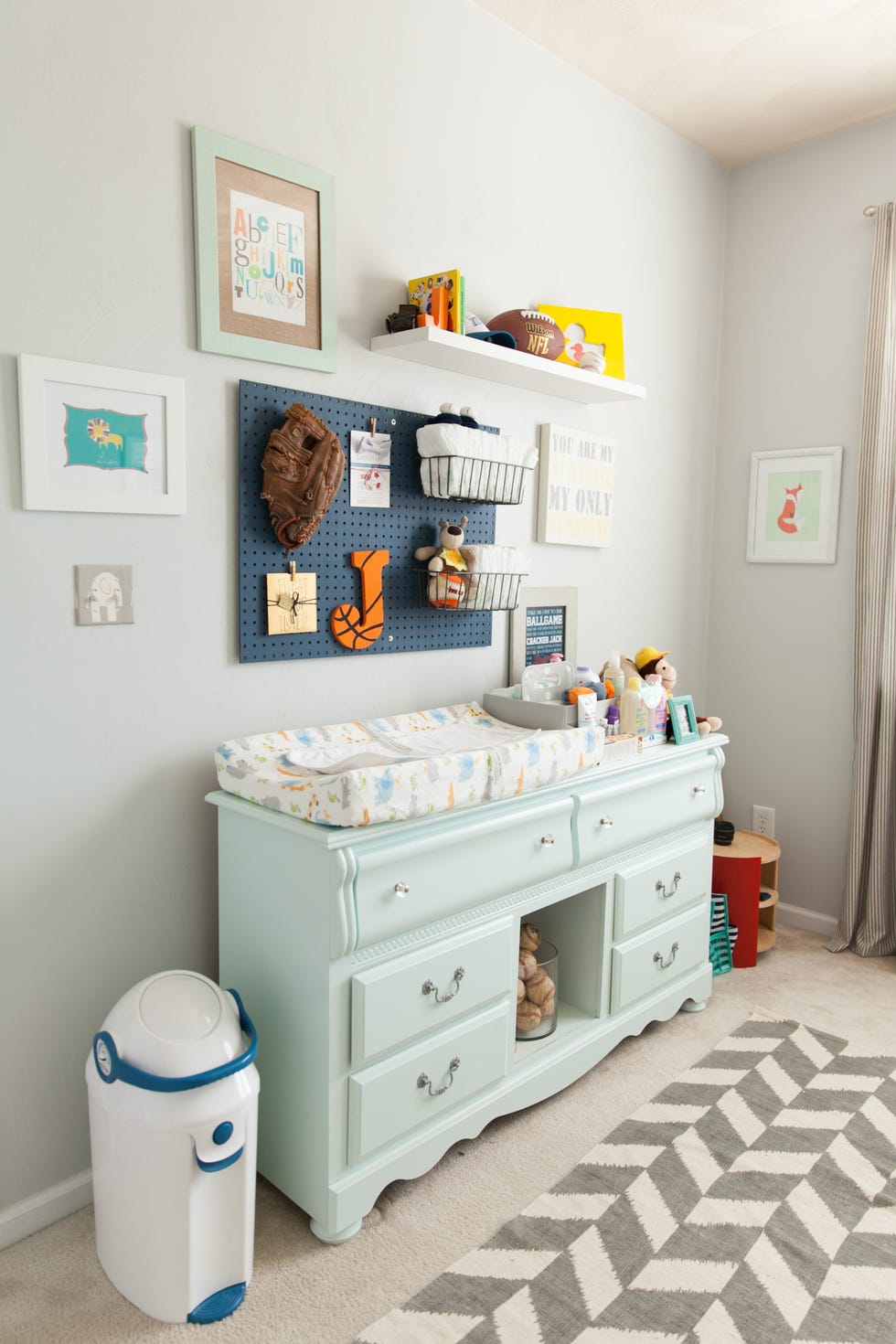 2. Make more of your child's closet than you ever dreamed! This one is part reading nook & part ultimate storage space, thanks to a high shelf with lots of basket storage.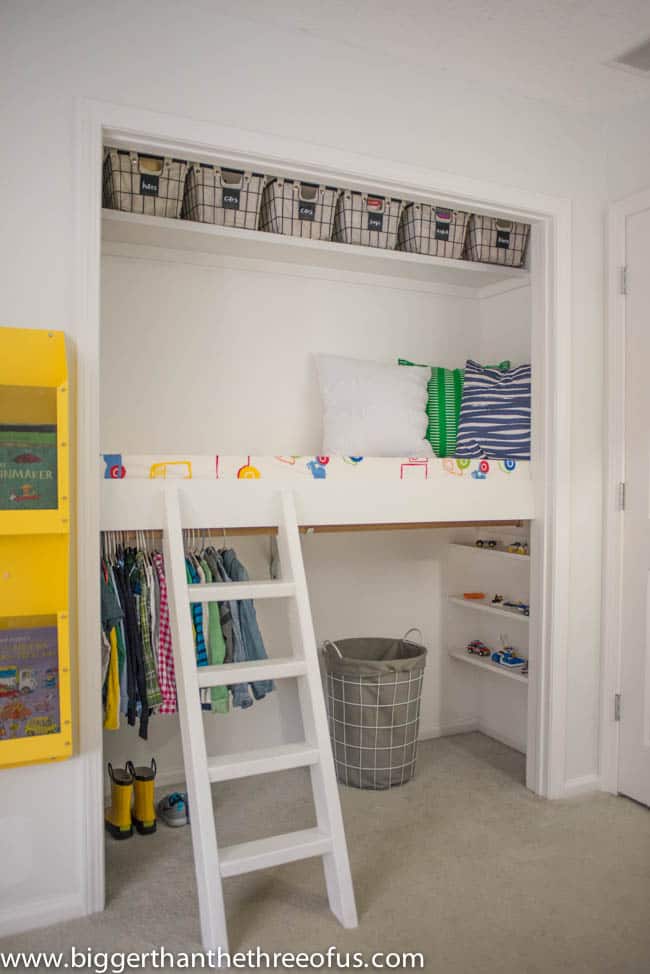 3. Use an IKEA Lack table as the basis for a Lego play table that also organizes all the kids' Legos. Prepare for all the neighbor kids coming over to play!
4. Turn bookshelves on their sides to create playroom seating that also doubles as storage for tons of toys!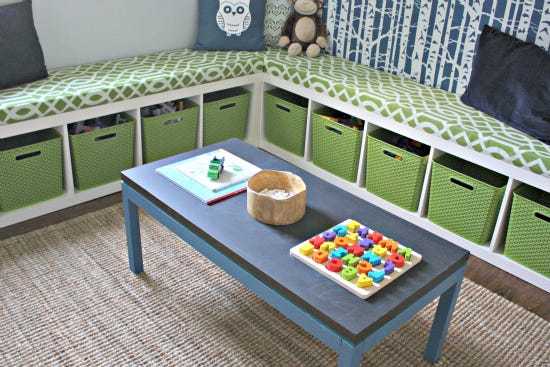 5. I have found that if the space underneath my kids' beds isn't planned for, it just becomes a nasty spot where junk and clothes and dust accumulate. Solve that problem by building some DIY under bed storage carts. Label them to remind the kids what belongs in them!
6. It's also a good idea to label dresser drawers and bins inside the closet. The labels help the kids keep their stuff more organized. It's also a time-saver for getting dressed on busy mornings!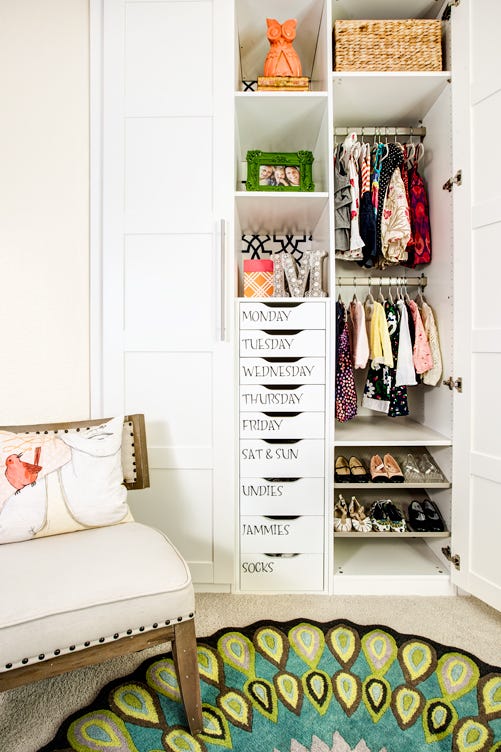 7. Storage benches like this one can do double or even triple duty in organizing kid clutter.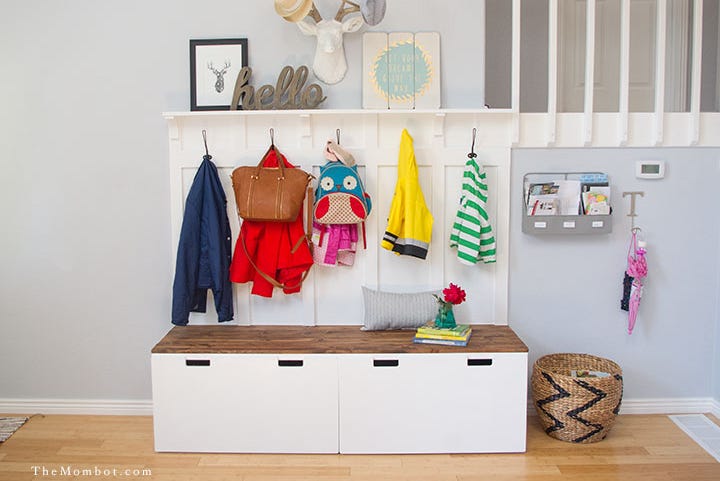 8. I love the idea of using floating shelves as book ledges. It also means the books double as adorable wall art, and you can't go wrong with that!
9. Toss tiny toys in clear storage boxes like these from Dollar Tree. If you label the boxes, it is even easier to see exactly what is in them.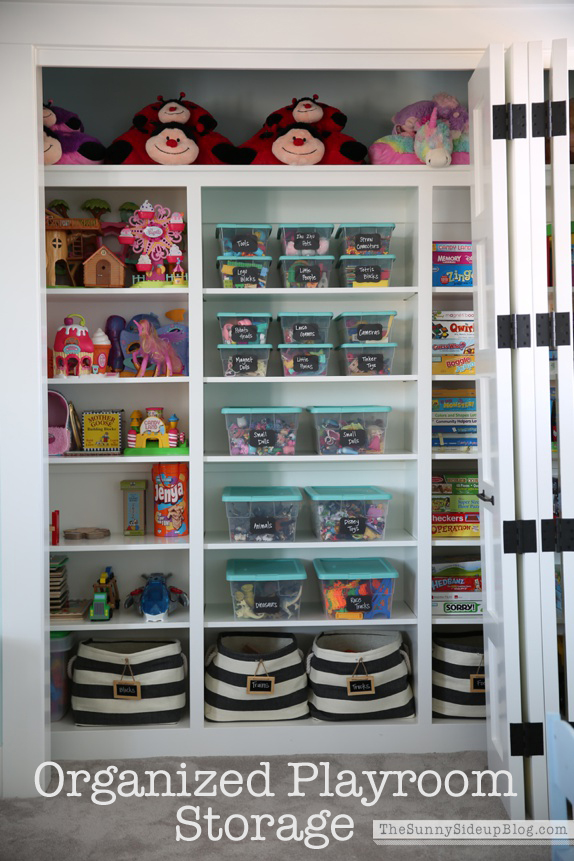 10. Incorporate storage right into the play area. The copper-painted wire baskets in this play kitchen organize and display the items that complete the kitchen.
Click on any of the following links to see more information about any of the kids clutter organization ideas featured in this post:
Paper Dolls Design pegboard nursery organization idea
Bigger Than the Three of Us closet loft & storage
Centsational Style Lego table
I Heart Organizing playroom seating & organization
Jenna Burger Design DIY under bed storage carts
Project Nursery organization ideas
House Beautiful kid organization ideas
Daffodil Design floating book ledges + shared room decor ideas
Sunny Side Up playroom storage
Hello Baby Brown stylish play area storage