1.First of all, to repurpose old lightbulbs, you need to know how to hollow them out by removing the electrical components from the inside. Team Droid offers a great tutorial on how to do it.
2. This idea only requires you to spray paint the outside of your old lightbulbs with gold glitter paint, and then hang them in a tree with fishing wire. Perfect for an outdoor wedding!
3. I absolutely love this tiny terrarium!
4. Would you have thought to use a lightbulb as a concrete mold for DIY wall hooks? Neither would I, but what a unique idea!
5. Normally you wouldn't keep burned out lightbulbs in a lamp, but this recycled lightbulb pendant lamp does just that.
6. Over at Instructables, learn how to make this knockoff of a much more expensive oil lamp made with hollowed out lightbulbs.
7. Mini lightbulbs were used to make terrarium place cards for a wedding dinner. Aren't these so elegant?
8. A hollowed out lightbulb also makes a lovely bud vase. This example given is a contemporary look with a metal base.
9. Light up your Valentine's world with this lightbulb gift.
10. Turn old lightbulbs into rustic pears by simply wrapping them with jute. Genius!
11. How about a Steampunk necklace? Try making your own, or buy one here.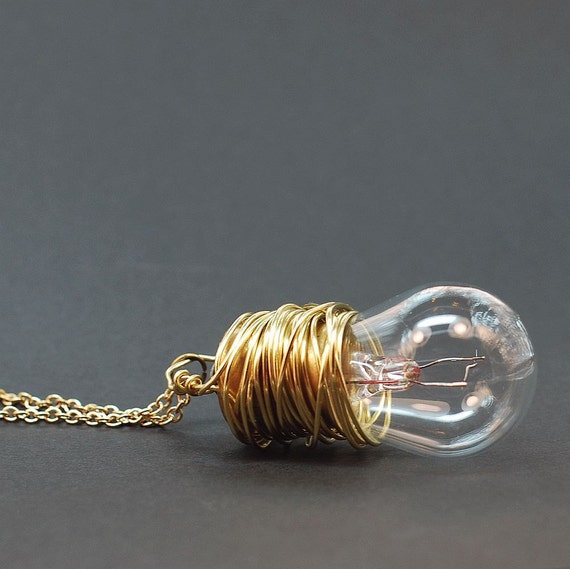 12. Recycled lightbulbs also look quite festive as Christmas tree ornaments.
13. Group a bunch of burned out lightbulbs together to create your own glass sculpture.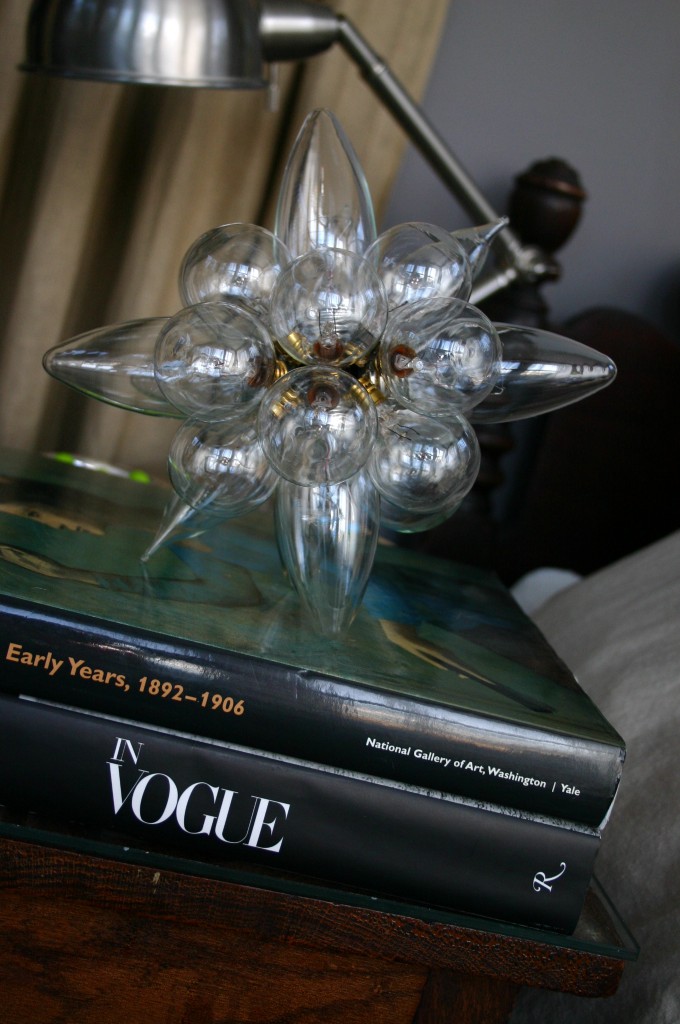 14. I also love the idea of hanging a grouping of lightbulb vases in a kitchen window. Beautiful!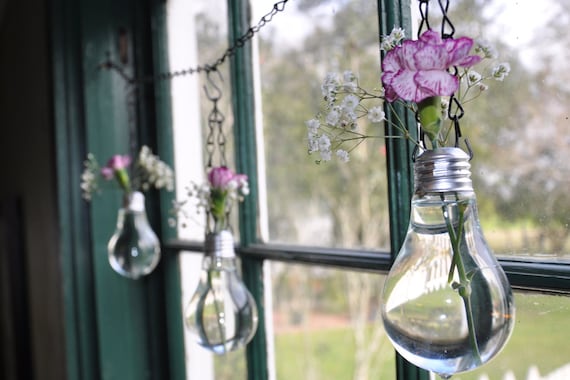 15. This idea turns old lightbulbs into cute hot air balloons. They are perfect for a kids' room.
16. Here's a ship in a bottle…..er, lightbulb.
17. Turn a set of burned out lightbulbs into a rustic centerpiece for your dining table. It looks like it's electrical, but it really runs on batteries.
18. Here's an adorable terrarium you can hang in your window!
19. A simply adorable mobile for a baby's nursery starts with a few old lightbulbs. Love it!
20. Another version of a lightbulb terrarium, but this one is filled with water for a unique twist.
21. Let the kids turn old lightbulbs into mini snow globes at Christmas time. Cute!
22. Don't get rid of those old C-41 Christmas bulbs that no longer work. Turn them into a vintage-looking holiday wreath!
23. Need a small fish tank? Use an old lightbulb.
24. Hollow out three old lightbulbs in varying shapes and add some wire. Now you've got a trio of interesting vases!
25. For a really unique idea, use old lightbulbs to house origami works of art.