Imagine how comfortable this outdoor seating area is! Use your pallets to create a nice lounge area where you can sit and enjoy the warm weather.
Use some pallets to make a bed frame in your room! If your pallets are sturdy, they will be able to hold the weight of your mattress and also make a cute head board.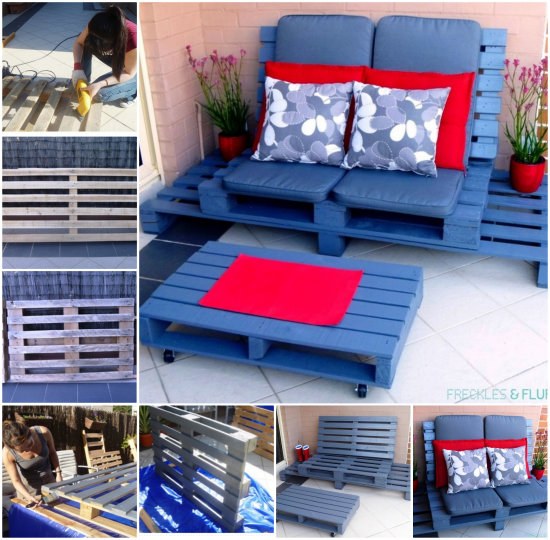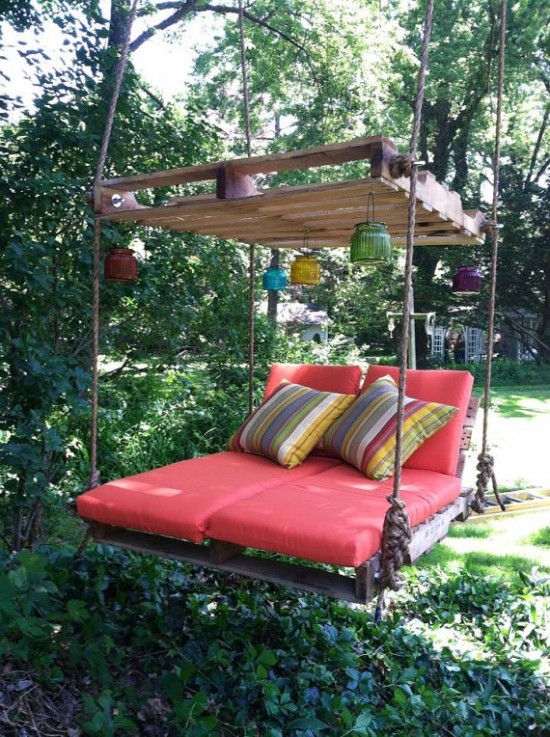 This outdoor swing looks so amazing, don't you just want to build it right now?! You can use pallets to construct the swing and also use one above to add some shade.
Use some pallets to make a dog bed. You can customize the size to fit any dog and add some soft cushions for them to lay down on.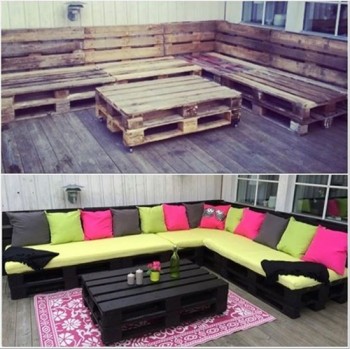 Make your own huge outdoor seating area out of some pallets. Because pallets are square shaped, it's easy to fit them in the corner like this one. That way you can build out and fit a large seating area into a small space.
Use pallets to make a shoe organizer! Your shoes will stay totally organized as opposed to being thrown around everywhere. The pallets work well to keep your shoes in place.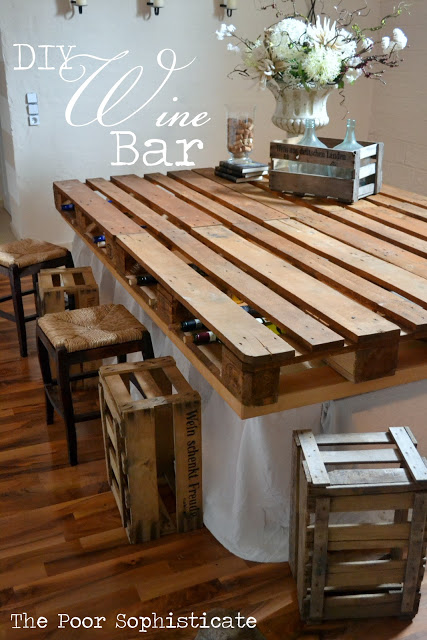 This wine bar is so nifty because it has so many functions! The pallets work to make a table, to make wine holders, and chairs! That way everyone can gather in the same area and the wine is right where you need it.
Use pallets to make a storage ottoman. You can open the top so you can store things underneath, and also add some padding to the top so that it's a nice place to sit.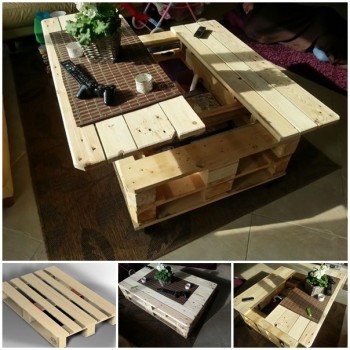 This pallet table is GREAT because you can use it as a table and as storage too. You can open and close the sides to keep items hidden down below.
Use pallets to build a fence around your garden! You can even tilt your pallets up vertically and slide them around poles. This saves you lots of time by not having to deconstruct your pallets, but rather keep them whole, and quickly put up a fence.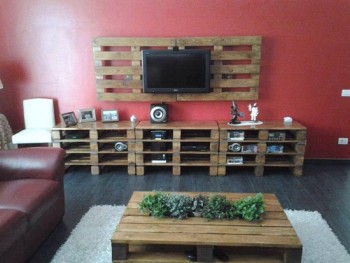 Pallets make great entertainment centers! You can use some to frame your TV and also keep all of your movies or other items stored down below.
Construct your own bathroom organizer out of pallets! You can keep all of your bathroom items nice and neat by adding a place to store them all. This is especially great for small bathrooms that don't have enough places to put things.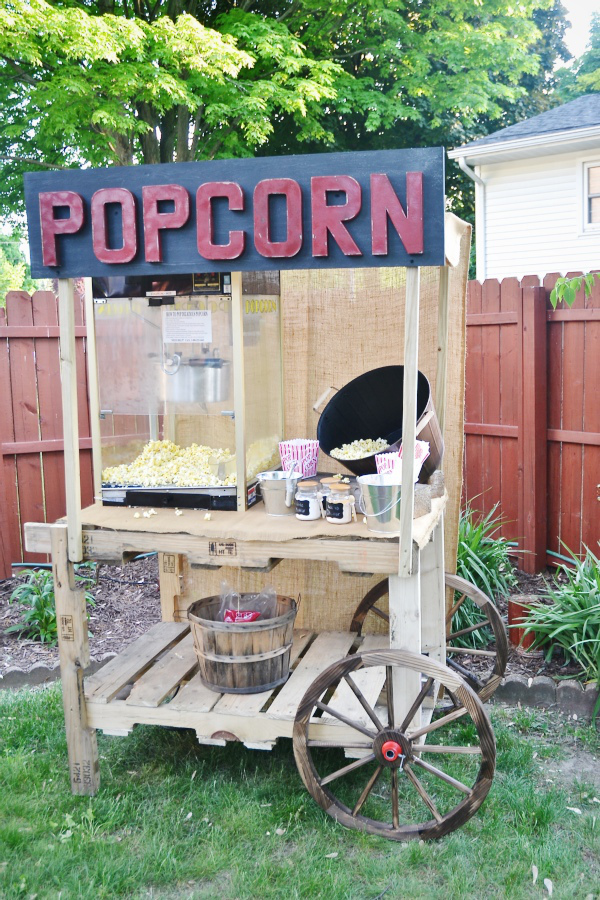 This popcorn stand is adorable! Everyone will be begging to come watch a movie!
This tutorial can also be used to make a lemonade stand! Your kids will love this in the summer so they can put it out front and try to make some extra money.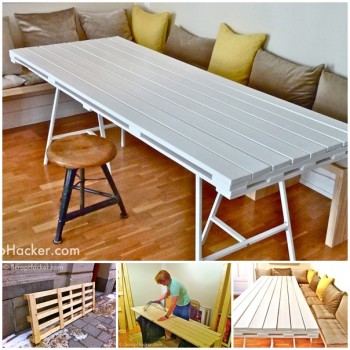 Use pallets to make an inexpensive dining table! Just make sure you sand it down really well and coat it with a protective layer so that it lasts a long time.
Pallets can make great floating shelves for your home! These look good in ANY room in the house and they would be super easy to make.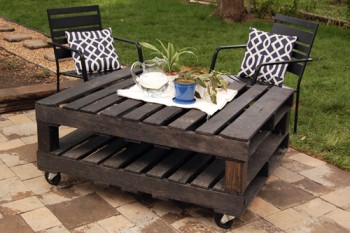 How about this rolling table make from pallets? You could simply stack to pallets on top of each other, holding them by wooden pegs, and then add some wheels to the bottom!
Use pallets to make a serving tray! You can get creative with how to make the handles. Serving trays are so nice to use as decor, or to use to carry food and drinks.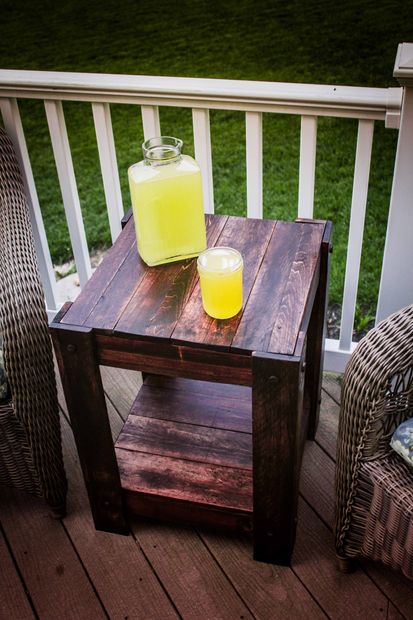 Pallet work really well when creating your own end table! This is perfect for in between your chairs and would look great outdoors or indoors.
You can also make a similar, small end table to use as a night stand! It's always great to have something on the sides of your bed to place your alarm clock, a lamp, books, or whatever you need.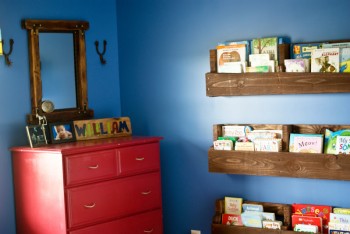 Pallets can be used to create bookshelves! These work especially well for kids books since they are so thin, so you can fit a lot into small shelves.
Use pallets to make a benches for a farmhouse style kitchen. Benches are really nice because you can usually get a lot more seating around your table than you would by using chairs.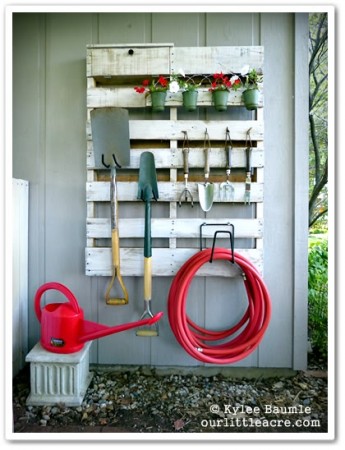 Use a pallet or two to make your own gardening tool shed area. Each wooden panel works great to store or hang each of your gardening tools from.
Use a similar idea to this one, but for organizing all of your craft supplies indoors. You can use hooks or nails for support so that you can hang all of your craft essentials in the same area.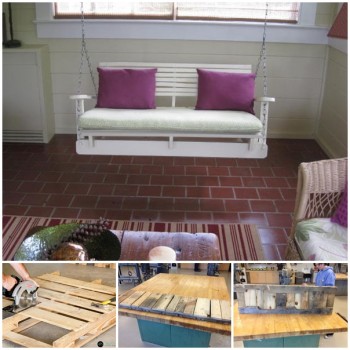 Have you always wanted a patio swing? Well now is your chance! Make a really inexpensive one out of pallets so you can swing all day long.
Pallets can make a really great pantry organizer. You can use pallets to make a place that will hold all of your canned foods or other items so that they are all in one place.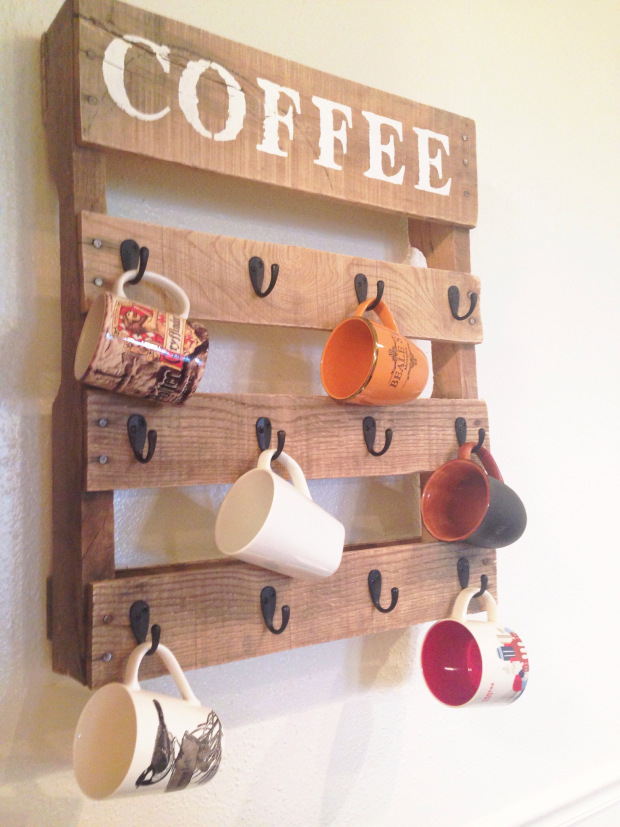 This coffee mug holder is a great idea! It's super easy to make out of just one pallet. Add some hooks so you can hang all of your mugs by your coffee pot.
Hang a pallet from your ceiling and attach some lights to it to make your own light fixture! This is a clever idea and will give your home a very industrial look.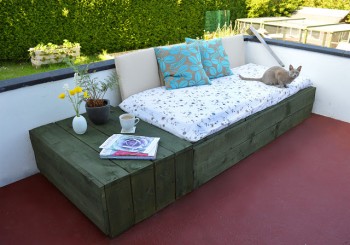 Make a day bed that you can use to take naps outside when the weather is nice, or just to use as your own little outdoor get away. This would be so comfy and nice to have!
Make an ice chest or cooler out of pallets so that you can store all of your drinks inside of it! This is perfect for social gatherings to keep beverages cool when you're outside.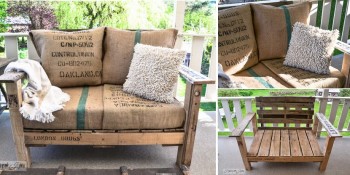 Make an outdoor love seat like this one! The burlap pillows look really great against the wood from the pallets.
If you don't like your stairs at home, maybe you should think about redoing them and using pallets to make a staircase instead! This is a unique way to add more character to your home.

Use pallets to make a gardening table! This one is so cool because it hardly takes up any space and can be pulled down when you want to use it for potting, and then put back up when you are done.
Use a pallet to make your own wall organizer in your living room! You can stick it just about anywhere and place picture frames or other items inside to use as decor.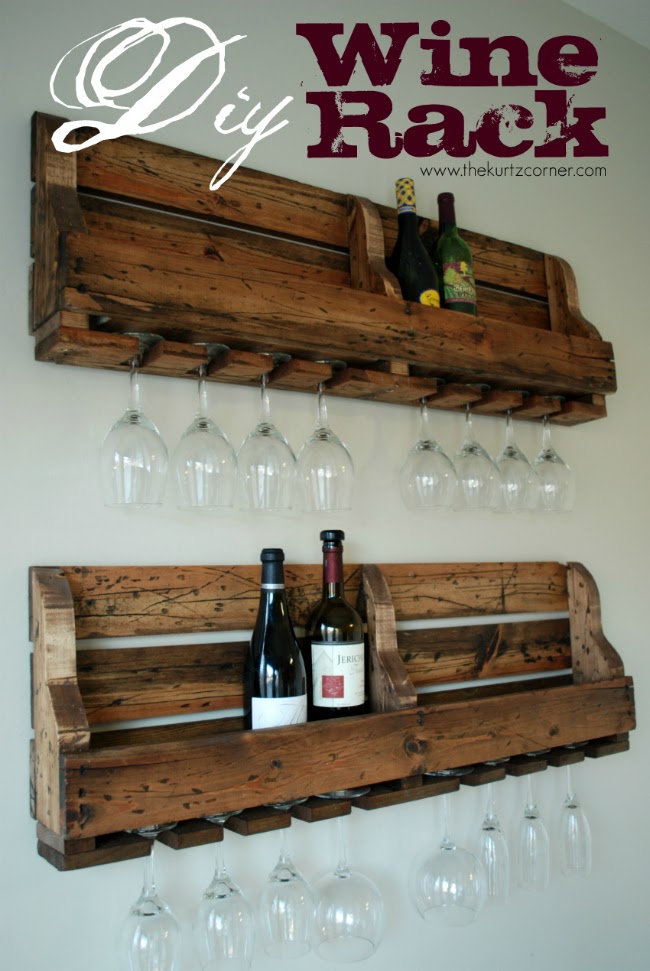 How cool is this wine rack? You can keep all of your wine bottles stored in the compartments, and then have the bottoms of each wine glass rest between the panels of wood.
Use pallets to make a desk in your office! You can get really creative with how to construct it and how you use your storage space.
This laundry basket idea out of pallets is genius. It will help you sort out all of your colors when you want to wash and dry them and the baskets are easy to move in and out.
Use pallets as posts in your yard that you can hang a hammock from! This is great for yards if you don't have good trees to use.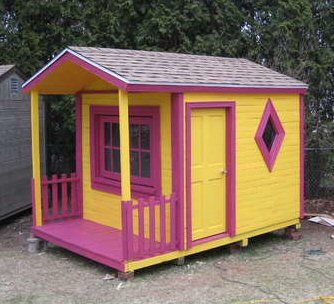 If your kids are already dreaming of having a house of their own, build a mini one out of pallets for them! This is a great idea that is also cost effective for a project like this.
Another idea if you don't have kids is to make a dog house for your pets! Instead of using a door or having a deck, you could just keep the front open so your dogs can get in and out.