One of my favorite things to do is set a really pretty table.  I  have always been somewhat obsessed with  unique dishes and place settings.  I have been looking for creative centerpiece and table dressing ideas, because my kitchen table is SO BORING right now.  I love fresh flowers in the summer and spring, but it seems too cheerful for winter.  I also want to find a great way to dress my table, in a cheap-ish fashion, so I am on the prowl.
The best place to find great table dressing or centerpiece ideas- wedding pictures or on bridal websites!  Makes sense, right?  Usually, they are very elaborate, but you can tame them or at least be inspired by the general idea and make it your own (less expensive) kitchen table version.  Here are some great ideas that I found today!

1. Ok, this is elaborate.  But I LOVE the oversized flowers and twigs and sticks.  I think it looks amazing.  And the cacti?  Very unique.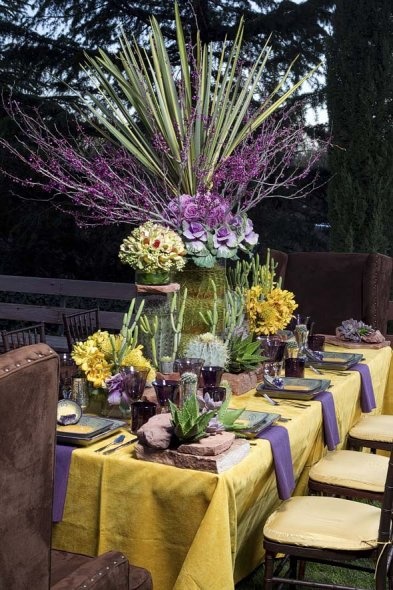 2. This is simple and stunning. I love the burlap holding it together, and the orange would be PERFECT for a fall wedding! This idea is from Polyvore.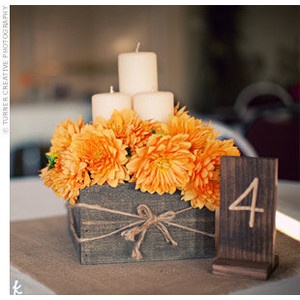 3. I really do love mason jars, but you have to be careful.  Sometimes they look totally grungy.  If you put them in the right setting, this look below could be really great.  I would probably go more uniform on the metal rings, and leave them all off, or even paint them a color and put them on to go with the decor of the rest of the table, but it is pretty nonetheless.  This perfect summertime look is from It's Over Flowing.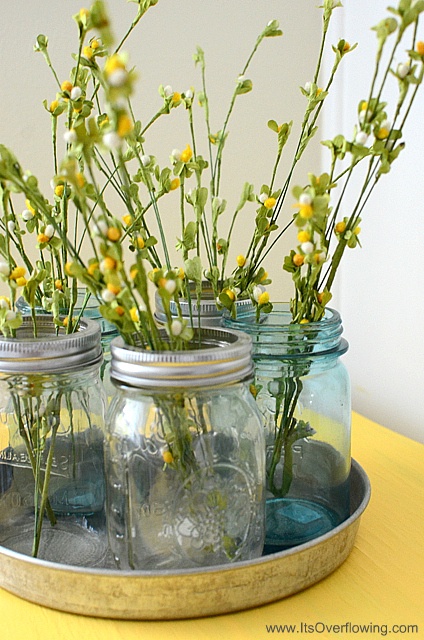 4. I love this!  I even love that this is not a "centerpiece" in the picture.  Who says we have to put it in the middle?  This looks adorable at the end of a table.  I will be using this one day!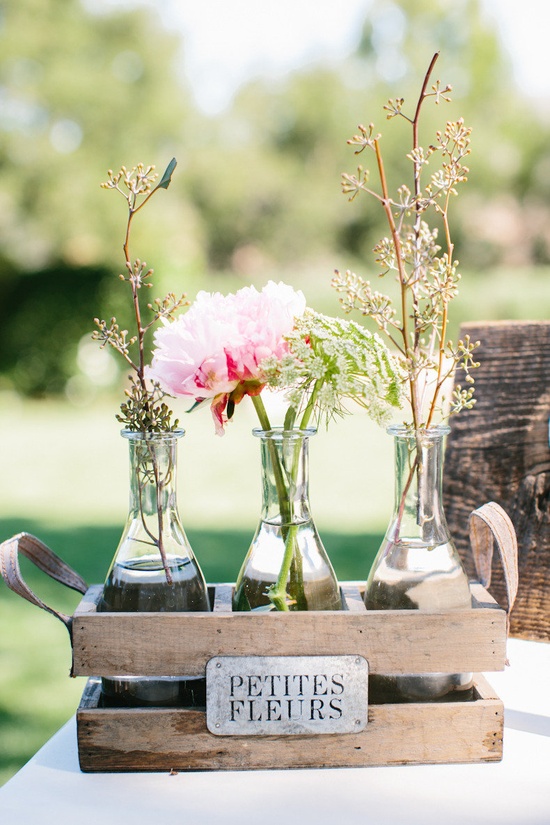 5. Another idea perfect for fall.  What gorgeous colors!  I really like the idea of the runners being draped across the table, the opposite way, and the serving plates on the side.  I love this!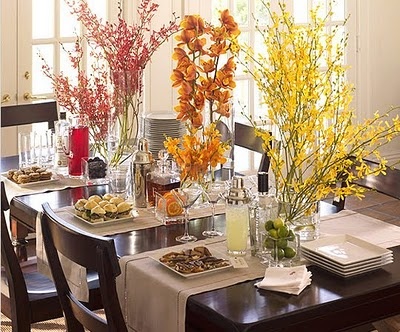 6.Who would have thought to use fresh fruit in a center piece? The oranges are a great accent to the tulips, I have to recreate this!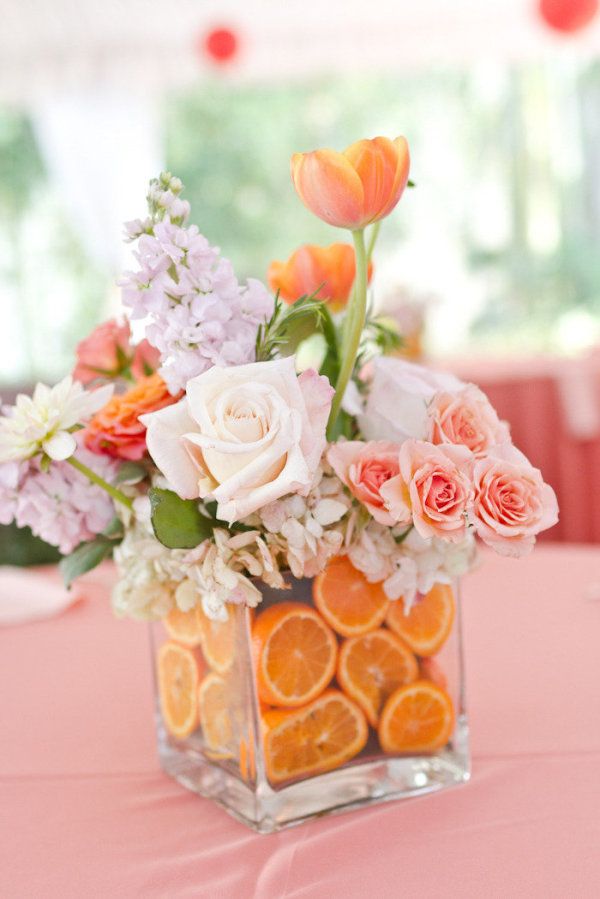 7. Another great mason jar idea, only this one is completely different! If you want to avoid flowers, this would be a cool idea to try. I love that the jars are different from one another!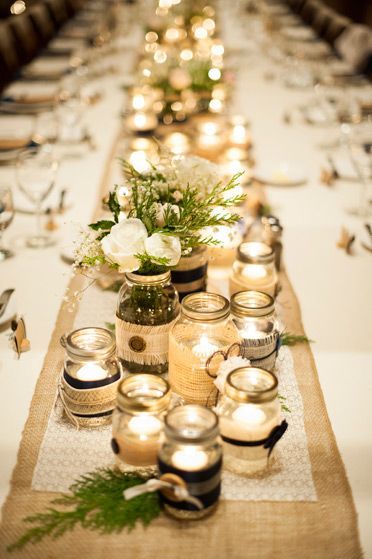 Image from Deer Pearl Flowers
8.Recycle old root beer or beer bottles and turn them into vases! This works so well because the flowers are a great contrast to the dark bottles! Idea from Decozilla.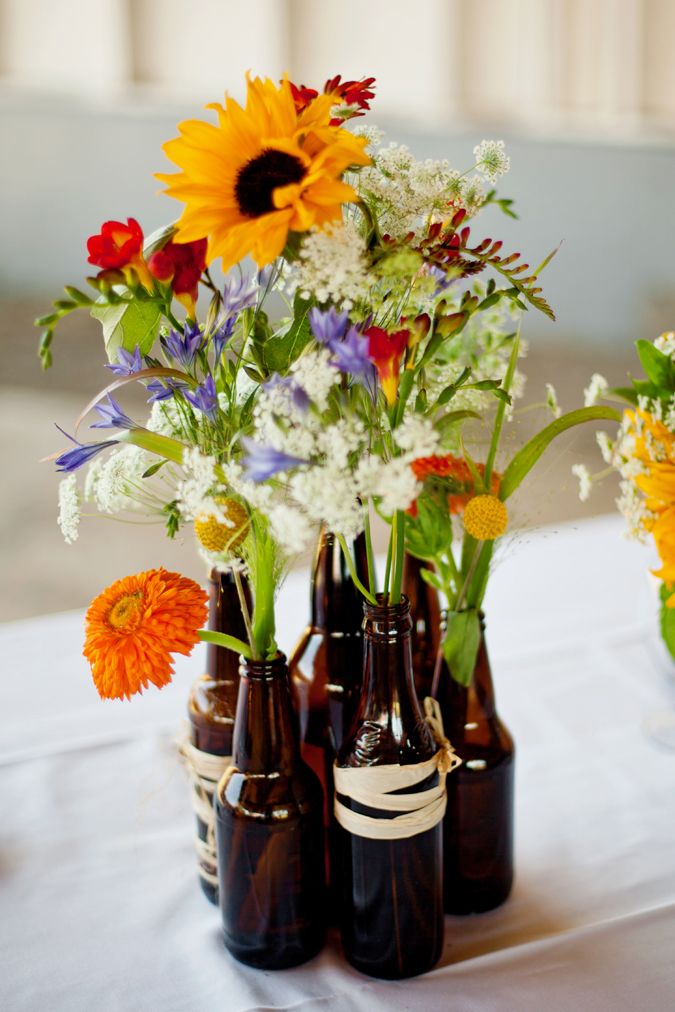 9. For the inner child in you, ditch the flowers altogether and create an edible centerpiece. What a fun idea to make a centerpiece out of lollipops! Such a fun idea from The Knot.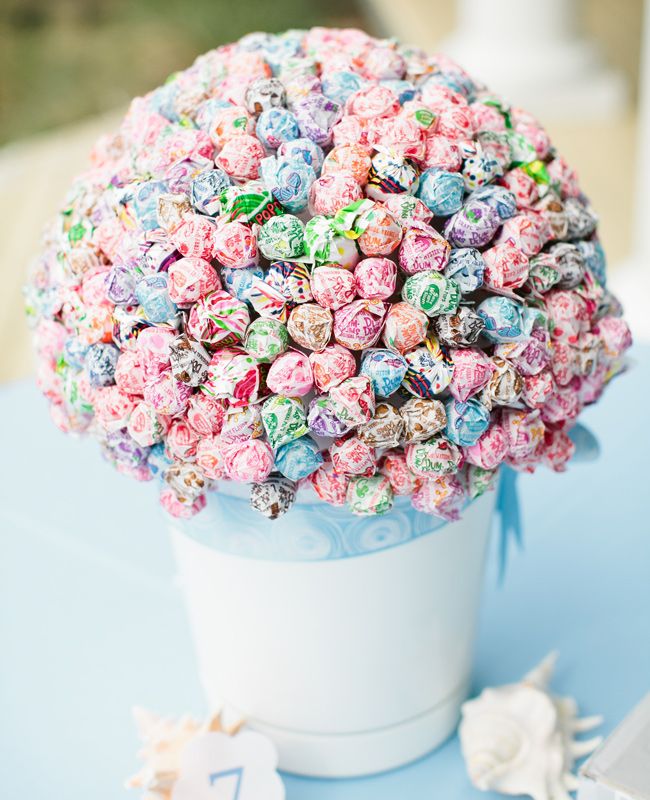 10. Hollow out the trunk of a birch tree. I love the initials and then the pink roses. This is such a romantic idea!