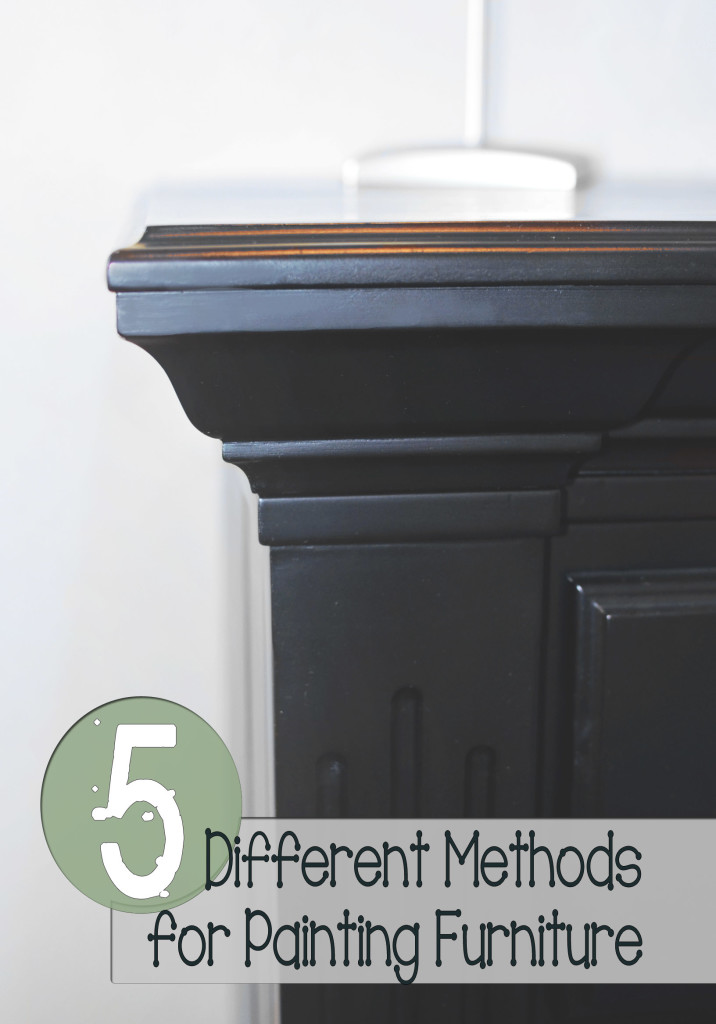 There is no right or wrong way to paint your furniture, the method you use will be determined by what coating you are using and how often you paint. I am a fine woodworker and have refinished furniture for over 10 years.  I have tried every method out there and I will list the techniques in order of beginner to more advanced methods.
1. Paint Brush/Rub On: If you are just beginning and doing a small project a paint brush is a good place to start. I will say that you will not have a smooth surface like spraying will produce, but if done correctly it can look good to the un-trained eye. Using a paint brush or a rub on finish is a good place to begin because the tools are cheap and everyone know how to do it. Some things to keep in mind when using a paint brush are, the more expensive fine bristle brushes will leave less streaking and leave a better finished look. If using lacquer or polyurethane it must be a "brush on" only, a rub on or spray on cannot be used with a brush.
2. Paint Roller: Paint rollers allow you to have a slightly smoother finish than paint brushes, but still will not be as smooth as spraying. When doing furniture I would use a smooth foam roller as opposed to a roller with nap. This will give a smoother finish.
3. Spray Paint: Spray paint is a good method only for smaller projects, it becomes difficult and more expensive for larger items. It can also be difficult to get the paint to lay down evenly since the spray pattern is a circle. However it does have its place with small projects where you do not want to buy a large quantity of paint, and where you do not want the hassle of cleaning spray equipment.
4. HVLP Spray Gun: HVLP spray guns can be relatively inexpensive but they do require an air compressor to run them. For doing furniture even a cheaper gun will work fine. They do not work well with thicker paints and finishes because it will lower the speed that you can spray. Some solutions to that are, you can purchase larger tip openings that allow more fluid to escape, and thinning the paint you spraying. A downside to HVLP guns is that they are difficult to clean and do not allow you to hold the gun upside down and spray.
5. Airless Sprayer: I suggest that you try several of the previous methods before using an airless sprayer.  The reason is that once you try the other methods first, then you will really appreciate how convenient an airless sprayer is. Airless sprayers can spray with the gun in all orientations, they put out a lot of paint in a short amount of time, and are not extremely difficult to clean up, if you know how to do it properly. The down side to these is that they are expensive, ($300 and up) and require some skill to use correctly. They spray so quickly that if you hesitate even for a second you will get very large runs. But they can spray nearly any finish even thicker finishes very smoothly and very quickly. If you use them often enough the finish can even be stored in the gun without cleaning between uses (This would require it being used almost daily), and you only need to stir the finish between uses.