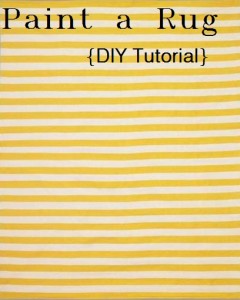 I have been looking for a rug for my dining room for 6 months now, and have come up empty handed.  The only one that was the right size, color and style was $3200.00 and… that ain't happenin- 🙂
So, I decided to paint a rug.  IKEA had the perfect size rug, and it was even the perfect base color.  So, here are my "5 things to paint a rug" list:
1. The perfect rug.  By perfect, I mean in size and shape and weave.  Lighter colors are easier to paint, I would use a light base color rug for best results.  Also, if it is a tight weave, you will have better luck.  The thicker or shaggier the rug, the harder to get nice stenciled straight lines.  It will also be hard for the paint to seep in and I don't think the result will be as nice.
2. Paint.  This really depends on you.  Here's my thing.  I don't want my rug to be super stiff.  I know others have gotten great results with latex paint, but I would rather use a fabric paint than a latex paint.  DecoArt sells a fabric paint called "SoSoft" and I would use that, if it were me.  However, you can use latex paint, and people get terrific outcomes with it all the time.  It would definitely need to be a short weave rug to use a latex paint on, and probably on a rug that is already of the rough type.  You don't want a drastic difference between the painted areas and the non-painted areas as far as the texture.  If you are doing a softer, more plush rug, use a fabric paint or a paint condition or fabric medium with the latex paint, to get the softer result.
3. Tape.  Guess this only depends on whether you are doing a pattern or not.  If you are painting it a solid color, good for you, you get to skip this step.  Otherwise, this is the most important thing you will use.  Be sure to use the tape meticulously to get nice crisp lines. Run your finger along the edges of the tape to be sure it is tight.  This goes for painting anything, but especially fabric or upholstery, where it is harder to seal the tape.
4. Roller or brush.  Again, personal preference.  This will also depend on your pattern.  If you are doing small, or intricate lines, a brush would be your best bet.  If you are doing large stripes or a large area, I would definitely use a roller.  Rollers are easier to work with in my opinion, so I would start there, if your design allows.
5. Scotch Guard or Fabric Protector.  This will protect your newest addition to your home, and with all that hard work, you definitely want to.  After the paint is dry, generously spray a fabric protector on the rug.
Ta-da!  If you have been a big ole chicken like me, and want to paint a rug, but are nervous or don't know where to start, do a smaller (cheaper!) rug in a mudroom or laundry room to begin with.  Follow this guide and all the other DIY guides in Blogville and you will have terrific results, I am sure of it:)
**Full disclosure- the rug above is not my painted rug, it is the Draper Striped Rug by DwellStudio and I love it and would own it, but it doesn't come in the size I need.  Also- it gives me a chance to quit being a big chicken and paint a rug already.  This is the rug that I am patterning my DIY painted rug after.  You will see pictures by next week.  Still waiting on fabric paint in the mail:)