Sometimes (okay, MOST of the time) this season can bring with it a sense of candy overload. That's why we're providing you with some ideas of Halloween treats and refreshments that aren't candy! (Your teeth will love you!)
Finger Food
Make carrots look like fingers by using some creamy dip to attach sliced almonds (fingernails) to the ends, then stick 5 "fingers" into the dip (have other carrots to the side for dipping).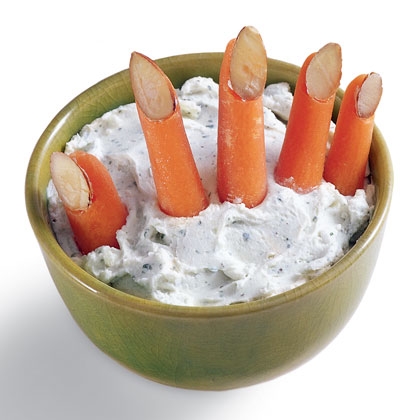 Pumpkin Cheese Balls
Not only are these awesome and adorable ideas, but they're great for serving individuals. Your guests and family can just grab one for themselves and not worry about having to share or not leaving enough delicious cheese for the rest. Just take a glob of cheese, cover it in paprika, and stick it on a cracker!
Apple Bites
Slice the middle section out of a quarter of an apple to create a mouth shape. Then insert slivered almonds into the apple flesh for vampire teeth. (Source: spoonful.com)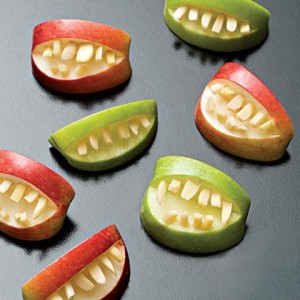 Poisoned Apple Treats
Don't these just look dastardly, indeed!? The best part is that you can make the cover out of whatever you want. Chocolate works best, but if you want to be healthier just find a chocolate-like substitute online and you're good to go!
Ghostly Banana Pops
Cut bananas in half, insert popsicle sticks, and freeze. Cover with melted white chocolate and use black candies for the eyes and mouth. Freeze again.
Cereal Bar Bales
These treats work just as well as decorations as they do actual snacks! The cereal can differ depending on what you want the bale to look like, but shredded wheat thins all blended up seem to work pretty well.
Witch Brooms
Adorable, delicious, AND healthy! Take pieces of cheese (either from a block or a cheese stick) and cut into them to make the end. Then just attach the cheese to a pretzel stick and you're good! If needed, tie the cheese down, but let your guests know if that part isn't edible!
Mummy Dogs
The kids are sure to love this idea! Instead of pigs in a blanket, take the mini hot dogs and wrap them up to look like mummies! Add a little dot of mustard for the yellow eyes and let the Halloween party begin!
Spider 7-Layer Dip
The toy spiders definitely take this dip to the next level! A well-made spiderweb out of sour cream also makes the dip look great, as well. Just put a fresh layer of tomatoes as the top and your guests are sure to love this!
Tombstone Taco Dip
Here's another great dip option if you didn't like the previous! Make some awesome tombstones, cemetery critters, and spooky trees with tortilla chips and other things! If you want to get even more creative, make a zombie arm popping out of the dip!Mandarin Orange Pumpkins
Here is a simple idea: get the individual packages of mandarin oranges with clear plastic film on top. Use a sharpie marker to draw on jack o' lantern faces.So easy and so fun!
Frankenstein Snacks
These are incredibly artsy and require patience and a little bit of skill in order to assemble them. The green face is just dyed cheese, but you could probably make it out of some sort of green vegetable, as well. Do what you and your family will like best!
Pumpkin style deviled eggs
These look so cute and yummy! The yolk part looks like a pumpkin! And the recipe isn't too hard either. With a little tweaking, I bet you could even get it to look like brains instead of a pumpkin!
Spooky Spider Cheese Ball
This is a Halloween masterpiece that everyone is sure to love! Use the cheese balls as different parts of the spider's body and some well-placed herbs and seasons to make the coloring. Put it on a spiderweb plate and you're good to go!
Batty Cheese Balls
These are probably more for adults (multi-grain chips and seeds aren't always a child's favorite), but they still look great on a party platter. The cheese ball just needs a pair of chip ears and some well-placed eyes and you've got some great batty cheese balls!