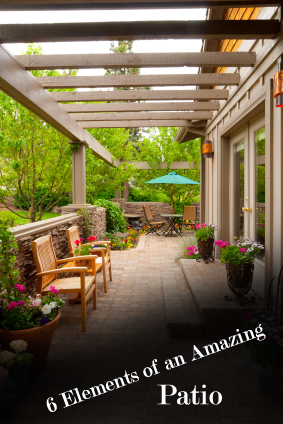 I love summer time, and there is nothing I love more than a good backyard BBQ.  We just moved into our house, so our backyard is not in yet and I am dying to get the patio going!  I have been surfing for ideas for backyard patios, and there are some amazing things you can do to make your house the party pad in the summer.  Here are 6 amazing patio ideas that are sure to draw a crowd.
1. Pergola- These are amazing for shade and they look beautiful as well.
2. Firepit- I love backyard firepits on the patio.  What better place to come together as a family or friends, than around a cozy fire.
3. "Porch" type swing (or hammock)- This really adds a level of  comfort that you may not get otherwise. I loooove porch swings, by the way:)
4. Seating- You must have some sort of comfortable chairs or lounge or couch for your guests to sit/lay around in and enjoy themselves.
5. BBQ!  How could we forget!  A must have to a happenin' patio
6. Lighting- No one wants to sit around in the dark.  Great patio lighting can happen with lights, lamps, candles, lanterns, landscape lights, etc.