I recently shuffled a few rooms in my house to allow for a dedicated playroom for my 3 and 6 year old. I wanted to have an area to keep all their toys and supplies where they can stay (semi) organized but be fun and accessible to the kids. The room is not large, so organization is essential.

Baskets
These baskets are amazing. They fit a gazillion toys and are durable. Thank you to iheartorganizing for the link and the idea. After seeing her blog post about them, I decided to search for other ones, and ended up back at Target.com, as she suggested. But, while I was shopping around for 2 weeks, Target raised their price from 44$ (for 4) to 51$ (for 4). So, my suggestion is to get them now. The Target price-hikers are volatile. 🙂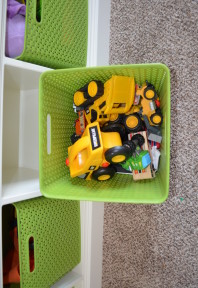 Chalkboard Supplies
Love this. Besides looking pretty darn cute, it is perfect for the chalk and eraser! It is hanging on the wall above the chalkboard table, so it is a great space-saving option. Find this at IKEA in the kitchen organizing area. For being IKEA, I wasn't overwhelmed by the cheapness, but I think all said and done it cost about $25-$30 to put together with each piece (sold separately.) Totally worth it, if you ask me.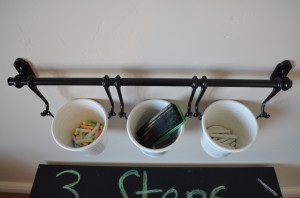 Closet Art Supply Hanger
While I am sure this was the original use intended for this product, people are also using this as a shoe organizer. Found it at Lowe's for like 10$ and I WILL TELL YOU WHAT. It is amazing. It stores a TON of stuff and has been the best thing I did for my kiddies playroom. We have art supplies in there, Easy Bake Oven packets, Moon Dough and molds, beads, Old Maid Cards, and even instructions to other toys stored right at the top. I love this thing. It is all I can do not to go buy one for every door in my house.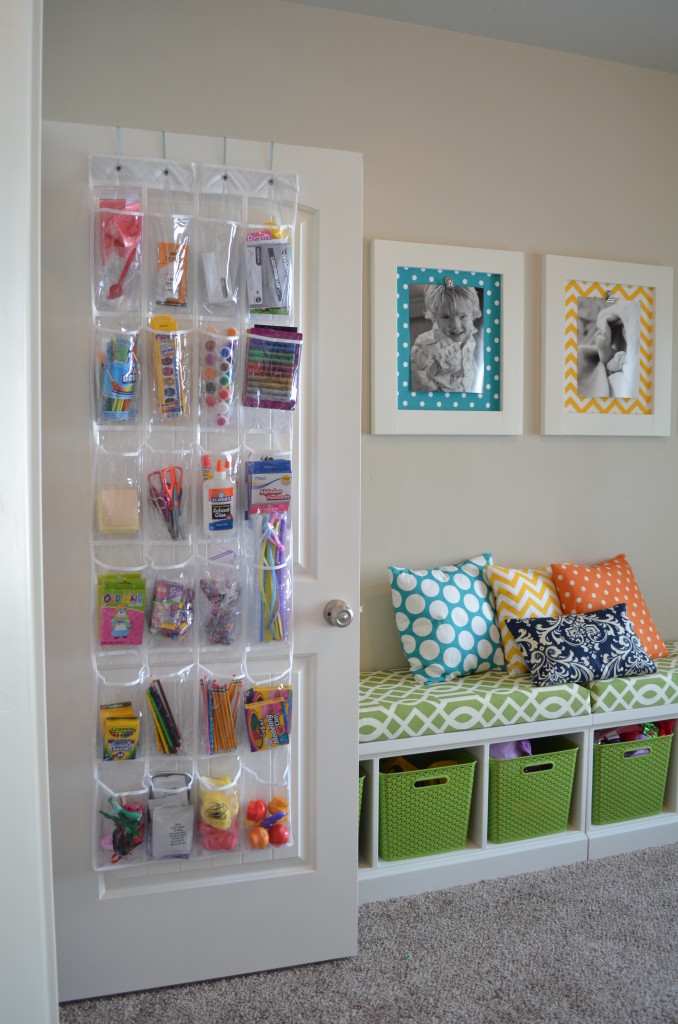 Book Crates
I want my kids to read!  So, I decided to give them options and make the books nice and accessible. In our playroom, I want a spot that they can keep a few books. Not necessary the family library, but a few Junie B. Jones books and some good Fancy Nancy reads. We are limited on space, so I took a slightly different approach, trying to utilize the space under our window. You can see that we also use it for toys and it works well.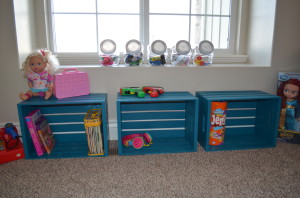 Art Display
I am not a "slap a thousand art projects on the fridge" kind of person, so I love this. I found some clipboards at Office Depot (5$ for 3, I believe) and painted them with chalkboard paint. If you use the brush on latex, you can be sloppy, because it peels off of the metal when it's dry. It was way easier than taping that clip off. And I spray painted some letters. Now, the kids can either color right on the clipboards, or use them to hang their masterpieces.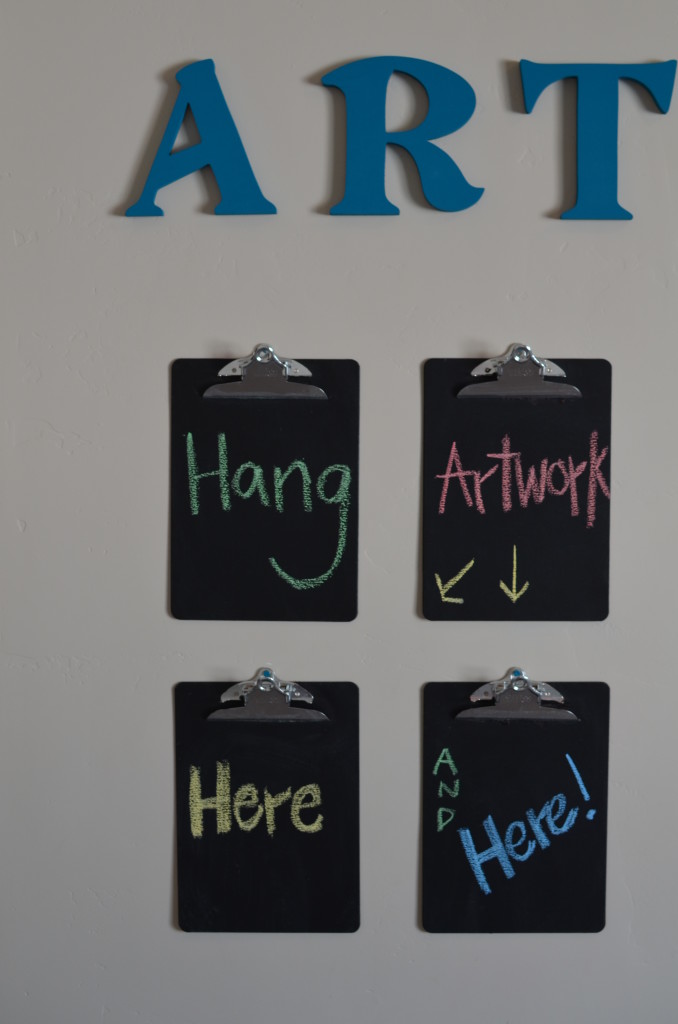 Small Jars
These store small cars, polly pockets, and other itty bitty tiny things that get stuck at the bottom of toy boxes, never to be seen again. My favorite thing we store in them is all the Nerf discs and darts to the many various play guns we have. I love having a home for them. These are 2.99$ at IKEA. I want like 6 more. They will be adorable once I have chalkboard labels on them.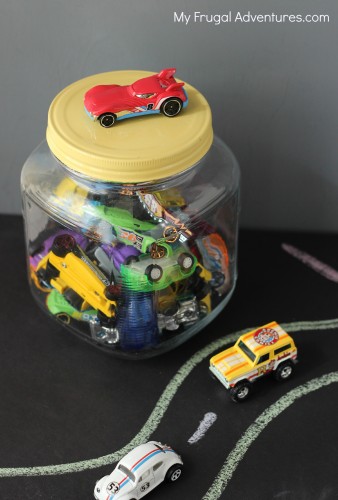 Garbage Pails
These are the best.  My husband hates "pretend food" with an unreasonable passion, and to make it work at our house, it has to have a place.  So, I found these and made a cozy little home for the play food and kitchen accessories.  It stays right by the kitchen and it's amazing. Looks cute too!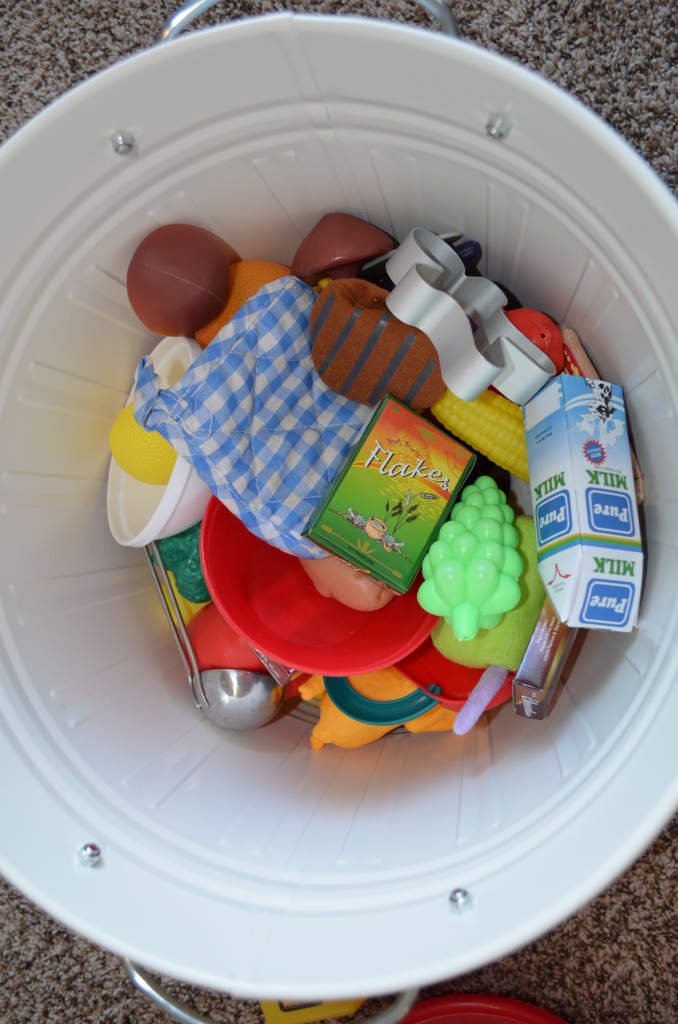 Chalkboard Wall
Paint a wall (or a section of a wall) with chalkboard paint and then write what supplies and toys go on the shelves. The great thing about this is that you can constantly be shifting and reorganizing things since the chalk is erasable!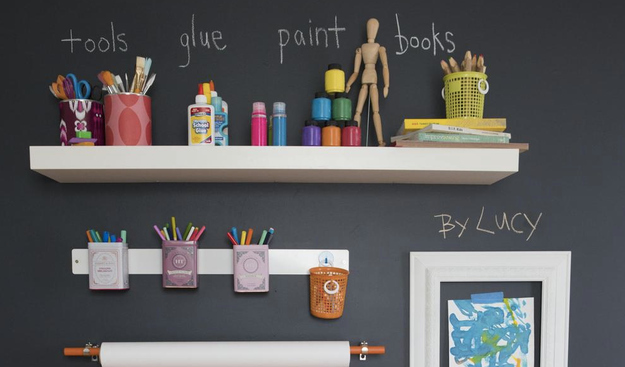 Chalk Holders
To go along with your new chalkboard wall, you need a nice and good-looking chalk holder! Things can get messy and difficult with jars or boxes, so do this instead! Just take dresser handles, flip them upside down, and glue them to the wall! Bam, you've got an instant chalk holder!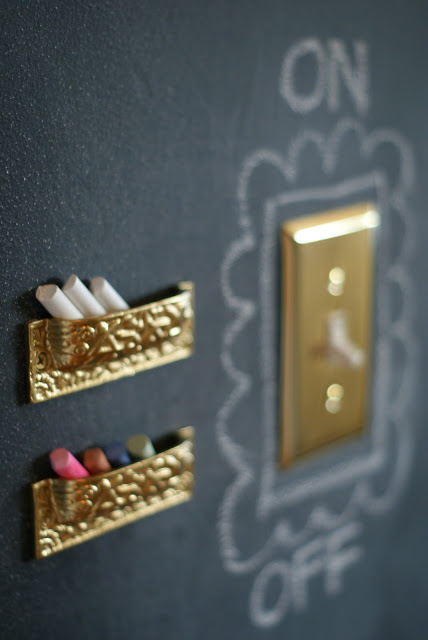 Display Shelves
Take shoe racks, slant them a little bit, and then attach them to the walls. This is a great way to either store toys or art collectibles. The slant allows easy access and full display to whoever comes in so they can find things quick and easy.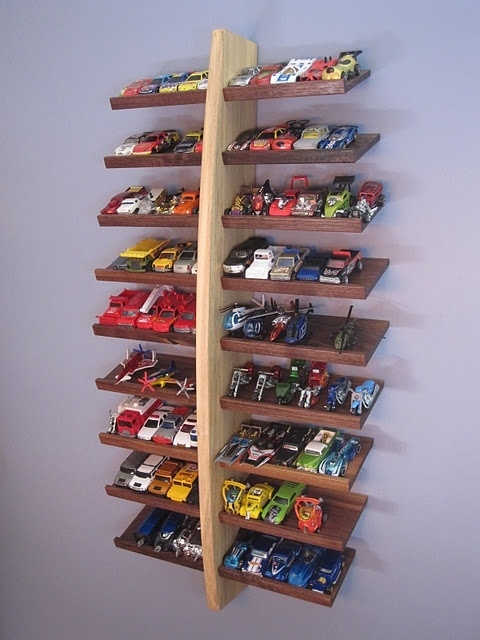 Desk Cubes
If you want an easy way to make multiple uses out of your toy/art room then this is a must have. The rolling cubes act as separate storage and toy bins for each child, but when you put them together you can make a big table for everyone to enjoy!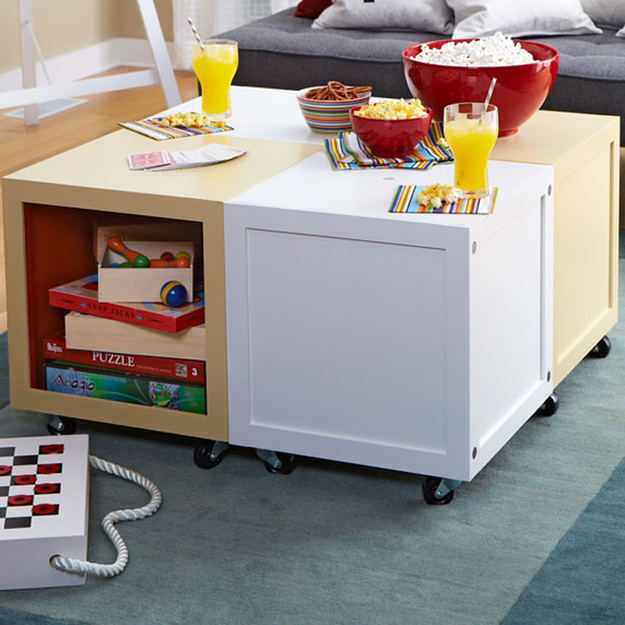 Magnets
If your kids seem to lose little cars or other metal toys all the time, then consider a handy magnet to hold them all in their place. You can keep it low so the kids can easily reach it whenever they want to play.