Looking to tackle the daunting task of organizing your garage? Have no fear! Here are some fun and helpful tips to get your garage looking spic and span: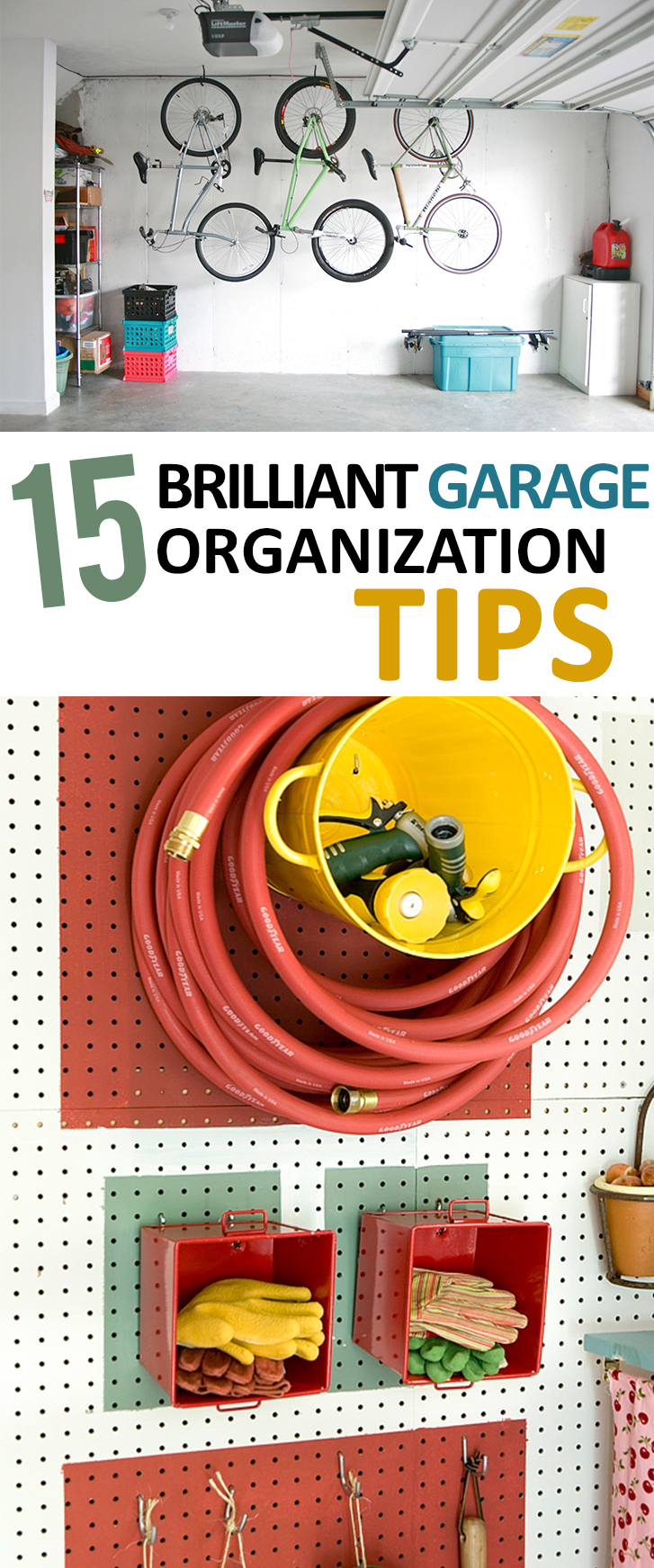 Throw Out
First, decide what you do and don't want to keep. One organization specialist suggested only keeping those items you have used within the last 3 years. Be honest with yourself and get rid of the stuff you don't use by giving it away, donating it, or throwing it away.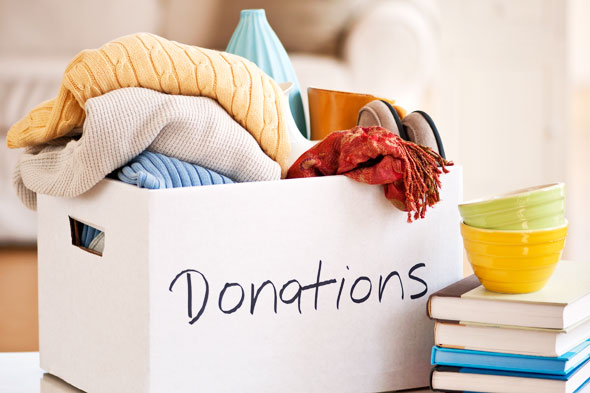 Bins
Put everything you want to keep in clear bins and label them with an erasable pen in case you want to change it later. This is one of the easiest ways to stay organized and know where everything is.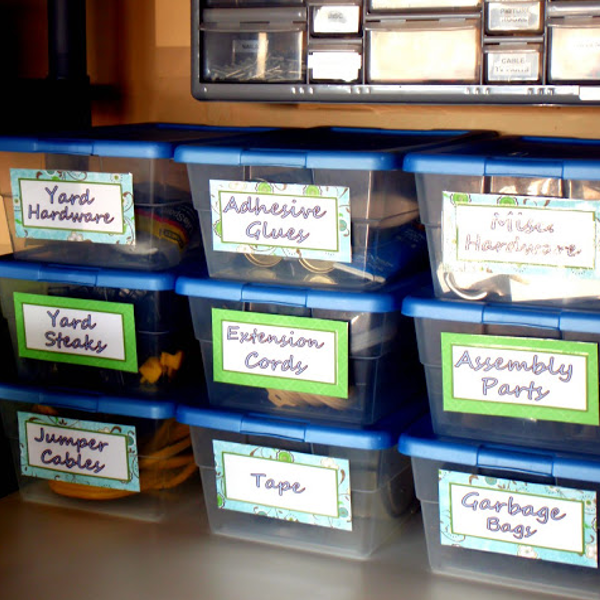 Compartmentalize
Put similar boxed items together (sporting equipment, camping gear, tools, etc.). That way you can know where something probably is by finding something it relates to. Not only that, but when it comes to grab things, you won't have to be running all over the garage to gather everything together.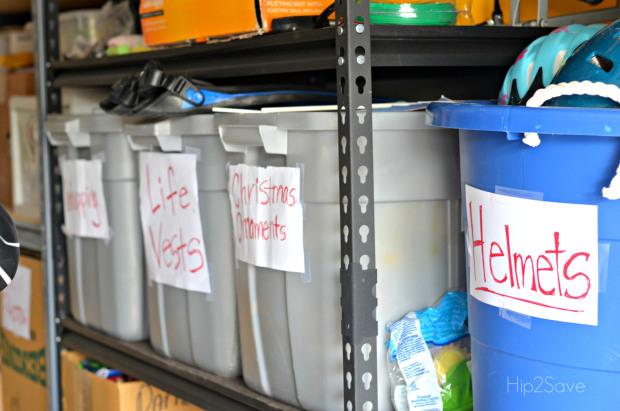 Shelves and Wheels
A shelving system helps maximize space and force you to be organized– things can't be overflowing or else they'll fall to the ground! Beyond that, get a shelf system that has wheel so it's easy to move and rearrange if necessary.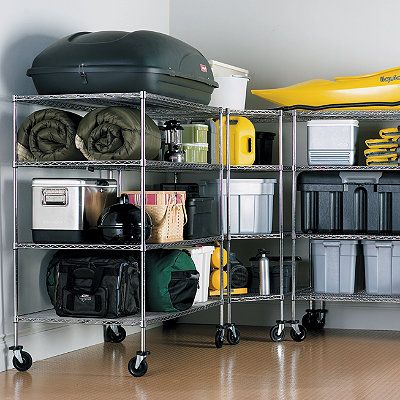 Cabinets
Don't just have all your stuff sitting out. Install cabinets to make everything look neater and more organized. If cabinets are too much work, then install a simple curtain system for easy concealing!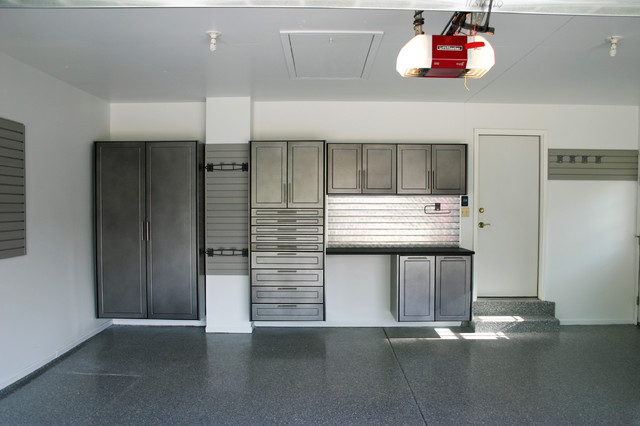 Locked Areas
Never risk safety for organization (or disorganization). Keep all the poisonous and dangerous items and chemicals locked away in a cabinet so children and animals don't accidentally get into them. Storing them up high can sometimes be even better, but not so high that accessing them becomes dangerous itself.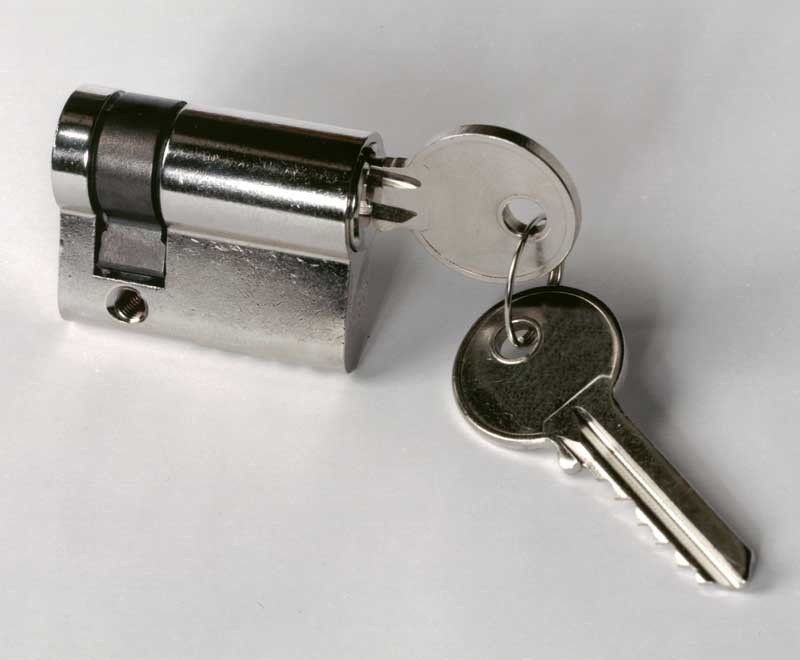 Heavy-duty Hooks
Lots of people don't realize that the garage walls can even be a place to store and organize. Use heavy-duty hooks for storing bikes, ladders, and other heavy items on the wall or ceiling. Just make sure they're mounted and installed correctly or some serious damage can occur!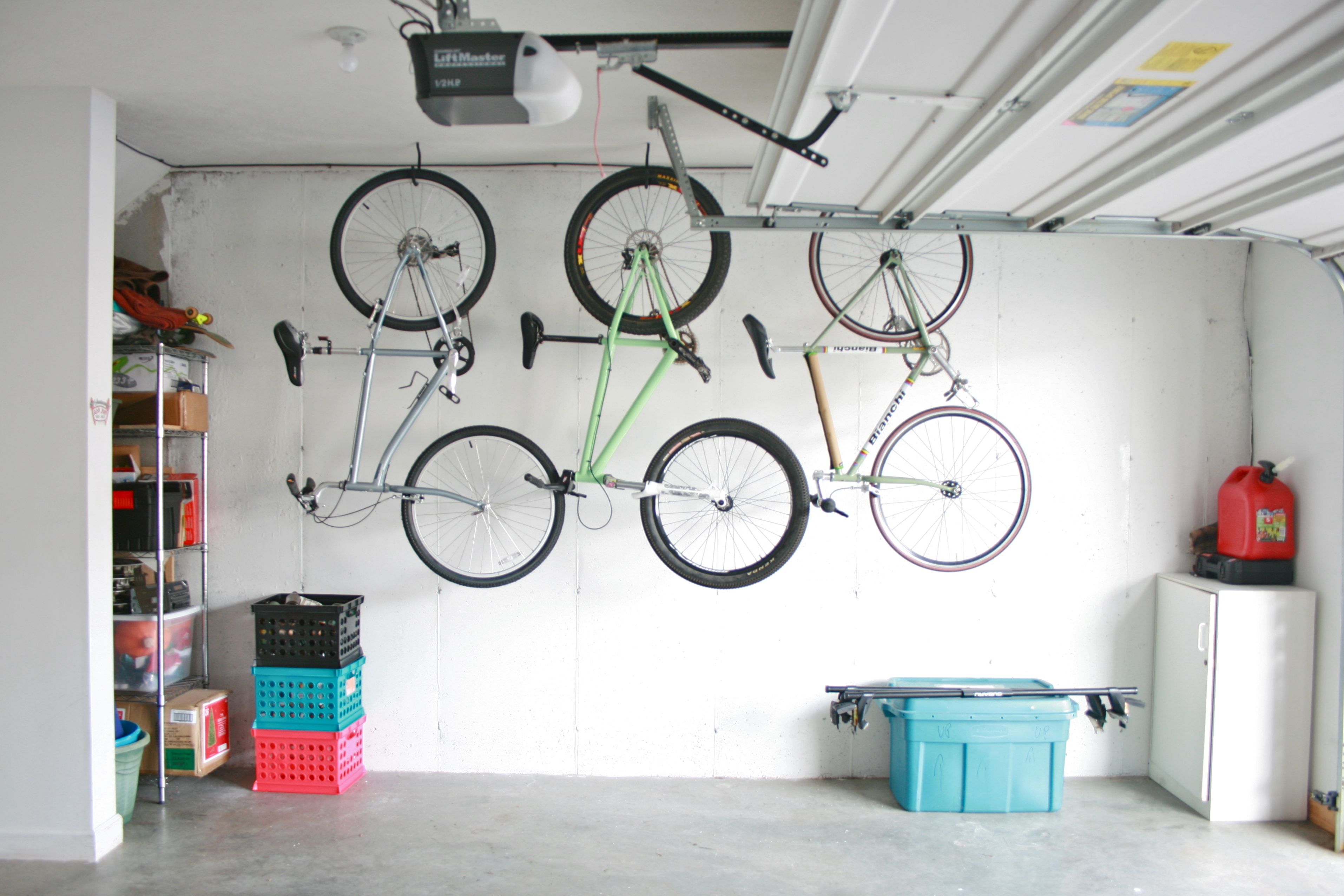 Slats
Slatted walls allow you to mount cabinets, bins and hooks easily. You won't have to make holes in your drywall and you can move storage items easily around the room. Don't go cheap on these; it's better to have sturdy slats than ones that will fall apart on you.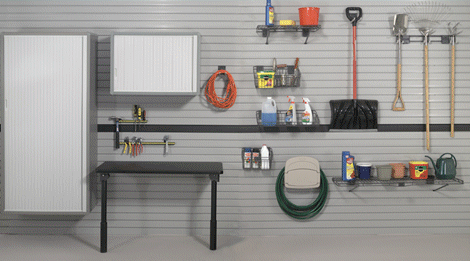 Pegboard
This is a great idea to get all your tools stored and organized. It encourages order (who wants a big gaping empty space on the pegboard!?) and lets you know if anything is missing or out of place quickly.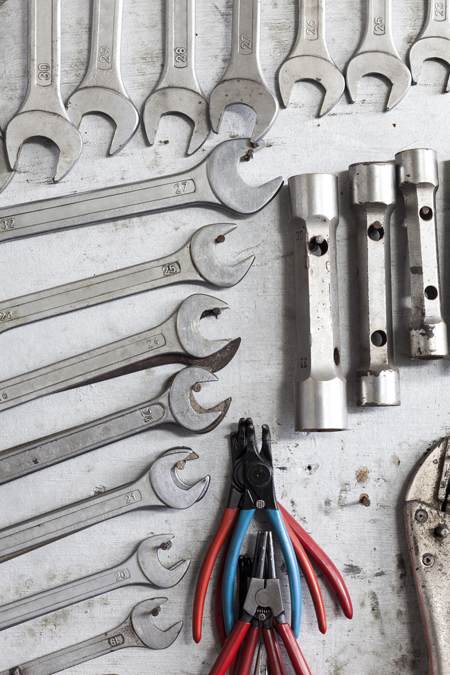 Seasonal Items
No need in having the Christmas tree and Halloween decorations take up all the space in your garage. Store seasonal items on higher shelves because you don't use them as often as other items. Make sure they're securely stored away so they don't fall!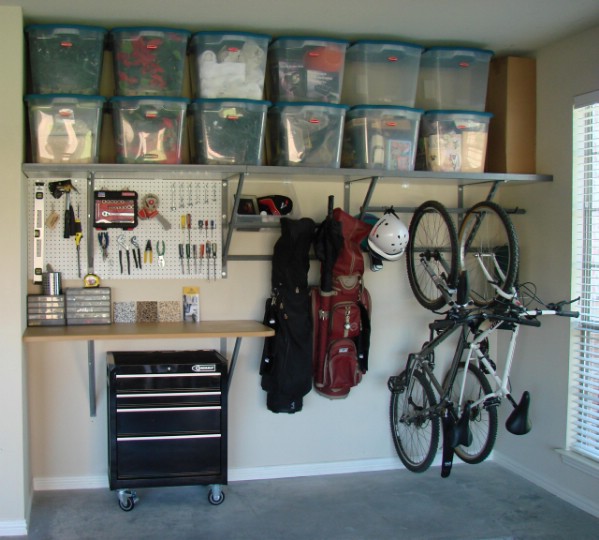 Adjustable Shelves
If you do a lot of arranging and rearranging then this is a great idea. Adjustable shelves let you change things up according to the size and shape of the items you need to store. This is an incredibly convenient way to customize your storage areas without having to buy new shelves every time.
Squares
Paint squares on the wall to designate the spot for certain items. Mount small buckets and bins sideways to store items that are difficult to store on hooks. Use a -sideways-mounted round bucket to store a hose and put the heads inside.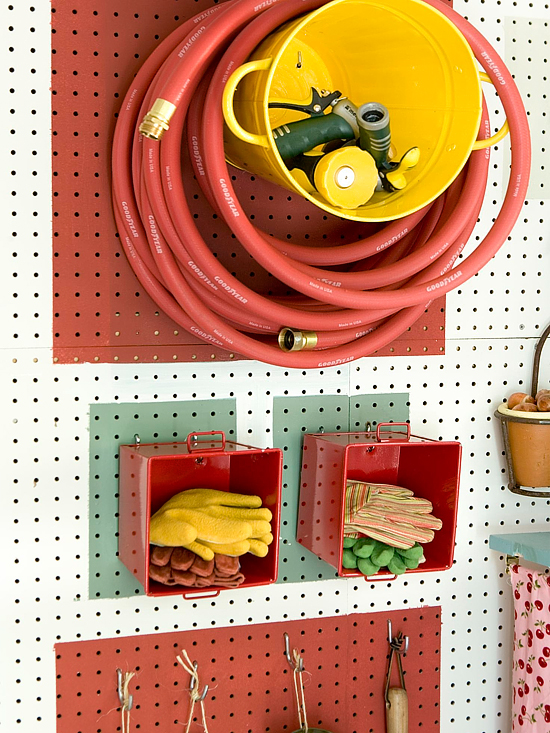 Trash Cans
Use old trash cans or buckets to store messy items like animal food, sand, and salt. It's a simple and easy way to store them away in places that your animals can't get into.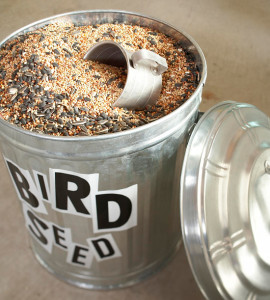 Containers
Use metal spice containers with clear lids to store small items like screws, bolts, and nails. Mount the containers on a slat of magnet when not in use. This system allows you to easily identify and retrieve whatever item you need without having to rifle through a big ol' box of rusty nails!
Buckets and Holes
Cut holes in a wooden wall mount large enough to hold small buckets. Use the buckets to store scissors, seed packets, or other small items. If one of the buckets gets broken or damaged, you can easily replace it without having to build (or buy) an entirely new shelving system!