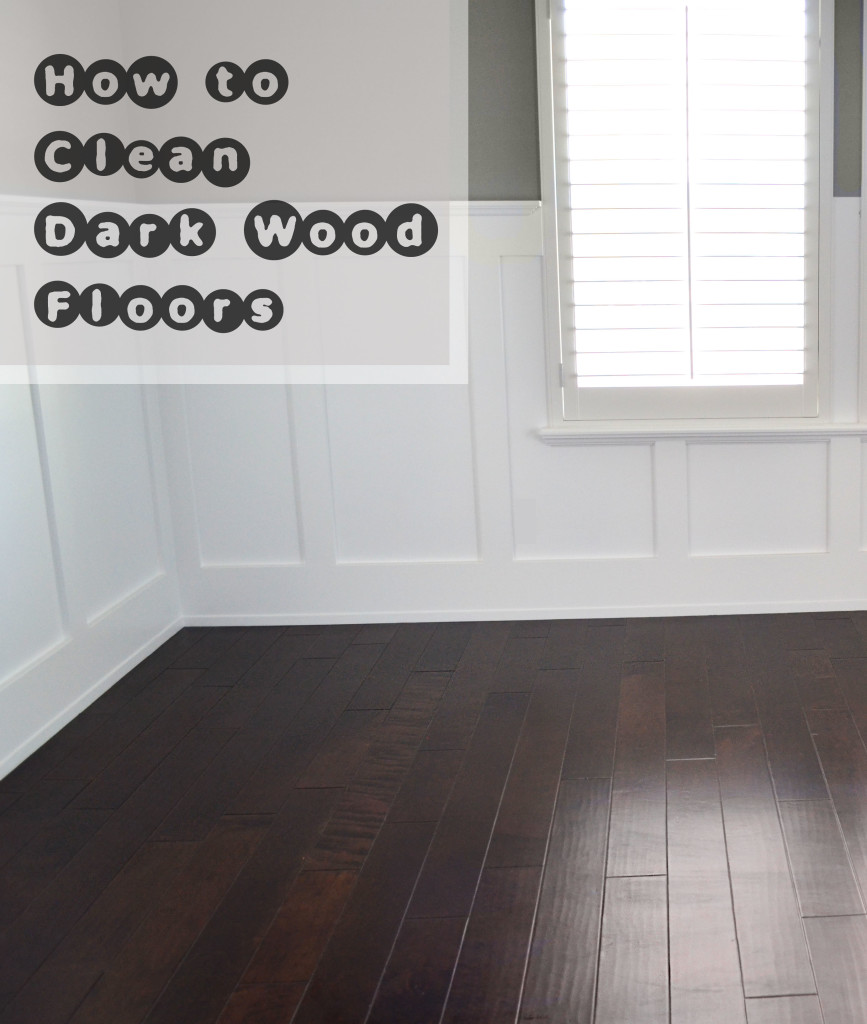 When we moved into our house, there was only one thing that I was disappointed in, and it was my wood floor in the entry way, kitchen, dining area and now we are putting it in the hallway.  It is beautiful. And daaark.  and I have kids.  A whole litter of them.
We told the designer when we built our house that we wanted "such and such" floors and she wrote down the wrong name and they installed them.  My husband was traveling for work, and the builder kept saying it was what we picked out.  We moved in and I was crushed.  They were most certainly not what we picked out and the designer has since been let go for similar mistakes.  And I am stuck with dark floors.  I have to sweep and mop these babies a THOUSAND times a day to keep them looking nice.
But- they are the beautiful.  They are the perfect floors, maybe for a grandma, or person without young kids, or anyone that hates crackers. 🙂
Finding a good and fast method for cleaning these floors was high on my priority list.  Here are a few cleaning methods that have been successful at my house.
The Basics:
I have to sweep/dust my floors every day, and probably should about 2-3 times a day to keep them looking nice.  I usually dust the wood floor with a mop that has been treated with a dusting agent to pick up dust and dirt first.  Vacuums can scratch your wood floors, so be sure if you use a vacuum that you use it with a floor-brush attachment.  Oh how I wish a vacuum would solve my wood floor problems.  You can dust also by using a product like the Swiffer.
Deep Clean hardwood floors
I try to deep clean my floors about every other day.  It used to be every day, but it was much too overwhelming.  I use a wood cleaning product and a sponge or a rag mop.  Be sure not to allow water to pool up on the floor.  Wipe up any excess liquid, as standing water or liquid can damage wood floors.  It is smart to allow for a breeze or ceiling fan to dry the wood quickly as you mop it.  This prevents any damage, and also prevents water spots if the water is dried quickly.
If your wood floor is sealed with a polyurethane finish or polyacrylic, don't use oils, sprays, waxes or furniture spray at all.  Dust floor (or sweep) and mop and you can call it good!  Be sure to use only soft rags or mops and nothing that is abrasive, to prevent scratches.
Use a pH-neutral soap (like dish soap) and dilute it in a bucket of water.
It is easy to get in the habit of using water only, because there are so many different ones that you shouldn't use.  Water is so easy!  If you only use water, your floors will lose the sparkle and will start to look dingy and dirty over time.
Prevention
K, this is really obvious stuff here, people.  It is really easy to scuff or scratch wood floors, so to prevent that, put felt or other floor protectors on your furniture.  This really helps prevent scratches!  We also bought a rug to go under our kitchen table and we had to buy a rubber floor protector because the other side of the rug was so rough.
I have mats at each entrance (of course we all know this!) and also t will keep your floors cleaner if you remove your shoes when entering the house.  I don't know why I have such a hard time expecting people to remove their shoes.  I ALWAYS wear shoes, so I don't especially love to take them off, at my house or anyone else's for that matter.  I always do, but I don't love it.  I know in some areas of the world it is totally expected.  I know it is a culture thing in some countries.  I have even noticed in other states that it is the norm.
Tell me this- Do you wear shoes in your house?  Do you expect people to remove theirs when they visit?  I am so interested to hear.  Please share!