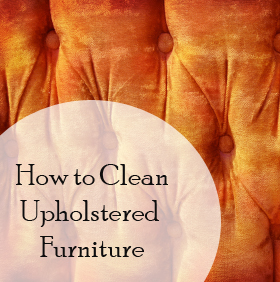 There are a couple of things that professionals will suggest when it comes to cleaning upholstered furniture.
One.  Check the cleaning the code.  That's right.  There is a code on the tag that will tell you what kind of solution you should use on the upholstery.  This is so helpful.  You can find it on the tag, which is often under a cushion, or on the under side of the couch. The cleaning code:
"W" for water based cleaning solutions
"P" for professional
"S" for a solvent
"F" for a foam cleaner
"X or "X/S" means that the furniture should not be cleaned.  Vacuuming this with an upholstery brush is your only option if this is your cleaning code.
This is your first step.  Check the cleaning code to know where to start.
Two.  Always always always clean a small portion, on the underside of a cushion or on the back of the couch before cleaning the rest.  Every upholstery fabric is different and can react differently to the cleaning solutions.  Before you try cleaning the whole thing, make sure that the colors don't bleed, that the fabric doesn't fade or react adversely to your cleaning solution.  Good luck!  And if all else fails, find a great fabric that you love and reupholster it!