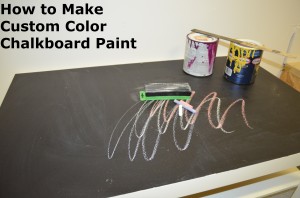 There are so many great uses for chalkboard paint and it is all the rage right now.  Even more fun, you can create your own and it doesn't have to be black!  You can make custom-color chalkboard paint!  No more boring black or green (I did boring black- don't judge, it went with the room:).  The process is really very easy.  Here is the recipe:
1. Choose your color (any color latex paint with a "flat" sheen)
2. Mix 1 cup paint with 2 tablespoons of tile grout (unsanded)
3. Stir until smooth
4. Apply the paint with a roller.  Be sure to use a generous amount, or do 2 coats if you need to, so as to get good coverage.
5. Condition your chalkboard by rubbing the side of a piece of chalk all over your chalkboard and then rubbing it off with a dry towel.  Now it is ready to use!