Today's post will help you take that old, outdated or unfinished armoire, and repurpose it into a stylish storage spot. For organizational pieces with real potential style, you can't go wrong with a repurposed armoire! Keep reading to see some amazing inspiration.
With a few customizations such as the rack for wineglasses, an armoire makes the perfect entertainment spot when you have guests. Plus, it stylishly protects your delicate items between soirees.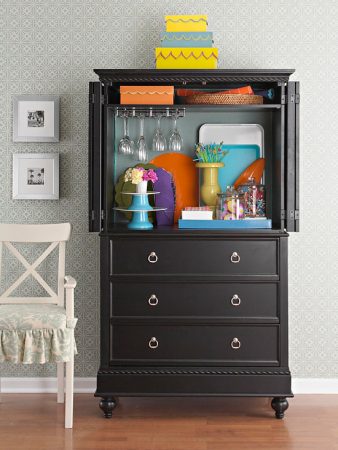 This beautiful piece makes a wonderful writing desk and organization area. In fact, you can contain an entire home office within this compact space. The inclusion of attractive fabric or wallpaper makes it appealing. The best part? You can close it up whenever you need.  
This repurposed armoire is a handy station for the laundry room. Extra cleaning supplies and pet treats store easily here. It's also a great spot for hanging shirts to dry.  One of the inner doors is the perfect spot for a message board.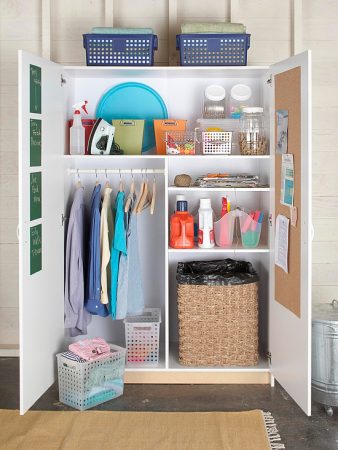 If you've always wanted a baking cabinet, look no further than your local thrift shop for an old armoire. This one was repainted in a cheery color, and the back wall and shelves are covered with pretty paper. It's the perfect way to consolidate all your baking supplies into one convenient spot!
Finally, another repurposed armoire finds new life as a children's art and play space. The chalkboard and bulletin boards on the inner doors are a great place for the kids to draw and display their art, while the drawers and shelves hold art supplies, toys and games.