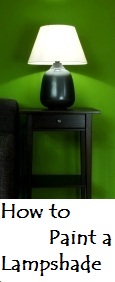 How to Paint a Lampshade
I love the idea of painting or stenciling an old lampshade to spice it up.  If you find one at a second hand store or garage sale, this is the perfect solution to make it exactly what you want it to be.
There are a few different ways to paint a lampshade.  First, I would say that you should decide what look you are going after.  A solid color or possibly a stencil would be the only 2 safe choices for me.  If I went all "free-hand painting" on a lampshade, and tried to do a design, it would look like a summer-camp art project, and that's not exactly what I am going for.
I know some use a regular latex paint for this, and water it down so that it can seep into the fabric.  This is a fine option, if you use a paint conditioner, in my opinion.  You can find those at home improvement stores and even some craft stores.  However, my favorite option is a fabric paint.  Even these need to be diluted at times, depending on the fabric you are painting and the softness you are going for.  If you do not dilute it so that it seeps into the fabric, you will end up with a hard surface.  This might not be the end of the world with a lampshade, but it would be for carpet!
Only paint the outside of the lampshade, and paint the seam that wraps around.  If you do the inside, you may be able to see shadows of the inside paint.  In my experience, it is best to leave the inside lining alone, unless it really clashes, in which case- go for it.
Also- be sure to use an even amount of paint on the brush for each stroke.  Go in a pattern.  Depending on the fabric of the lampshade, you may be able to see the brush strokes and streaks if you do something funky.  Nice long paint strokes in an even manner will give you the best results.  Also, be sure that you paint thinner coats, so that the paint can soak in.  Even if thin coats means more coats, it is worth it in the end.
One of my favorite fabric paint is the SoSoft by DecoArt.  It's a great product and you can get it at online craft stores.
So, to sum it up-

1. Use a fabric paint or diluted latex paint with a fabric medium
2. Do not paint the back side (if you can help it), as it won't let as much light out and will not look as good.
3. Paint in a pattern
4. Paint more thin coats, instead of fewer thick coats
Good luck!  What a fun way to transform your old lampshades and create new fun accent pieces.