Japanese home décor style is quite different from other Asian styles. It exudes simplicity, comfort, and modernity. Signature Japanese home décor elements include:
Regular furniture shapes
Efficient organization of objects
Uncluttered living
Ample free space
Expansive windows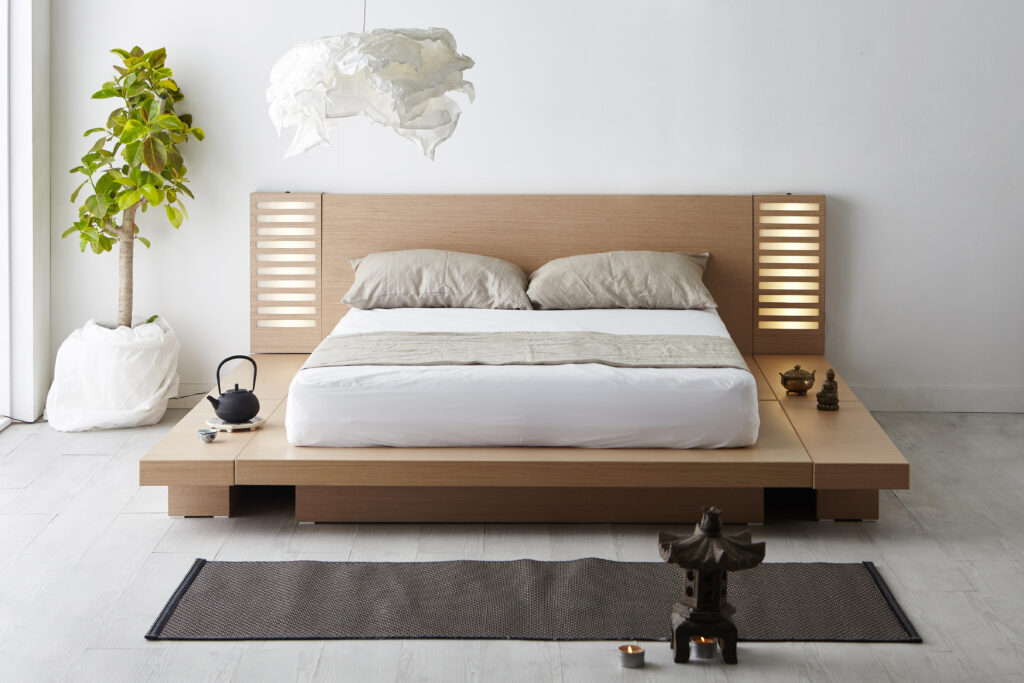 Japanese color palette focuses on neutral colors. Naturally, lit-up rooms with a minimalist setting are characteristic of Japanese home décor. Here are some ideas for giving a Japanese touch to your home:
Minimalism for Japanese Home Décor
Japanese believe that "less is more." Therefore, they prefer minimalism over extravagance. Each item you place in your living area should have a functional or aesthetic purpose.
Instead of sofas, the Japanese favor low tables with small ottomans or pillowcases. The table is usually where family members or guests come together and talk. It is typically placed in the center of the room.
Open Spaces for Japanese Home Décor
Open spaces are a significant aspect of Japanese home décor. A decluttered ambience is soothing to look at.
Moreover, a less busy interior pays homage to Japanese affiliation for the natural world. Large windows and ceilings with skylights allow a generous view of nature from multiple angles.
Lighting for Japanese Home Décor
The Japanese love expansive windows to let in natural light. However, make sure you do not opt for heavy draperies as they become a major obstruction.
Other than large windows, the Japanese prefer low-lying lamps for lighting. Angular and modern lighting is the way to go. Lamps are simply crafted from wire and paper. They are usually placed either in the middle or corners of a room.
Nowadays, you will find several Japanese lanterns in the market that use electric bulbs. They are safe to use and compliment a Japanese-style interior well.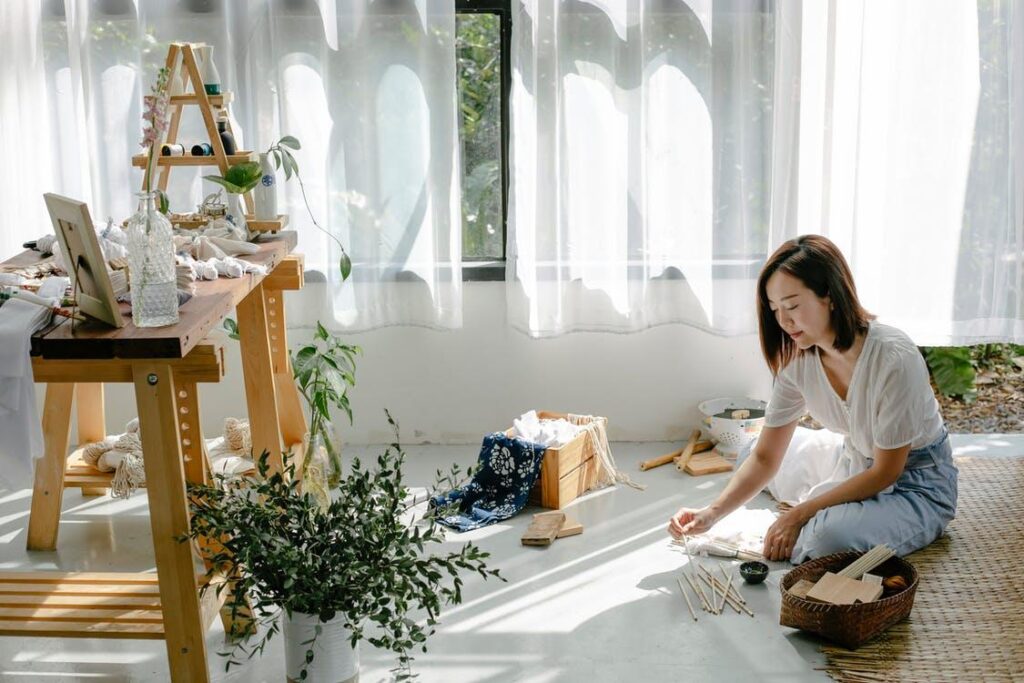 Soaking Tub for Japanese Home Décor
Water is a major part of Japanese home décor. Bath is known as 'ofuro' in Japanese, and is a prominent aspect in homes.
Soaking tubs were historically used for ritual purification. Wooden, steel or plastic baths available nowadays act like one-person hot tubs. For instance, you can choose a square design and wood finish for an authentic look.
A soaking tub mimics a spa-like environment. It can turn your bathroom into a relaxing space. Moreover, you can place some plants to enhance the beauty of the space.
Sliding Doors or Screens for Japanese Home Décor
An authentic Japanese screen is called 'Shoji'. It is a key element in many Japanese homes. In Japan, people usually live in small apartments. As a result, they attempt to conserve space in every way.
Sliding doors are a great way to maximize limited space. Unlike swinging doors, they do not occupy much area.
Originally, Japanese screens were made of transparent paper fixed to a wooden frame. However, the latest versions of these screens comprise glass panels. You can easily find the panels online.
Screens are perfect for Japanese home décor as they don't obstruct sunlight or natural view. You can have sliding screens or doors in your home for a Japanese interior feel.
Earthy Tones for Japanese Home Décor
The Japanese deeply respect nature. Therefore, wood is the most popular choice for walls and floorings in most Japanese homes.
However, not everyone can manage to get wood construction done. In that case, opt for add-ons such as wood furniture for an earthy feel.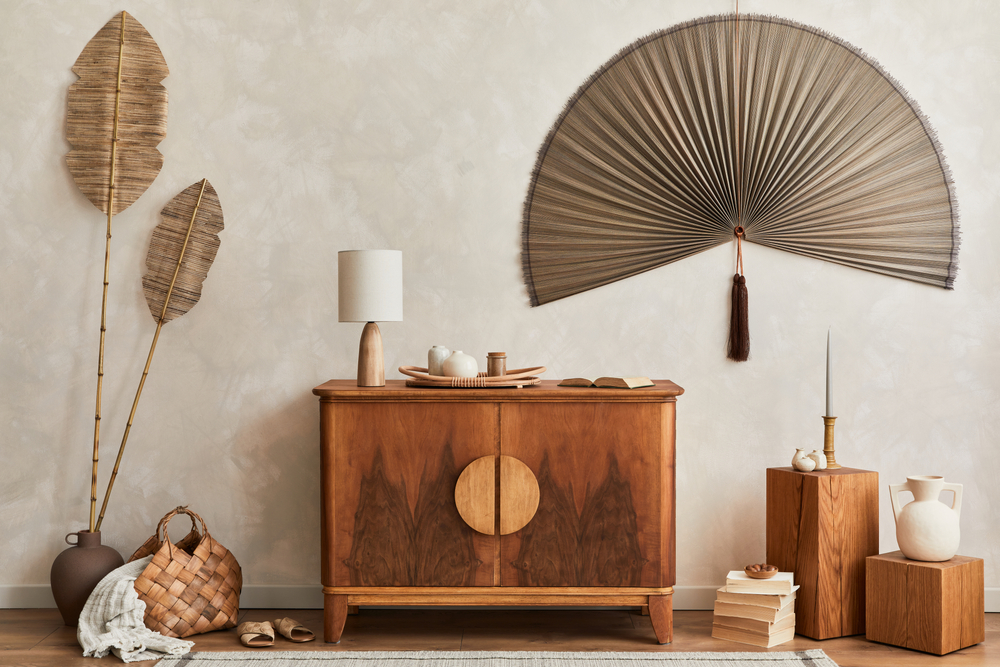 Wood and Bamboo for Japanese Home Décor
Adding wood and bamboo to your home is perfect for Japanese home décor. Moreover, there is no restriction on the kind of areas you can decorate with them.
You can opt for a wooden door frame or window. Even walls can be made out of wood. You can choose wooden floorings from trees like red pine or cypress.
Bamboo adds a natural feel to the house. Go for bamboo decorations on floors and walls to create a peaceful environment.
Stones for Japanese Home Décor
While wood and bamboo are essential aspects of Japanese home décor, stones are also used often. Therefore, cooling stone tones inside your home are perfect for bringing out the minimalist Japanese ambience.
Stone tiles complement wood paneling well. Moreover, they create a cooling effect to rooms. It may be a good idea to use stone tiles along for tubs in your bathroom. They tend to look pleasing with wood flooring and wall paneling.
Bonsai Trees for Japanese Home Décor
If you are into gardening, consider growing a Japanese bonsai tree. The Japanese highly admire the beauty of small trees.
Bonsai trees signify peace, harmony, and balance. They add a natural touch as well as color your home.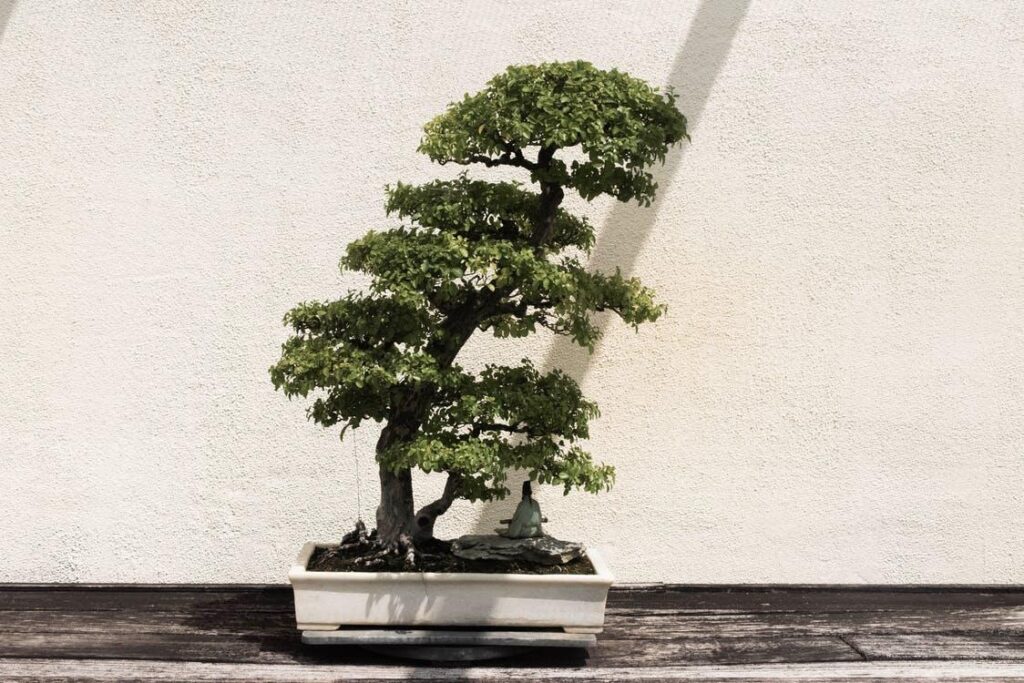 Ikebana for Japanese Home Décor
Ikebana is a Japanese art form that focuses on flower arrangements. Generally, Ikebana displays are placed in small areas. Moreover, it is a good idea to keep other artworks beside them to enhance the beauty of your space.
Orchids and palms are the most popular flower arrangements in Japan. However, don't hesitate to opt for other types if they complement your interior better. You can think about keeping Ikebana pots besides calligraphy or a woodblock print.
Japanese Style Foyer for Japanese Home Décor
The foyer is known as 'genkan' in Japan. It is a prominent feature in traditional Japanese homes.
A foyer is a space where you greet visitors and take off your shoes before proceeding further. In addition, a 'getabako' is a shelf you are bound to find in Japanese foyers. It is used to keep shoes so that your home remains neat and clean.
Make sure the Japanese-style foyer in your home receives natural light. Moreover, you can add wood elements or stone tiles to make it more attractive.
Meditation Space for Japanese Home Décor
Daily meditation has several physical and psychological benefits. In Japanese homes, you are likely to find a serene area for meditating, doing yoga, or having tea.
You can place a floor cushion either for meditation or simple relaxation. Furthermore, it is a good idea to add a water feature. The sound of trickling water adds a calming effect and minimizes distracting noises.
You can paint this room in earthy green or brown tones. Add some plants and calming music to create the perfect Zen meditating space.
On the other hand, if you don't enjoy seated meditation, consider a sand Zen garden. First, choose an outdoor space in your home with plenty of sunlight. Secondly, rake sand and arrange rocks to create the perfect sand garden.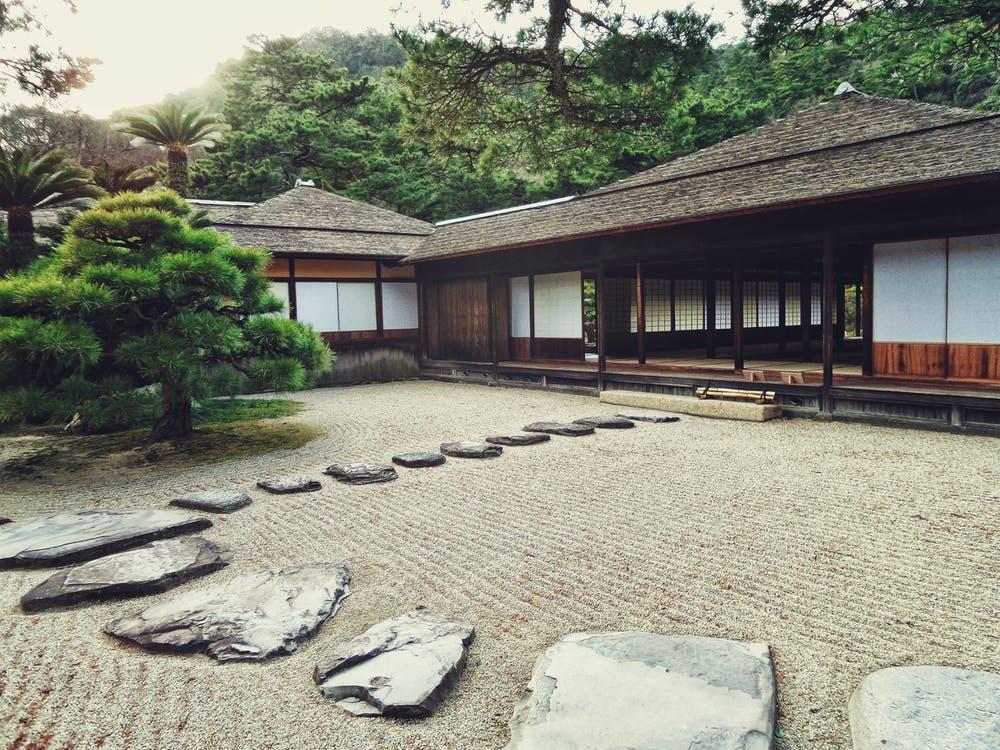 Tatami Mats for Japanese Home Décor
Elevated chairs are common in the West, but not so much in Japan. The Japanese prefer sitting and sleeping on Tatami mats.
Choose tatami mats along with low furniture for an authentic Japanese feel. The mats are made of woven straw and are a signature of Japanese architecture.
Calligraphy for Japanese Home Décor
Both the Chinese and the Japanese have a rich history of artistic calligraphy. You are likely to find poems in calligraphy in Japanese homes. People usually hang them in alcoves designed for flower arrangements and artistic displays.
Calligraphy on the walls is perfect for enhancing your Japanese home décor. If this type of art holds a special appeal for you, you can even consider taking a calligraphy course. After that, you can hang one of your own creations inside your home.
Woodblock Prints for Japanese Home Décor
Woodblock printing is a traditional Japanese art technique. For Japanese home décor, think about woodblock prints inside your home.
In addition, vivid colors in these prints make a lasting impression on guests. If you are serious about design, choose a woodblock print to complement your bonsai plant or flower arrangement.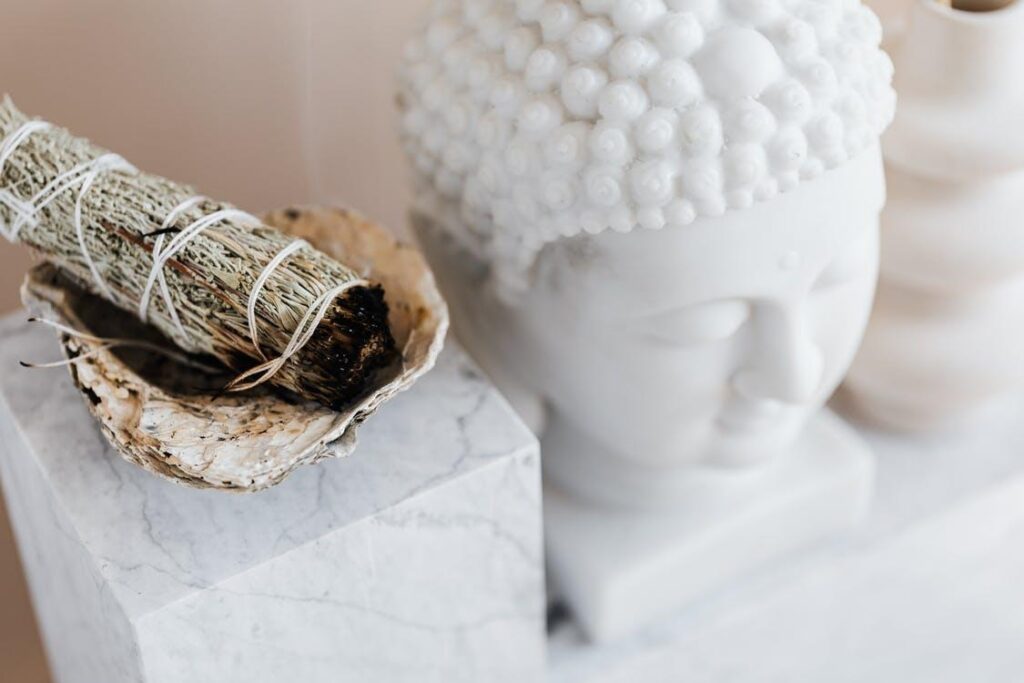 Buddhist Statutory for Japanese Home Décor
Buddhism is an important aspect of Japanese culture. May Japanese homes contain a shrine known as 'Butsudan'. Family mementos and Buddhist relics are often placed on it.
While you may not want a whole altar full of statutory, you can add a few small statues. They would serve as an interesting detail to your Japanese home décor. Moreover, consider placing them in your mediation area to enhance its serenity.
Fireplace for Japanese Home Décor
A fireplace would be a cozy addition to your Japanese style home. Many Japanese homes have a built-in fire pit known as 'irori'.
Fireplaces are great for providing warmth during cold days. Furthermore, you can use the fire pit to heat food and water. A central irori may not be practical for every home. However, you can consider one if you host friends or family often.
Circular Motifs for Japanese Home Décor
If you observe Japanese homes closely, you will notice many circular patterns. The Japanese love this shape due its simplicity.
Moreover, a circle is a prominent symbol in Zen Buddhism. Builders focusing on Japanese architecture often use circular designs to beautify homes.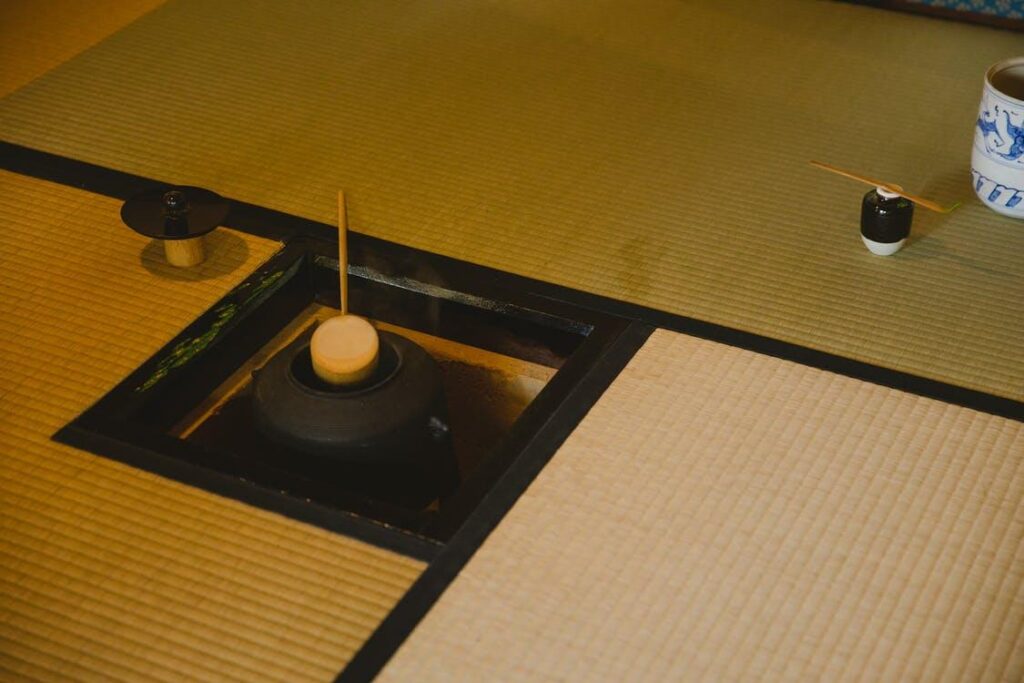 White Color for Japanese Home Décor
White color dominates Japanese homes. Brighten up your space with this hue. Moreover, it is associated with ancient Japanese calligraphy.
Japanese designers often use black and white colors for geometric calligraphy. White walls are common in Japanese homes. Moreover, you can also opt for white floors or furniture.
As the Japanese like minimalism, white is the perfect choice for them. If you are not fond of white, you can go for any neutral color to make your room appear large.
Tea Space for Japanese Home Décor
Green tea is a Japanese favorite. After all, tea ceremonies are an important part of Japanese culture. If you don't want to go for tatami mats, you can choose to create a special tea room.
The room is known as 'chashitsu' in Japanese. It signifies the rich tradition of the country. Moreover, it is a place where people can gather and talk. They can forget about their problems, sip tea, and connect with nature.
Koi Aquarium for Japanese Home Décor
Japan is an island nation. Therefore, the sea plays a large role in Japanese art and mythology. It would be interesting to bring in the element of water for Japanese home décor.
Water-inspired décor is also a nod to the Japanese passion for seafaring. You can opt for koi pond or a home aquarium. Alternatively, you can simply hang Hokusai's The Great Wave in your home.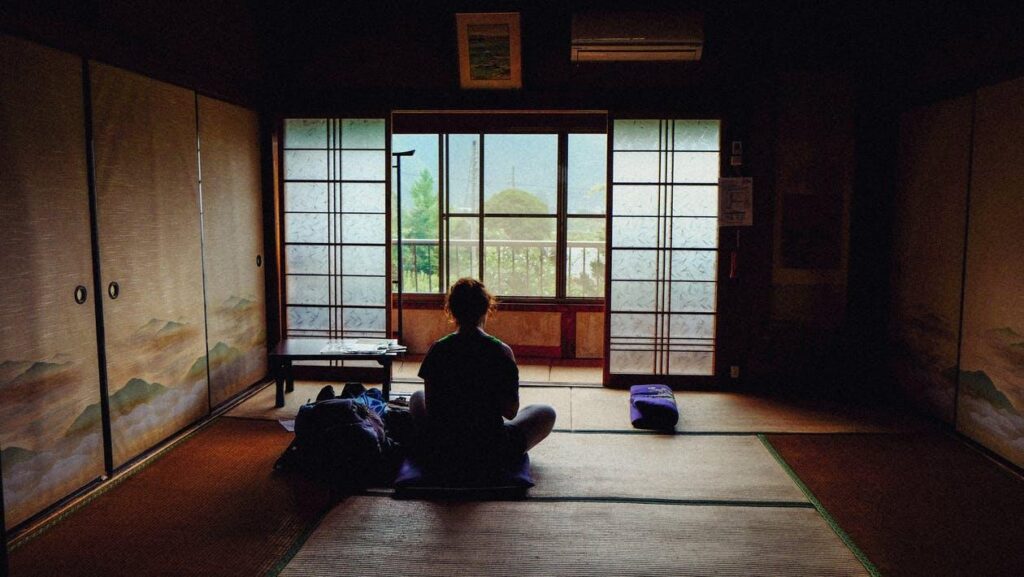 Kawaii Culture for Japanese Home Décor
If you have children in your home, why not bring in some kawaii cuteness? Kawaii is a youth trend in Japan. It focuses on cute and colorful décor, such as Hello Kitty merchandise.
Kawaii style may not be suitable for a living room or rooms for adults. However, it is an interesting theme for children's rooms.
Gaming for Japanese Home Décor
Most Japanese home décor ideas are based on a conservative style. However, you can add a modern twist to it as well.
Arrange your very own video game room for some Japanese style entertainment. For instance, you can choose a Super Mario Brothers theme to make it stand out. If you have teenagers in your home, this is a great idea to get them to participate in home decoration.
Final Word
In conclusion, minimalist architecture and open spaces are typical aspects of Japanese home decor. Moreover, the Japanese like to stay in tune with nature. Their preference for naturally lit rooms and green plants makes this evident. Add in some Japanese art such as calligraphy or woodblock prints for an authentic Japanese feel.