How do you feel about modern industrial home decor? The modern industrial style can be described as sleek and masculine, yet rustic and warm, all in one handsome package. If you love modern and rustic, you'll definitely sell your space short if you don't at least see what modern industrial home decor has to offer you!
What is modern industrial home decor?
Though it used to be used mainly in industrial lofts and factory-type buildings, modern industrial has found a welcome home in almost every application. It is characterized by mixing a variety of "old" surfaces and textures–raw wood, brick, aged wood, mixed metals and even glass. The style is relatively sleek and simple and unassuming. It actually has things in common with modern farmhouse style, but is more edgy in feel. The main thing to remember is that it doesn't matter if your home is in a city or the country, there's a place for modern industrial style in your decor.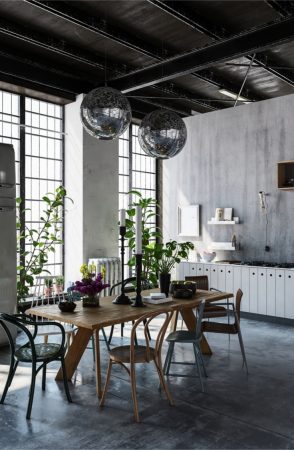 Elements found in modern industrial home decor include the following:
Exposed beams, especially metal beams
Cement floors
Unfinished raw materials, like unfinished woods
Metal and glass light fixtures
Accents of stainless steel
Exposed brick walls
Rustic wood accent walls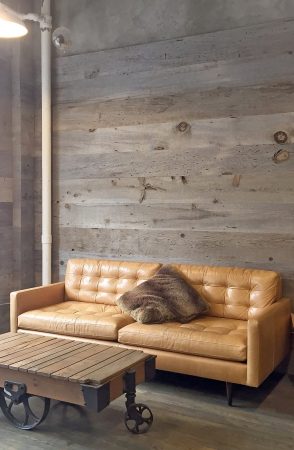 How can you implement the modern industrial style in your own home decor? It's really not hard! Just keep a few things in mind as you plan:
Simplicity is key! Don't overthink it and don't include too many furnishings in your design. That will just look overdone, and does not fit the modern industrial style.
It's easiest to start with a neutral color scheme, and then add in warmth with raw wood finishes.
Use lots of metal. That can be black window trim, metal stair railings, and even metal furniture pieces.
If you are lucky enough to have exposed brick or metal beams in your space, don't touch them. They're perfect as they are! Build off them and go from there.
If you aren't so lucky, start small. Bring in a reclaimed wood table or sliding barn door with heavy black hardware. Look for galvanized metal accents. Use metal and glass light ceiling lights or wall sconces.
If you need more modern industrial home decor inspiration, visit Houzz. You're sure to find some amazing ideas!