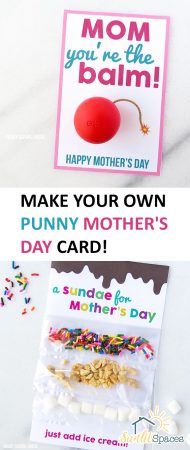 Mother's Day is coming up, get ready with a few Mother's Day card ideas. Have you thought about a card for Mom yet? You don't have to spend time searching through the commercial cards at the grocery store to find the perfect card, just give mom a card you made yourself. It doesn't have to be sappy either. Make your own "punny" Mother's Day card! You'll find links to free printables at the end of this post, so keep reading!
It's easy to use an EOS round lip balm to make a pun for Mom's Mother's Day card. Mom really is the "the balm!" Just use a couple of small dots of hot glue to attach the lip balm to the front of the card. It'll stay there, but when Mom wants to remove it, the balm will peel away easily.
Mother's Day always falls on a Sunday, so why not use Mom's card to give her an actual sundae? Attach Mom's favorite sundae toppings to the front of the free printable. Mom just needs to add ice cream! 🙂
Mom worked hard to raise you, right? So the least she deserves is a delicious box of raisins for her trouble! You could also substitute a bag of chocolate-covered Raisinets if your Mom is a chocolate lover.
The little kids can even get in on the action. Let them apply their own handprint to a card that's as sweet as a cupcake…just like Mom!
You can buy this card from Etsy. Or just use this one for inspiration, and make your own handmade drawing of Mom's favorite Mom jeans. She's gonna love it!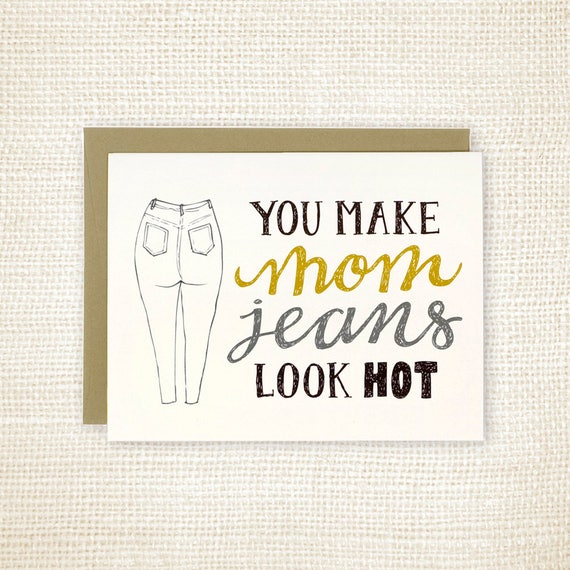 This one would be perfect with a set of measuring cups on the side. Purchase it here, or craft your own version. Because no one measures up!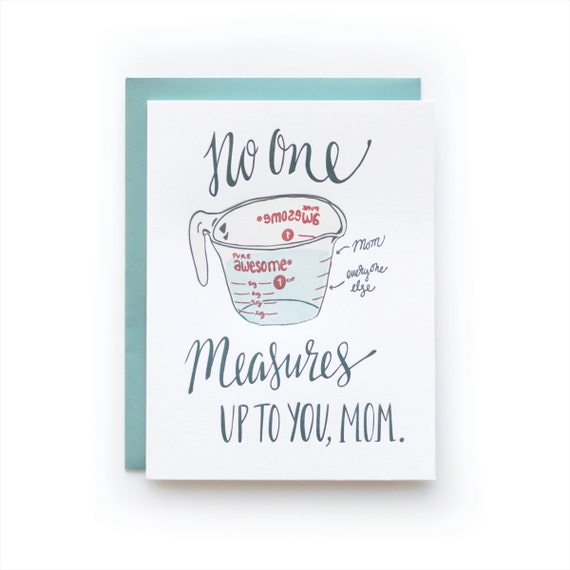 Here are the links to free printables and inspiration for your own "punny" Mother's Day card:
Smart School House You're the Balm
Smart School House A Sundae for Mother's Day
Crafty Morning Thanks for Raisin' Me Mom
I Heart Arts 'n Crafts Sweet as a Cupcake
Etsy Mom Jeans
Etsy No One Measures Up to Mom