I am thrilled to be making over our office.  And nervous.  And living in a huge mess right now.  It started out innocent enough, just a little paint, some wainscoting, simple right?  Now, we have a quarter inch of sheet rock dust all over our house and our office furniture crammed into our great room.  Oops.  The problem is that just as we tore things apart, my husband got really busy at work, so he hasn't had as much time at home to work on it as we had anticipated.
We decided on a chocolate brown paint.  My house is light and bright with a lot of color, and I was needing some earthy tones to cozy it up.  I am loving the dark colors with white accents, so that is the look I am going for.  The walls will be chocolate brown, with a white board and batten wainscoting that goes about 5 1/2 feet up the wall.  I am really excited to see how it looks!  Our office is right off the front door, so I really want it to be warm and welcoming.
Here is the before.  It is rough because it is actually after we got started, so it is messy with supplies.  Isn't the back of my husbands head cute?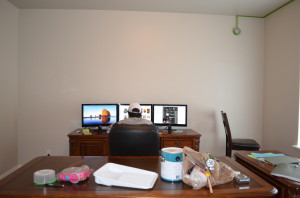 Complication.  Our walls are textured.  I wanted smooth walls when we built the house, but our builder only did texture.  I was pretty bummed about it before we moved in and now I am soooo glad we have some sort of texture with small kids.  If the kids nick the walls, or throw a toy down the stairs (do kids do that?!) it blends right in!  Problem is, that with textured walls, you would NEVER get it to look like wood, to do a board and batten style wainscoting.  So our plan was to back all the walls with quarter-inch mdf and then do the rails on that.  That would be ideal, but it posed a bunch of complications around our shutters (different thicknesses, etc) and around our window sill.  As we got planning, the logistics got overwhelming, so we decided it would be easier to actually smooth out the texture with sheet rock mud and create a smooth wall and use that as the backing.  So we did!
The texture: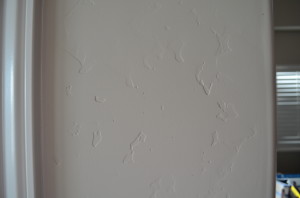 We cleared everything out.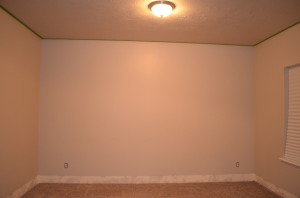 We taped everything off with plastic, including the doorway.
Removed the baseboards.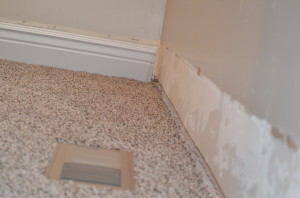 And got this party started.
My husband was going to do it, and because of his busy schedule at work, decided last minute to call a sheet rock guy he knows, that is REALLY inexpensive.  He spent about 6 hours on it total, ($150 bucks including materials), he did 3 layers of mud, let it dry in between and sanded it smooth.  I am excited *slash* nervous to paint, because that is when you REALLY know if it is smooth.  He said that without using steel studs, it is hard to get it perfect.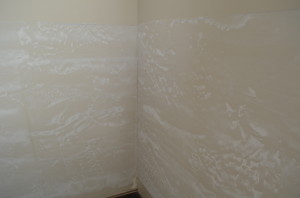 Oh, and while he was here, I accidentally guided him to my dining area and had him do that too.  So, now our dining chairs, etc are joining my office furniture in the family room.  My poor husband.  I am like a runaway freight train when it comes to projects.  He is so patient 🙂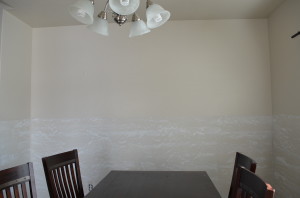 Does anyone envy the mess I was living in yesterday?  I managed to get the floor all vacuumed,  mopped, and scrubbed, but I still have gobs of dusting to do.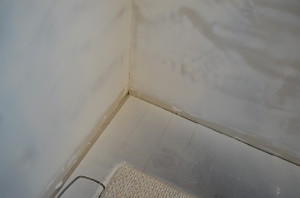 Schedule: paint tonight/tomorrow, board and batten Friday and Saturday (possibly Monday, since I added a the dining room.)
I will post pictures as we go.
**UPDATE** We have painted the office Chocolate Swirl by Behr.  I think it looks terrific.  We used an airless spray gun, because we wanted a flawless finish, and it is!  Here it is: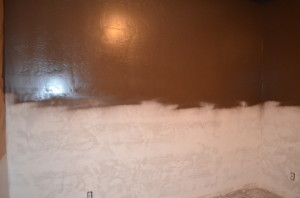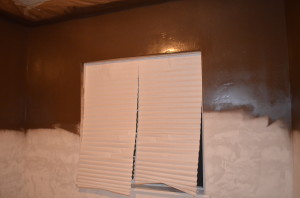 The paint was still wet, so it will be a little less shiny, but I am soo excited!  I think the brown is going to look really sharp next to the white.  Eeek!
****UPDATE****
This is jut Office Makeover Part 2- We still need to move our stuff back in and finish up a few things.  But- We have the board and batten done!   We still have to think about a rug option, and do a few wall hangings (I am thinking white wispy wreaths over the brown?) a lamp, etc.  But at least the bones of the room are done.  What do you think?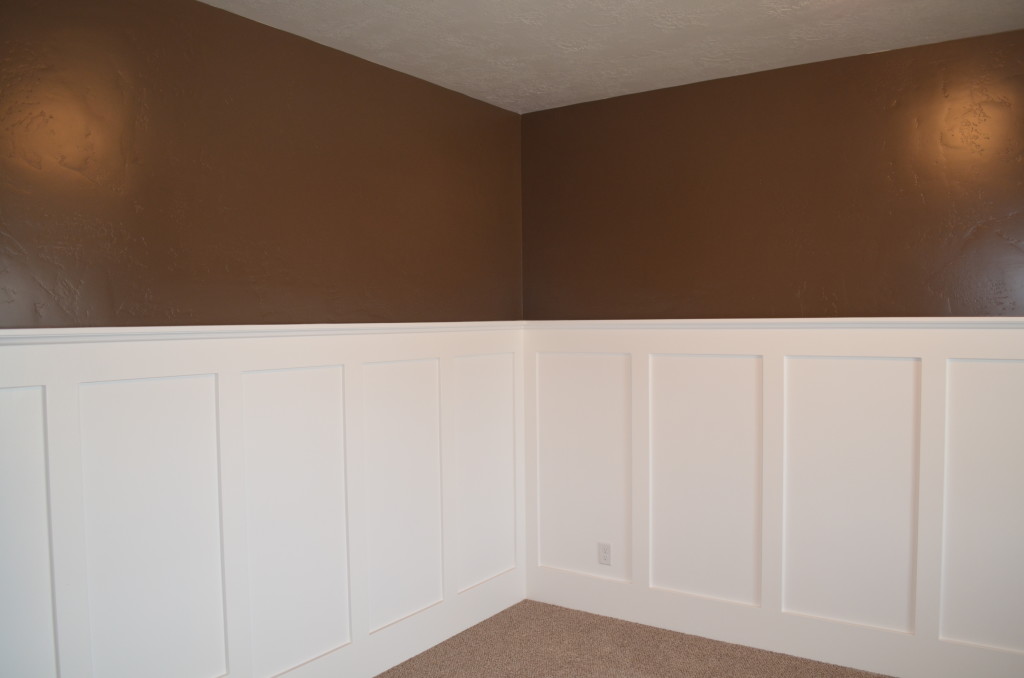 Let me remind you of what it looked like before: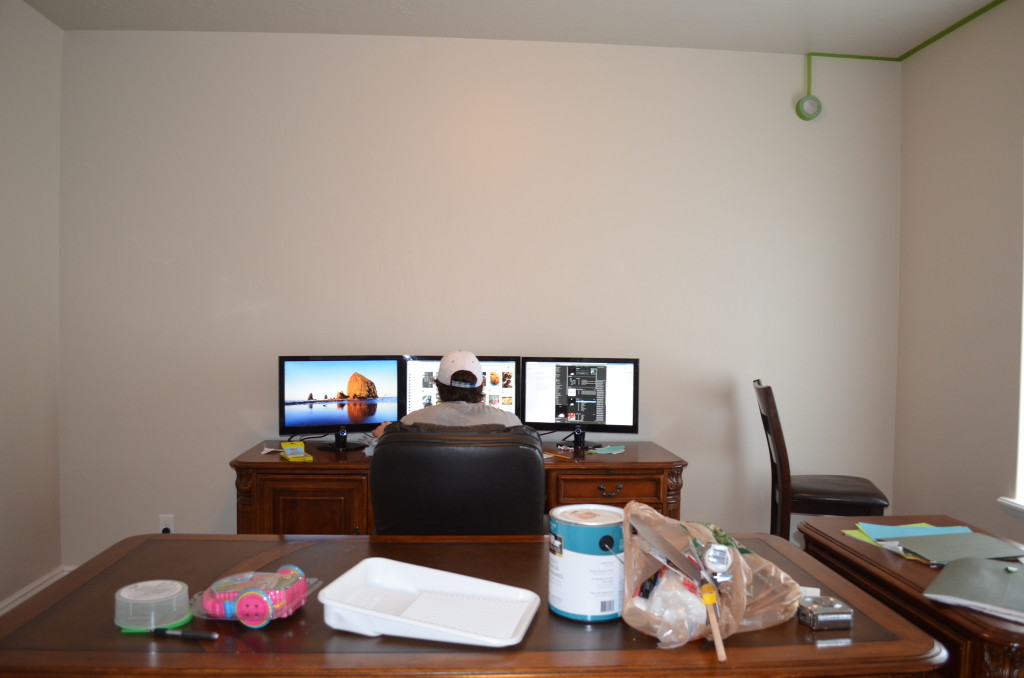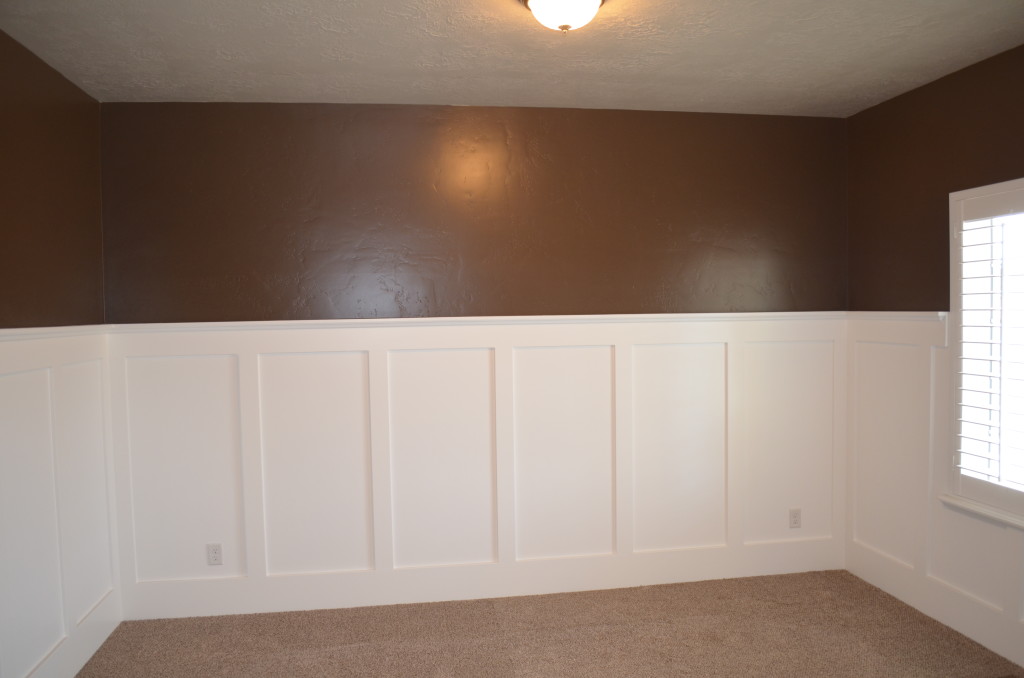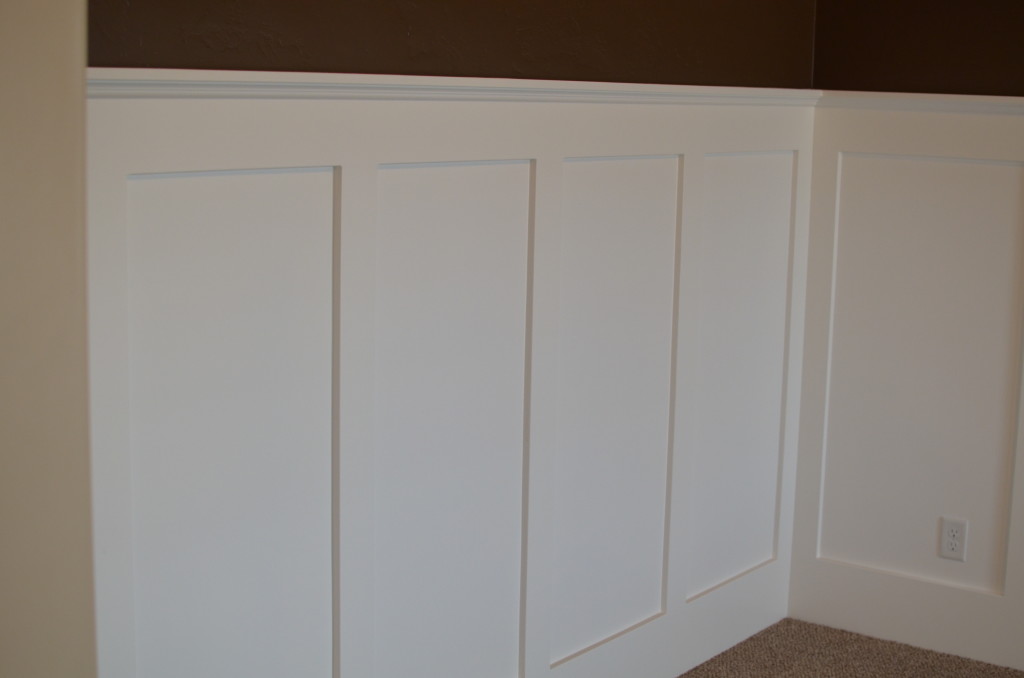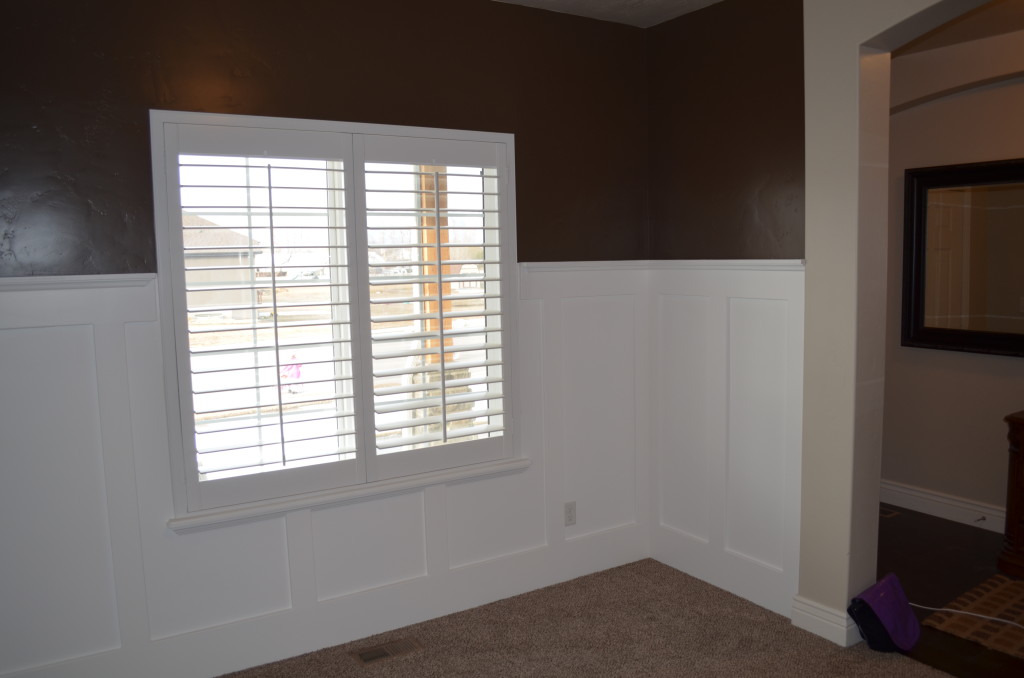 My husband is pretty amazing with the wood, if I do say so myself.  He is posting a how-to board and batten soon, so stay tuned!  We still need a few things to bring the office together, but between the paint, board and batten wainscoting and shutters, it looks sooo much better already!  What do you think?  Is anyone else loving the dark brown and white as much as I am?