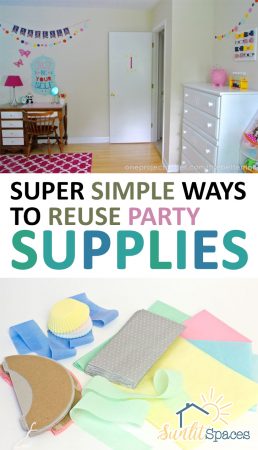 So you've thrown a birthday party, bridal shower, or graduation party, and you're wondering what to do with all those leftover party supplies. Well, good news is here! You can reuse those supplies in some super simple ways. Before you throw them out, take a look at how you can repurpose them.
Turn those leftover paper streamers into confetti. All you need to do is some simple folding. Now grab the scissors to make some strategic cuts, and voila! Studio DIY shows you how easy it is so you can do it, too.
Turn cupcake liners into beautiful cupcake flower toppers! I think these are amazing!
You can also repurpose mini cupcake liners as a cute birthday bunting. Simply fold them in half and glue over colored string.
Embellish some plain white lights with leftover cupcake liners. Spectacular! See Oh Happy Day for the tutorial.
Leftover tissue paper becomes an adorable tassel garland thanks to The TomKat Studio.
These cute cake toppers started out as paper napkins, but then Studio DIY got ahold of them.
Paper napkins are also perfect for repurposing as a scalloped garland. Paper & Stich Blog shows you how to put it all together.
Jocie at One Project Closer reused party supplies from her daughter's birthday party to decorate her daughter's room once the party was over. The banners, door decoration, and bowtie art were all repurposed.