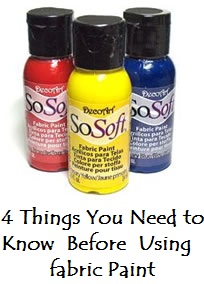 Suddenly, my DIY and home decor options are endless.  You can use fabric paint to re-purpose or recycle lampshades, rugs, curtains, couches, chairs, etc.
There are a lot of tricks to making sure your fabric paint projects turn out flawless.
1. Use a washable fabric that is a natural blend for best results.  Wash and dry the fabric before using it for best results.  Do not use an excess amount of paint or your project will be dry or stiff when it is all done.
2. Don't use fabric softener.  This could react with the paint, or keep the paint from being absorbed by the fabric.
3. If you are working on a small subject, such as a piece of clothing or curtains, etc, be sure to use a shirt board or other stiff surface and pin the fabric to it.  This is going to allow for a hard work space and will give you much better results.
4. Allow 72 hours to dry.  It may seem dry just 24 hours later, but because you are letting the fabric paint soak deep into the fabric, be sure to give it ample time to dry before using it or sitting on it, etc.
You can use fabric paint on many different products.  The tighter woven the fabric, the better the outcome as far as color intensity.    You can paint lampshades, carpeting, upholstered furniture, draperies, and any other fabric or linen.  Be sure to thoroughly research the paint before choosing.  There are many different paints so be sure to pick the one that will be the best fit for your project.  I highly recommend the SoSoft by DecoArt, as shown (courtesy of google images) above.