Urban decay photography is a growing trend in home décor. There is something hauntingly beautiful about the images of once vital urban areas that have fallen into disrepair. Urban decay photography is the art of capturing that decay in a beautiful, striking way. If you're into urban decay photography décor, this post is for you!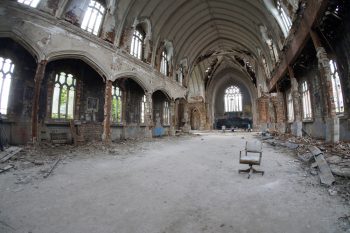 Urban decay photography décor includes many different sorts of compelling images. Think of desolate alleys, dilapidated buildings, discarded automobiles. You may not think those things are compelling, but the compelling aspect comes from the photographer and their ability to capture the beauty in the decay.
Can you create your own urban decay photography décor? Absolutely! It's a fun way to be creative and improve your own photography skills. I have some tips for even an amateur photographer to practice. Anyone can find and capture the beauty in urban decay.
Urban Decay Photography Tips
When you go out in search of the perfect shot, be careful. It goes without saying that dilapidated areas can be dangerous. Watch your step, wear sturdy shoes, and stay alert at all times.
Take a flashlight along so you can see. Areas of urban decay are often not well-lit.
Low-light conditions inherent in urban decay areas require a long exposure time, so use a tripod to keep your camera steady and get the best results.
As you investigate dilapidated buildings, look for discarded items that may help tell the building's story.
Use a wide-angle lens to capture the sense of emptiness that naturally exists in areas of urban decay.
Take several shots of the same area, from different angles. Once you look at your exposures on a larger screen, you might like an angle that you don't expect to like when you're out taking pictures.
Use a good photo editing software to play around with your photos. Different filters will bring out different aspects of haunting beauty in your photos.
To purchase urban decay photography décor, check out what's available at Amazon.